Jim Ehrenhaft has coached his share of fast runners in his career, but the runners who made up his DCSAA-winning St. Albans team have been ahead of the curve.
Senior Pierre Attiogbe and sophomores Sebi Hume and William Strong, the first (15:52), second (16:43) and fourth place (15:50) finishers, have all been varsity contributors since their freshman years, and those strong finishes, along with sophomore Laszlo Wolfe in 10th (17:43) and seniors John Rhee and Jack Thomas in 13th (18:01) and 14th (18:03) helped the Buldogs to their first DC title, a 30-54 win over resurgent Gonzaga.
"I've never had guys that are ready to race so early in their careers," Ehrenhaft said. "We stress long-term development, and they all came from a middle school program that emphasizes moderation and enjoyment of the sport."
That means Ehrenhaft's job has to shift to motivating his young charges to do something besides increase their training load. During their freshman track seasons earlier in 2022, Strong and Hume won the DCSAA mile and two-mile titles while Attiogbe was recovering from a stress fracture.
"Kids can get so excited about it that they want more and more, but they've done a great job of being patient, looking at the long term," he said.
Attiogbe ran away from the pack at the very start, and cruising to a 51-second victory at Kenilworth Park, a low-lying loop that was mud-free in the first time since the race has been held there starting in 2016.
"As long as I finished first, I was happy," Attiogbe said. "That meant we'd have a good start with the team scoring."
Having a strong team has made the season even more fun for Attiogbe, who's had his share of individual accolades, including wins at the Maryland and Skip Grant invitationals and a close runner-up finish at the Milestat Invitational, where he ran 14:45 for 5k. He, Hume and Strong swept the top three places at the IAC Championship.
"We have a lot of people to work with, it's not a one-man show. We're a real team," he said. "We're a bunch of guys who want to get better, as long as we're with each other."
This season, Attiogbe has focused on his pre-race visualization, anticipating how much certain points of the race will hurt and preparing himself to overcome them. He'll join his St. Albans teammate Damian Hackett at Cornell University next fall.
The St. John's girls managed to withstand a bout with the flu to win their third straight title 50-56 over National Cathedral School.
"It tore through our boys team before WCACs, but we thought the girls dodged a bullet," said coach Desmond Dunham.
The customary large pack of Cadets started out in the front, but by the second lap of the course, fatigue combined with a hot day started to take a toll. Georgetown Visitation sophomore Vivian Kelly broke free of the pack and ran away on the second lap, looking back slightly while tracing the curve on the far end of the course to check on her lead.
"I usually start out fast because I get a lot of motivation when people cheer for me when I'm leading, but I let other people take the lead this time," she said. "We went slower than I would have liked, but I was able to finish a lot faster than I usually do. I was proud of my last mile."
Her 20:12 was a 22-second lead over National Cathedral freshman Cecilia Wright, who was leading a charge of her own. She combined with sophomores Caroline Lee (fifth in 20:52) and Margot Benelli (sixth in 21:00) to start the Eagles' scoring off strong, but even wounded, St. Johns' depth was too much to overcome.
Senior Caroline Gotzman did manage to dodge the illness that befell her twin sister, and she moved up throughout the race to finish third in 20:41.
"That was great for Caroline to come through for us like that," Dunham said. "A lot of times she's overshadowed by Meredith, but she ran a tough, smart race that showed how much she's learned over the years."
Junior Jennifer Maxwell was next in ninth in 21:30, with classmate Nell Droege three seconds back in 11th. Seniors Meredith Gotzman and Sophie Mattheus finished 16th (21:39) and 18th (21:56) to get five Cadets in before the Eagles had their fourth. 
"This championship is a story for the history books," Dunham said. "We don't mess around with fevers, so we just kept them hydrating and checking their temperatures, hoping we could time it right with people recovering or being able to race before things got bad."
The cancelation of the 2020 cross country season meant the core St. John's team that started its wining streak in 2019 couldn't go for a clean sweap, but it didn't dull the team's ambitions. With enough time to rest and recover, the Cadets are hoping for a strong race the Nike Cross Nationals Southeast meet after Thanksgiving.
Recent Stories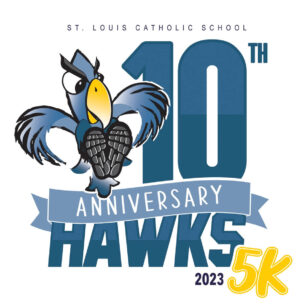 2023 will be the 10 year anniversary of the St. Louis Hawks 5K and Fun Run for Health & Wellness. The USATF certified course runs through the historic Hollin Hills neighborhood in Alexandria, VA.
The Hawks 5K goal, in conjunction