Note: This profile was written by Wake Forest University student Cooper Sullivan, I just can't get his name to show up on the byline.
It's only a few minutes after 11 o'clock. For what seems like an hour, they wiggle their fingers over their wristwatch's START/STOP buttons. They twist their toes digging their metal spikes deeper into the dry Oklahoma dirt. It's completely silent if you ignore the 255-heart drumline beating heavily in anticipation. Everyone is waiting for the trigger.
From a bird's-eye-view, the cluster of collegiate cross-country runners could easily be confused for a bunch of scarecrows. They are standing quite still in a field in the middle of flyover country. But unlike the ragdolls that are just placed wherever the farmer so chooses, these lanky but fierce athletes have fought extremely hard to place themselves in this field. This is the race that will crown a national champion.
Luke Tewalt is somewhere in that cluster below. He'll be there for the next half hour, give or take a minute, and hopefully towards the front. An individual title is out of reach today, but frankly, that's okay. A team trip to the top of the podium would be more rewarding to Luke than a solo summit. It would be naive, however, to see his humility and think he runs the same way. For the junior from Wake Forest University, just making it to the national championship meet isn't enough, otherwise, he would have been content with last season's 140th-place finish. He's worked tirelessly, all season, ending his days exhausted, all for this very race. He's a hungry competitor and he's going to prove it. But first, Luke is going to run a 10k.
BAM!
Starting blocks
In 2013, Jamille Callum graduated from Johnson C. Smith University in Charlotte, N.C. and moved north to Washington D.C. He traded in his spikes for a whistle and began coaching track at Washington Latin, a public charter school for fifth through twelfth graders. Callum would coach the high schoolers — until one spring day in 2015.
Tewalt was a seventh grader at this point. Running on the middle school track team was just something to do when he wasn't on the pitch chasing a soccer ball or deking defenders with a lacrosse stick. Nothing more than a way to pass the time. Although Callum was running a varsity practice, he couldn't help but pay attention to what was happening on the middle school side of the track. 
"I was just mesmerized for some reason. It was nothing extravagant that he was doing, nothing out there that much, but just the way he was running, the way he handled himself and the way he separated himself from the entire [group], other classmates, or other teammates that he had been practicing with." As his future coach, Callum was determined to reach Tewalt and help him along the path to becoming a high-class runner. There were only two hurdles in the way. 
The first was his age. At only 12 years old, Tewalt was still a full year and a half removed from competing with the high school team. Even when he would be eligible for the varsity team, he would still be at least a year younger than his competition because Tewalt had skipped the fourth grade. Whereas most people would see this discrepancy as a disadvantage, Callum and Tewalt saw this as an opportunity. Callum brought Tewalt, now an eighth grader, to an exhibition meet at one of the area schools. Everyone else was a high schooler, but because the races were hand timed and unofficial, the middle schooler was "thrown into the fire" and allowed to compete. 
"I put him in the 800, nothing super long, but just to see what he could do. He went out there, man, and he just demolished the heat he was in. He had a great race," Callum said. "The time [overall] wasn't super, but the time for his age was good. It wasn't so much in the top tier but maybe in the middle section of what a high schooler should be running an 800 meter race. I remember talking to his mom, who came to the meet, and I said 'He's gonna be a really good runner next year.'"
After this, the Washington Latin duo was convinced that age would not be an issue. Starting then Tewalt trained with older runners, raced against older runners, and won over older runners. It's still the case today as Luke is in 28th place after the first two kilometers. It is early and by no means a guaranteed result, but things are looking good for the kid. Eight kilometers of rolling dirt roads and dusty hills in Stillwater are still ahead, but if Luke keeps at his current pace, he will cross that finish line soon. 
The path that Coach Callum had helped form to take the young runner to the next level was clearly mapped out, but there was still one last hurdle in the distance. A tall one at that. Did Luke Tewalt even want to keep running?
Getting in stride
At first, the question emerged from a busy schedule. During the school year, running is an every-season sport — cross country in the fall, indoor track in the winter, and outdoor track in the spring — and all the seasons are crucial for young athletes to keep improving their times and techniques at all distances. This level of dedication would be a necessity if Tewalt ever dreamed of running in college. 
But that wasn't the dream. The dream was to play lacrosse for Johns Hopkins University in nearby Baltimore. It was the first sport Tewalt took seriously and had to put it to the side because of his size. "Everyone was so much bigger than me and I was just getting slapped. They would dish it out here with their sticks and I'm like 'Maybe this isn't for me.'" 
During his freshman winter in what was supposed to be the first season Callum would officially coach Tewalt, the 120-pounder went out for the wrestling team. As the lightest person on the Washington Latin wrestling team and the only one in the 120-pound weight class, Tewalt was often paired up to spar with the only other kid on the team who didn't have a partner — a 285-pound heavyweight. "He would just pick me up. I would try to do stuff, but… It was stupid, but I'm glad I did it. It was fun." This was the only winter that Tewalt wore a singlet, returning to a more passive sport in the spring. Tewalt spent the rest of his high school days solely focusing on running. 
Tewalt was committed to becoming the runner Callum knew he could become. With more dedication each season, Tewalt's times got faster while his accolades grew. By the time he graduated high school, he had won 11 state championships, broken countless meet, state, and even national records (he held the AAU's 3k record for a 14-year-old), and earned two Gatorade Player of the Year Distinctions for the District of Columbia. Pretty soon, colleges began popping up on Tewalt's recruiting radar. 
Georgetown, the school only a few blocks from where he had grown up, and Wake Forest, a school Tewalt had only heard of because of their soccer prowess, were the final two. Whichever running program Tewalt ended up choosing would be receiving a true student-athlete, as he was determined to earn a degree in politics and international affairs above any other accomplishment. Tewalt decided to move south to Winston-Salem, wanting to experience something new. Although he was leaving the District, the success he found on the tracks didn't stay in Washington.
Tewalt's sophomore track season at Wake Forest was one he will never forget. In late January, the 19-year-old claimed the American U20 3000m record. Two weeks later, he ran the first four-minute mile in Wake Forest history. He also qualified to represent the United States in the U20 World Championships in Cali, Colombia over the summer. His own expectations for running rose tremendously. The amount of effort he was prepared to put in this upcoming year would increase substantially.
Staying on track
Luke's days are scheduled to the minute around being the best possible runner he can be. At 11:24 a.m., 14 and a half minutes after the starting gun went off, Luke runs past the halfway point of the race. He's slipped a few spots to 33rd but overall he is still in good shape. Wake Forest, which went into the race ranked 12th in the nation, is currently in 5th place. Luke is still in All-American territory, the top 40 runners, and the Demon Deacons are looking at their best team finish in over three decades.
But now is not the time to celebrate. The mental race is just beginning.
At Wake Forest, there isn't a lot of time for Luke to do anything else besides focus on running. For cross-country, he wakes up at 5:30 a.m., hops in the team van for the short drive over to Salem Lake, runs anywhere from eight to 10 to 12 to however many miles Coach John Hayes has planned that morning, comes back to campus for a full slate of politics classes, squeezes in a quick study hall before afternoon lifts and meetings, and then goes straight back to the books. Even before Luke goes back to his room in Poteat Residence Hall, he is absolutely exhausted. Some nights it's hard to tell if the 9:30 p.m. bedtime is because of recovery and being rested for the next day's early workout or if it's just because of exhaustion. 
Kyle Merber, one of Hayes' former runners turned pro, was providing color commentary for the television broadcast. "I know their training. These guys are strong. They were built for a 10k." Merber may have been referring to Hayes' attention to physical strength and stamina, which is no joke. The Sunday after winning the ACC Championship, Hayes had the team running 16 miles on dusty roads an hour south of Wake Forest's campus. But what Merber was alluding to was Hayes' devotion to stengthening the team's mental fortitude. 
"[Cross country] is really a mental sport," Tewalt said. "The physical aspect is kind of easy because in practice we show that we are consistent and strong and capable every day. But it's on these days when there's pressure that we have to be our biggest supporters mentally." 
Each runner must find the balance between a cutthroat competitor's edge and a subdued state of sanity. Too much of one can lead to complacency, while too much of the other can spiral toward a destructive hyper fixation. This all needs to be taken into account within one's physical feelings (a nagging knee, heavy breathing, etc.) as well. They also need to know where their teammates are in comparison to them and how their individual performance impacts the team. It also means forgetting the outcome of the previous race, but trying to sustain any confidence or momentum. Volunteer assistant coach Brandon Lawrence describes it more simply as "a mindfuck." 
Hayes and his staff do their best to keep stressors at bay, especially before a meet. The last on-campus practice before the team travels to a meet always ends the same way. Hayes gathers the guys who are racing and talks strategy with them. They'll speak about the course, they speak about the weather, they speak about who to watch out for, they speak about specific tactics, they speak about running a race. They speak about how to stay focused during moments of blinding pain, how to maintain composure during moments of frustration, how to feed off the energy of others, how to somehow just keep running. 
Running through the finish line
ESPN's cameras are set up at the 9k checkpoint. The runners turn the corner, aching from the previous 26 minutes, and are met with more agony, a hill sprint. It's like the camera at the top of a rollercoaster, except everyone's face is far less flattering. The pain is very visible in Luke's face, but he's not stopping his stride. It's picking up speed. There is a look of determination in his eyes. He is going to push through and keep running. 
The overall pace is increasing. Charles Hicks of Stanford is starting to pull away with a lead. The tiny town on the Greiner Family Cross Country Course is the loudest it has been all day. The overall pace is increasing. Northern Arizona and Oklahoma State are dualing for the team title. Luke can see the finish line at this point. Everyone is sprinting now. It's going to come down to one final kick. Every last place will count. Hicks wins. For Luke, the race will be over. One hundred meters away. 
The previous week at Southeast Regionals, Luke Tewalt ran a sub-30 minute 10k for the first time. Today, Luke Tewalt smashed that personal best by 30 seconds. Ten kilometers in 29:22.5, good enough for 22nd place and All-American honors. The entire team finished 5th overall, the highest mark ever. 
As the racing directors calculate the final standings, Luke Tewalt, Hayes, and the rest of the team huddle together. They hug, they laugh, they smile, they shed a tear, they gasp for air, and they head off for a cool-down jog. Just like that, the season is over. 
Next week, Luke Tewalt will take a break, go home for Thanksgiving and rest. He's earned it. He'll run again in another week, but not any longer. He can't keep still for too long.
Recent Stories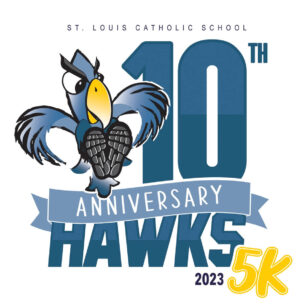 2023 will be the 10 year anniversary of the St. Louis Hawks 5K and Fun Run for Health & Wellness. The USATF certified course runs through the historic Hollin Hills neighborhood in Alexandria, VA.
The Hawks 5K goal, in conjunction