DC Area 10k
Thursday, November 22
November 22
8:30am - 1:00pm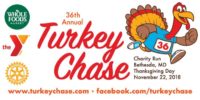 YMCA
9401 Old Georgetown Rd
Bethesda, Maryland 20814 Map
Event Info
36th Annual Turkey Chase 10K
$46.00
Thanksgiving Day-November 22nd 2018.
Start Time: 8:30 am Start Location: 9401 Old Georgetown Road Prohibited items: Roller blades, pets, strollers Course length:10 kilometers.
Saturday, December 15
December 15
9:00am - 11:30am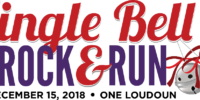 One Louodun
20626 Easthampton Plaza
Ashburn, Virginia One Loudoun Map
Event Info
Celebrate the Holidays With Us!
REGISTER TODAY: RingingInHope.com
JINGLE BELL ROCK & RUN (5K & 10K Race, 1K Jammie Jingle)! Join your friends and neighbors on December 15, 2018 at One Loudoun and make this holiday season a truly memorable one. RUN, WALK, or JOG and celebrate with us. Stay post race for lots of family fun activities: food at the finish line, kids' activities, family fun photos, massages, entertainment and so much more….