Despite the reliable mercury-busting temperatures, Don Bowman insists that the Rosaryville Trail races are aimed at beginner ultra runners.  This year's running of the 10k, 10 mile, 25k and 50k runs around Rosaryville State Park took place on the hottest day of the year, with dew points bottoming out in the low 70s and temperatures reaching the mid 90s five hours into the race.
[button-red url="http://www.bluepointtiming.com/files/results/2015/Rosaryville%20overall.htm" target="_self" position="left"] Results [/button-red]"We designed it for the novice runners," Bowman, the race director, said. "They get to run next to the runners who are experienced and they can say they ran with these great trail runners, they don't have three legs or anything special. They learn that they could be like the people in the front if the race agrees with them and they want to improve."
Indeed, both of the winners were relative neophytes, each on their third 50k or longer race.
Chris Patrick, who won the women's 50k title in 4:56:40 ( a 9:32 average), set her sights low but finished high — third overall.
"It's cheesy, but I just wanted to have fun," she said. "If I won, that would be nice, but I just wanted to enjoy myself. It was a very specific kind of fun."
Patrick, a 21-year-old Serverna Park resident, started "painfully slow" and then moved up in the second of three nearly-10-mile laps, though her third was "a lot of whimpers."
""Trail racing is great because even when everything is feeling terrible, you can still look around and everything is wonderful."
She isn't a frequent racer, has never run a marathon and rarely, if ever, competes on the roads. She signed up for Rosaryville two weeks ago while looking for a challenge. That contrasts with men's winner Jarrod Brennet, of D.C., who focused on this race and conducted a deliberate taper.
"There was no way I was going to back out," he said, when weather forecasts warned of high temperatures and humidity. "I wanted to prove I could do a fast 50k."
He too struggled over the third loop, but a winter 50 miler in the Everglades still felt hotter than Rosaryville, so running 7:50s en route to a 4:03:38 finish wasn't as impossible, but it still required some adjustment. At 25, he's still new to ultarunning.
"I was going to run by heart rate, but early on I was 20 beats per minute faster than my target so I had to forget about that and just go by feel," he said.
The forested loops of the park in Upper Marlboro, Md. were almost entirely single-track, with clearings dotting the loop and bathing runners in sun. The last mile stretch to the finish was completely exposed to the sun, giving runners one last challenge. Sixty-eight people finished the 50k, skewing slightly female, and 82 finished the 25k, just slightly favoring the men. The looped course made it easier for runners to downgrade their distance, an option Rosemary Lather, of Columbia, took.
"I got to the second aid station, which was about halfway through the course, and I felt like I had run more than half of the race," she said. "I decided to head back early, and because of that, I feel like a million bucks."
Like Patrick, she was a relative last-minute registrant. Her children pleaded with her not to do the 50k, her husband was more understanding. She responded by taking off her wedding ring during the race, but it wasn't to pick up sweaty runners.
"My hand was swelling and my ring finger turned purple," she said. "It took a lot of Vaseline to get it off. I'd recommend people not wear jewelry for hot races like this."
She's new to the trails, and hopes to reap the benefits when she races either the Erie, Richmond or Houston marathons.
"I knew to not even think about trying to run a certain pace," she said.
Meredith Gray of Bowie, a recent transplant from Ohio, adjusted her goals for the 25k, part of her training for the Monumental Marathon in Indianapolis this Fall.
"I knew conditions were going to be tough," she said. "I walked when I needed to. I haven't felt summer weather like this, but I kept telling myself that it will pay off when the weather cools down."
Aaron Gow, of Dumfries, also sees his trail running experience making a difference in his road racing. He's run more than two dozen half marathons. The Rosaryville 25k was his first-ever trail race, done with his girlfriend's encouragement.
"It was a challenge course for someone used to running on the roads," he said. "I'm assuming if I do this more often, my road running will improve."
His girlfriend, who ran the 50k, tried to set him up for success with a series of training runs on trails ahead of time.
"I was told slow the pace down, eat at all the rest stops, take in a whole lot of water and just walk the hills," he said. "Basically, check my ego at the door. On a day like today, it wasn't too hard to do that. We never got a break from the humidity and the heat just kind of built up the entire time."
The 50k boasted 68 finishers, and 82 ran the 25k.
When Gary and Keith Knipling spend quality time together, they're not going out to the backyard to throw around a baseball.
The back yard for them is typically a large park where they'll spend hours running ultramarathons. Then chatting about their races.
Gary and Keith, father and son, respectively, are out in Dayton, Wyo. for the Bighorn Mountain Wild and Scenic Trail Run June 19, a warmup act for Father's Day.
It's actually a series of ultras, with options for a 50 mile, 100 mile, 50k and 30k. Keith's wife, Tracy, is running too.
Keith's foray into the ultramarathon world occurred on New Year's Day 1999 at the Red Eye 50k at Prince William Forest Park. It was the first ultramarathon the father-son duo ran together.
"It's a low-key run," he said. "That was my first ultra – 31 miles. That's how I got started. After that, I kind of really jumped in."
Jumping in wasn't too scary with all the support he had. Both Kniplings are members of the Virginia Happy Trails Running Club (VHTRC), as are a number of their ultramarathon-running pals. Gary has been a member of the VHTRC since its inception, and while he doesn't consider himself a founding member, he did say he's more like a not-so-distance relative.
"I wasn't one of the founding fathers; I was more of like a founding nephew," Gary, now 71, said with a laugh.
Keith, who lives in Alexandria, said the 400-member VHTRC meets for weekend runs, and believes that the camaraderie among the club's members helps power them through the grueling activity.
"With ultramarathons, especially the 100 milers, everyone shares a common bond," said Keith, a civilian research scientist at the Naval Research Laboratory in Washington, D.C., said. "When you run a 100 miler, I don't care if you win it or you're in last place, the suffering is all the same so you kind of share that experience," he said. "Also, you're in the elements. So if you have to go through a hellacious hailstorm or whatever, you all kind of experience that together. It's always fun at the end of these to actually meet up at the finish and share stories. It's that idea of a shared experience that makes it somewhat like a fraternity."
Gary currently lives in Lorton, Va., and is a self-described, "semi-practicing" veterinarian. He said he fell victim to the running craze that swept the United States in the 1970s, fueled by the celebrity of Steve Prefontaine, Bill Rodgers and the other iconic runners of that era.
"Gosh, I remember the Washington Running Club, running on Sunday mornings down on Haines Point, and of course, the Marine Corps Marathon," Gary recalled. "[The Marine Corps Marathon] changed things in the whole Washington area, in terms of getting our own marathon, so to speak."
A few races were all Gary needed to know that the sport was for him. He ran his first ultramarathon in 1990.
"I had run maybe 15 or so marathons and started getting a whiff of some of the ultra runs," he said. "I've always loved being outdoors. So the trail runs, combining being out in nature with the endorphins of a good, hard run, there's just a wonderful blend there.
To date, Gary has completed more than 30 100-miler events.
"I'm 32 of 36," he said.
Despite his father's love of distance running, Keith Knipling didn't catch the bug until later in life.
"I always thought that it would be so wonderful if one day in our lives we were able to do a 10k together," Gary said. "I figured that if I said it to him it would give him something to think about. Little did I know that it would happen. Be careful what you wish for."
Keith Knipling has participated in more than 100 ultramarathons and 52 100 milers. He plans to cross off another six this year. He surprisingly said that running a marathon is actually more difficult and taxing than some variants of an ultramarathon.
"I think the recovery for a marathon is harder than the recovery from a 50 miler," Keith said. "The intensity is so much lower than in a marathon. With the 100 miler, there's definitely a recovery period because there's a lot of swelling that happens. I can bounce back pretty quickly from them."
As the dog days of summer continue, so will Gary and Keith Knipling. And for anyone interested in joining the dark side and participating in an ultramarathon, Gary wants to offer the following words of encouragement.
"In a 100 miler, you just have to get through the first 50 or 60 miles," he said. "It's as much mental as it is physical. It's somewhat similar to the last four or five miles in a marathon."
---
Want to run with dad? There are a few local races scheduled for Sunday:
Father's Day 8k- Washington, D.C.
GMBC Father's day 5k – Towson, Md.
ZERO Prostate Cancer 4 Miler- Arlington, Va.
Fathers Helping Fathers 5 Mile- Fairfax Station, Va.
Run With Dad 5k- Reston, Va.
Runners from Pennsylvania claimed top honors at the Bull Run 50 Miler Saturday in Clifton, Va., but when the first 100 finishers were counted, the entrants who identified with the South were the team champions. Of the 325 runners who started the race, 282 had finished roughly 13.5 hours after the 6:30 a.m. start.
In terms of the individual finishes, it was a testament to the collegial nature of ultra running that when Jim Blandford crossed the Bull Run 50 Miler finish line in first place, he credited the guy who won last year.
[button-red url="http://www.vhtrc.org/brr/2015/results.php" target="_self" position="left"] Results [/button-red]"I have to thank Brian Rusiecki for not showing up, " Blandford said self-deprecatingly. Rusiecki held a nearly-five-minute gap last year, but Blandford's win was not unearned. He had finished second in the two prior Bull Run races, and his victory was the culmination of eight tries. "My time was slower than last year, but I feel like I left everything out there. I couldn't have run it any faster."
From the point where he took the lead roughly eight miles into the race, he never trailed on course that heads north on the Bull Run Trail to Bull Run Regional Park and south toward Occoquan and the "Do Loop" before returning to Hemlock Overlook Regional Park in Clifton. The course, in contrast to many eastern ultra courses, was not terribly technical nor hilly in the estimation of several ultra veterans at the race.
"I knew if I could get through the 'Do Loop' without anyone in front of me, I thought I could keep the lead," Blandford, of Hamburg, Pa., said.
He was one of many Pennsylvanians to make the trip, many of them members of the Reading-area club the Pagoda Pacers.
From northwest of Reading, Lock Haven, Pa. resident Ashley Lister claimed the women's title in 7:56:04, ahead of Megan McGrath's 8:12:25 second place finish.
Lister started out with the intention of taking the race easy and spent the first half on her own. After catching up and integrating into a group of four other runners, her spirits improved and she went on to take the title, a year after being shut out of the race's lottery.
"Once I started talking to people, I felt better," she said. "I like tough courses, this course was really runnable, so it was a little out of my comfort zone. I've been doing a lot of training on roads to get ready for this course. I needed to get a little consistency, so I did a 40 miler that was similar to this course two weeks ago and 30 miles on the road a week before that."
She and her husband David met while serving in the Marines, and their 12 hour shifts as security guards while stationed at Quantico helped them adapt to long hours on their feet in the middle of the night, preparation for ultrarunning.
He usually finishes ahead of Ashley,  but temperatures cresting 60 degrees got to him, and she passed him around mile 40. He remains confident heading into late June's Western States 100 mile race in Colorado.
"This was first time it was this hot this season," he said. "I'll be used to it in time."
Many runners used the Bull Run race as preparation for the Massanutten 100, a mid-May race at the Massanutten Resort in Rockingham County, Va. Both races are managed by the Virginia Happy Trails Running Club.
Keith Knipling, of Alexandria, ran Bull Run despite his professed lack of training, finishing nearly 90 minutes behind his best time on the course, but said it would be silly to turn down the chance to run the race.
"I'm running Massanutten, and I'd need to do a 50 mile training run anyway," he said. "I wasn't going to do it on my own, so I might as well run the club's race and have a great time doing it."
Sean Andrish, of Leesburg, runner up in 7:06:46, remarked that the course was in wonderful shape, despite some mid-week rain.
It had been a few years since he had run the race, and he was only slightly dismayed that his favorite aid station no longer offered ice cream sandwiches. He ran with a group of Bull Run rookies and tried to offer his experience.
"It's so easy to go out too hard in the first 16 miles, it's so runnable," he said.  "I told them to relax. I saw them later on and they were fading."
Charlottesville's Rebecca Weast noticed that trap during her first Bull Run 50, the first 50 miler in which she ran the majority of the race.
"You wouldn't think it would be that hard, but without hills to walk up, you don't get any breaks," she said.
Seeing her boyfriend, who was working an aid station, helped buoy her spirits.
"There were a few times I sat down with him, but eventually he told me I had to get … out of there and get back to the race."
Phil Lechner, another Pagoda Pacer, said that experience for Weast was just right.
"Unless you're winning, it's an accomplishment just to finish," he said. "You learn something every time you're out there. And you meet so many great people you see again and again at a lot of the same races. It's like a big family."
Running 500 miles in five days probably sounds like a crazy idea. That's exactly what Amos Desjardins wants people to think.
"Sometimes it takes doing something crazy if you really want to get people's attention," he said.
He's bound to get hungry with that kind of routine, but his discomfort is dwarfed by the cause he is promoting — the plight of one million Virginians, 12 percent of the population, without access to fresh and healthy food.
Each of the estimated million steps he will take will represent one of those hungry Virginians.
"I run a lot, obviously," he said. "It's a passion of mine. But food issues are also a really big passion of mine, and I really wanted to find a way to bring the two things together to bring awareness. People often don't necessarily realize the magnitude."
He grew up around farms, still grows his own fruits and vegetables and follows a vegan diet. Over the years, he has volunteered at Carpenter's Shelter, which works to serve more than 1,000 homeless and formerly homeless children and adults in Virginia each year.
Desjardins started planning and training for the run after he decided last summer that he wanted to use running to help Virginia residents in particular who are suffering from hunger.
Since then, he has partnered with the Federation of Virginia Food Banks, a nonprofit state association that supports food banks in providing food, funding, education, advocacy and awareness services and programs throughout the commonwealth.
The federation currently has seven food bank locations in Virginia, each of which distributes millions of pounds of food to hundreds of agencies every year.
Leslie Van Horn, the federation's executive director, has been working with Desjardins to help coordinate the route and ways they can work together to help spread awareness.
They thought September, Hunger Action Month, would be an appropriate time to hold the run.
"We're so honored that Amos chose to work with us," she said. "We've never had anybody do anything like this before in all of the federation's time. It's mind-boggling, really."
Van Horn's hope for the run is for it to eliminate stigmas that surround food issues in Virginia.
"Many people think that people who need assistance and go to food banks aren't doing their part to help themselves, but that simply isn't always the case," Desjardins said.
Additionally, according to the recently-released 2014 Food Deserts in Virginia Task Force Report, Virginia's low-access rate is 17.8 percent, which exceeds the national low-access rate of 7.3 percent. Food-insecurity rates are even lower than the statewide rate in more affluent areas in Northern Virginia such as Alexandria, Arlington, Fairfax and Manassas.
Desjardins will start Aug. 30 in Alexandria, at the corner of Union and King St. He'll head to Winchester, Harrisonburg, Charlottesville and Richmond, before heading back to Alexandria by Sept. 3.
Each day will start at about 5 or 6 a.m., and hit a 10:00/mile pace. That will work out to 16 hours and 40 minutes of running per day, each of which will likely end in a hotel bath tub ice bath.
In the time he can spare, he will be stopping at the federation's food banks in Along the way, Desjardins will be stopping to conduct meet and greets at four of the Federation's food banks—in Augusta County, Richmond, Fredericksburg and Lorton. He hopes people will donate food at each of his appearances, or anytime they see the grey Jetta that will serve as his support vehicle.
"Amos is determined and can really accomplish anything he sets his mind to," his wife Abigail said. "But it takes the help of friends and family to pull off something of this magnitude."
Amos' support team will include Abigail and his two of his close friends, Timothy Fitzgerald and Jeffrey Owens. Along the way, he will be followed by someone on a bicycle at all times and the support vehicle where roads allow; likely Owens.
"He texted me saying I was probably the only person crazy enough to come along for 500 miles on a bike, and I immediately agreed," Owens said. "Amos has always been incredibly driven, and I've always wondered how he was going to use his boundless energy."
The running joke among Amos' friends, he said, is that no one's ever seen him spent, even having run anywhere from 5ks to 70-plus-mile races.
When asked where he gets his energy to run, Amos responded without hesitation, "Life. Other people. I get a lot of joy and happiness from seeing others happy."
He runs several ultras a year, and hopes to run next year's Western States 100-Mile, one of the country's most renowned and increasingly coveted ultras. If he is accepted, Western States will be his first 100-mile race.
Well, his sixth. After Sept. 3.
Follow Amos' progress on his Facebook page.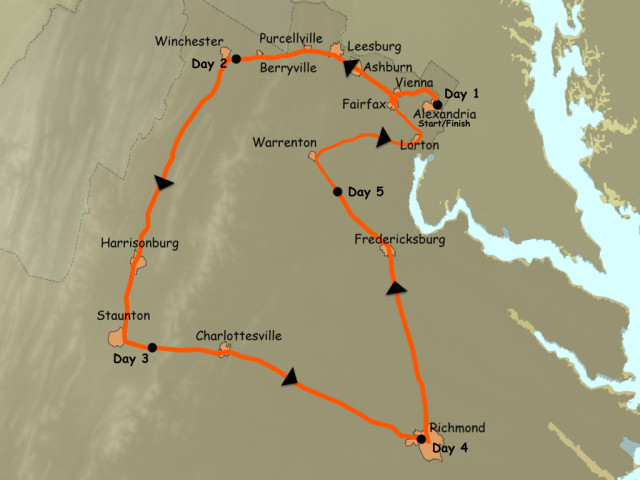 We talk a lot about walls in marathoning. We push through them–effortlessly or gasping for breath–on our way to the finish line. Race over.
One problem: the finish line is the real wall. No negotiations. This requirement doesn't move for any of us. We must change, not the race. The most successful marathoners don't break through this final barrier–they hit it, full force.
Ethan Coffey has a unique relationship with walls: by his own admission, when he faces the mystique of the 26.2, he's still trying to hit the mark.
His January 2014 victory in the Charleston (S.C) Marathon in 2:34:06 set a new personal standard for a runner who "used to throw up from nerves before races in high school," while a student at Chantilly.
"When I won the Charleston race," says Coffee, "I realized I really had the potential to win marathons. I'd like to train for more."
A few weeks and a few more miles later, Coffey still has staying power.
On March 1, Coffey, now a Knoxville resident, definitively won the USATF 50k Road Championships at Caumsett State Park on Long Island, N.Y., posting a new course record of 2:53:32.78 and upsetting four-time champion Michael Wardian's (Arlington, Va.) 2008 record of 2:55:05 in the process. Ethan estimated Wardian to be his most likely competitor for many reasons, with the veteran runner's historically consistent performances topping the list.  However, Wardian finished the race with a time of 2:59:31.69, placing second after progressively slowing past mile 10.
"At mile seventeen, I knew I was feeling good. No wall or anything." says Coffey, "When [Wardian] realized he wasn't going to beat me, he dropped off."
Adding to Coffey's victory, back-to-back reigning champion Joseph Gray (Renton, Wa.) held strong in an initial three-man pack, but began back-pacing with Wardian, only to quit the race entirely. This was an unexpected underperformance, considering Gray's near record setting win in 2013.
"In the last 10k it was just me," says Coffey, "My legs really felt good. I was able to just keep going after everybody else dropped off."
Coffey also easily beat out Josh Ferenc (Saxtons River, Vt.) who trailed into a late third place with a time of 3:04:16.91.
After besting two juggernauts of the 50k distance, one would think a runner like Coffey would be relatively satisfied. He broke through several barriers, right? He set a course record. He went farther, faster. He won.
But, perhaps unsurprisingly, like all winners, Coffey looks to past runs to understand his potential for performance. He judges himself by his failures as much as his successes. And, though a 50k is not a marathon, he uses what he knows about his relationship with the two distances to define and redefine himself as a runner.
"I've never been intimidated by the distance of a marathon. I just kind of went past that distance pretty easily. But my marathons haven't always gone very well for me," he says. "I think my 50ks, though, have gone better than my marathons. In the 50k, I don't usually struggle with the wall. But I think I have been lucky."
The 50k winner knows, though, that luck isn't everything. And sometimes a perceived weakness at one distance can be a distinct advantage in a different race. Clearly, Coffee's perceived struggles with the marathon have forced him into a different running bracket and led him to his most recent victory; however, he expresses mixed emotions about his relationship with the more iconic distance.
"People have tried to blame my poor marathon performance on getting too worked up," he says. "But that's not it. I'm definitely calm. I take it all seriously. But with the longer distance, I feel more in control of the run. I'm not sure why."
Not getting "worked up" allows Coffey the opportunity to run smarter and take down opponents like Wardian and Gray. "I had done the math beforehand. Basically, I went out to win. I think that's why things went pretty well for me," he says, "I knew I had a chance. In general, I'm able to pace myself better in the 50K."
But there is also a residual part of Coffee that still does want to get worked up. Wants to hit a wall. Hard.
"My goal is to break 2:20 in the marathon," he says, "The real goal is to run an Olympic goals qualifier. And I think I could do that. I see myself able to do that."
One more thing Coffey will be doing in the near future will be running the Boston Marathon. And, of course, he has set very specific goals–goals that speak to the hybrid nature of his marathoner/ultramarathoner identity. "I'll be running Boston, but I'm going to do it a little differently," he says, "I'm planning on running the course twice. 52 miles in less than six hours. That's my goal."
With such a decisive 50k win and undoubtedly promising marathon potential at his feet, perhaps it would be easy to wonder why Ethan Coffey doesn't just pick a side of the 26.2 and run with it. But why should he have to? Coffee may, indeed, be the kind of runner who can hit a barrier and then run past it. Maybe he is that lucky.
Or maybe, as he's figuring out how to deal with the path ahead, he is just listening to his own confident advice. "I just kind of realize that nobody outside of myself can tell me how I should run," he says, "What I do is impressive enough."
The Fall Backyard Burn Trail Running Series wrapped up Dec. 1 at Hemlock Overlook Regional Park in Clifton.
The race attracted local cross country runners and trail running aficionados. Runners in the 5.5 mile and 10.3 mile race encountered rugged conditions, with a few small patches of ice thrown in for good measure. The course took runners through hiking trails (including the Bull Run-Occoquan Trail), open fields, and dirt roads by the Occoquan River and Popes Head Creek.
Many runners agreed that the course was more difficult than others in the series due to the hills, rocks, and stream crossings.
"I heard some cursing in front of me and I knew to be careful," said Ivette Booher of Lorton, who competed in the 5.5 mile race. "It was fantastic, it was great weather for [the race]."
"I thought it was really challenging relative to the ones I've done in the past," commented Kate Blood of McLean.
Brent Bartlett of Falls Church won the 5.5 mile race with a time of 35:55. His wife, Marta Bartlett, was the first female finisher in the 5.5 mile race, finishing in 42:35. The Bartletts train together for the trail races, which they have been running for the last couple of years.
"I know the pace I could hold and went with it," Brent, a former cross-country athlete at SUNY Geneseo, said of his race strategy. "It's probably the hardest race [in the series], there were a lot of rocks and streams. The people who run it do a really good job of clearing the course."
Second place female finisher Jen Cortesi finished the 5.5 mile course in 43:58, trailed by Sarah Flynn, who finished in 44:46. Murjan Hammad came in second place overall in the 5.5 miler with a time of 38:36.
Third place overall finisher Danny Cooper of Falls Church ran his first Backyard Burn race on Sunday morning. Cooper, who completed the 5.5 mile race in 39:01, ran cross-country in high school and said that the course at Hemlock was challenging as a first-time competitor.
"My strategy was to stay close to people because I don't know the course at all and I didn't want to get off the path, but they marked it pretty well so that really wasn't an issue," Cooper said. "I didn't want to start out too strong because I'm not in the best shape I could be, so I didn't want to burn out in the middle of it. Two big hills could just wipe you out for the rest of the race, so I was trying not to crush it on the hills because I also didn't know which hills were coming up."
Woodson High School rowing coach Joe McMullin competed in the 10.3 mile race Sunday, finishing third overall with a time of 1:14:09. Jason Starr and Chad Wolf finished first and second overall in that race in 1:12:20 and 1:13:46, respectively.
McMullin began running competitively two years ago after running relays with his father, who is a triathlete. He competed in two other races in the Backyard Burn series last month at Wakefield and Prince William Forest Park.
"I like running these [races]," he said. "This is a nice transition [from rowing]. I'm doing races one weekend then regattas the next."
McMullin said his race-day strategy was to power up hills and said the race was well-coordinated.
"This race, I think was the hardest one," he said. "The people who run the race do a great job, there were plenty of water stations and plenty of bathrooms."
Sunday's race was a family affair for Claudia Escribano and her daughter, Caitlin Payne, who ran the 5.5 mile course.
Escribano, a long-time runner, inspired her daughter to start running cross country when she entered high school. Since then the pair, who live in Sterling, run together in local races including mud runs and trail races.
"I don't know that I would come out here if I didn't have someone to run with, so it's good to have her there," Escribano said. "We love these trail runs, these are awesome. I mean, they're hard as heck but they're fun."
"We run just for the fun of it," Payne said. Escribano and Payne also ran the Backyard Burn race at Prince William Forest Park on Nov. 17.
Although competitors agreed that the course at Hemlock was a challenge, some said it was a great race for those who enjoy trail running.
"The ice made it really difficult. I think this is a really unique race series. Depending on your level of fitness, you can still get a good run in," Blood said.
"It's really fun, a great vibe, and people cheer each other on," Fay Slattery of Alexandria said. "If somebody trips, everybody stops and asks if you're ok. It's really nice. I like the fall race series. It's like you have your own cross country season."
Even after 50 miles of running, Zach Miller was still happy to be out on the JFK 50 Mile course.
For a guy who spends five months at a time at sea, the latest champion of the east coast's big fall ultramarathon doesn't take any time on land for granted. Miller, not to be confused with  2003 runner up Zachariah Miller, is based in Columbia, Pa., but that's just a place his junk mail shows up while he's on the boat.  Results
"It's good and it's bad," Miller said about his job operating printing equipment on cruise ships. "I've gotten to run on five continents and I'll be able to do South America soon, but I really can't get fast running 10 miles a day on a treadmill."
That didn't stop him from pulling away from Ultra Race of Champions winner Rob Krar somewhere between mile 33 and 38 and cruising to victory in 5:38:53, the third fastest time on the course and the youngest, at 25, under 5:40. Krar did not finish the race. Matthew Flaherty of Bloomington, Ind. was second in 5:44:37 and Arlington's Michael Wardian, he of two marathons in a single day earlier in the week, finished third in 5:55:37.
"When they said I was going to come in under 5:40, I couldn't believe it," Miller said. "Only two guys had done that before, and one was Max King (2012 winner and course record holder at 5:34:59)."
Miller's job affords him months-long vacations, and this one included a road trip to Nevada for the USATF 50k trail championships. A sixth-place finish helped convince JFK race director Mike Spinnler to let Miller into the race, though he didn't decide on it until a few days before.
"I got the okay but I really had to think about if I really wanted to do it," he said. "A 50 mile is a lot different from a 50k. I had never run more than 35 miles before."
Whatever pre-race worries seemed quaint in retrospect of a race that came together "perfectly." He took the 13 miles of alternating road and technical Appalachian Trail easy, cautiously navigating the rocks.
"I wanted to make sure my ankles came out of it," he said. "I was falling back, but there was plenty of race left."
When he and Jason Wolfe hit the C&O Canal Towpath for 26.3 miles, they took down the pace, but Miller considered that he might be running on borrowed time, though it was Wolfe who didn't finish.
"I thought if we kept sub-6:00 pace up too long, I might blow up by mile 25," he said. "I was working pretty hard, but once I caught up with Rob (Krar) and found out who he was, I was just happy to be up there with him. I was floored just to be in a position to be second to him."
Miller didn't know the kind of lead he had, or that Krar had dropped out, until he hit a tight turn with a little more than eight miles to go. On the rolling hills headed into Williamsport, Md. he tried to reconcile some of the splits he got from escort vehicles, 6:15 for one mile, with the fact that he had never pushed his body that far in a race.
"I was in the great unknown," he said. "I was just seeing what I could do at that point, it felt like it was all adrenaline. I nailed the nutrition, because you have to take a lot of food to keep going. I think I had a banana at every aid station and my homemade gu."
Oddly enough, the former Rochester Institute of Technology 10k runner might be well suited for ultra running because of his job situation.
"I don't have the opportunity to train for a fast marathon, but I can get really strong," he said. "When were at port, I go out and run because that's my chance to get off the treadmill. If we're in port for four hours, I'll go run for four hours. Norway, South Africa, I just go out and run mountains."
Warren County, Va. native and Flagstaff resident Emily Harrison might not have matched her time from her ultramarathon debut last year, when she dipped under the old course record coming in second to Ellie Greenwood, but she still managed to race with a commanding lead and capture the title that eluded her before.
"I felt a little off from the start," she said. "Even leading up to the race, I knew I wouldn't be as fast but (coach and habitual JFK runner) Ian Torrance said I could run in the 6:30s, so I just focused on getting the win."
Her 6:35:05 was nothing to scoff at, because it was well ahead of Frederick's Sage Norton's 7:14:03 and Boulder's Kara Henry's 7:17:37.
"I just didn't drop my pace on the canal this year," she said. "I did get to see my parents and grandparents driving along the canal and thought to myself that I'd get to see them in a few miles."
Those were just two of the 863 runners to finish the trek between Boonesboro and Williamsport, run the day after the 50th anniversary of President Kennedy's assassination.
Erik Price hasn't had his pick of great days in either of the ultras he's run this year. The Oakton resident tried his hand at the Northern Virginia North Face Endurance Challenge 50 Mile in June, which saw hot muggy weather demolish the field. At JFK, temperatures in the upper 30s and lower 40s, which took a hit at mid-day were accompanied by a constant headwind. That's coupled with the long, consistent stretch on the towpath, made Price somewhat wistful for the sweltering North Face conditions.
"Running that far on a flat course, you use the same muscles, make the same motion for so long," he said. "People told me JFK was a tough race but I didn't see it, looking at the elevation chart. Now I know."
The conditions hit Reston's Andrew Simpson hard, but he managed what he called a "great race" despite all of it.
" I think I was close to hypothermic," he said after recovering from his 39th place finish in 7:29:32.
"Somehow I sprained my ankle along the way but didn't notice until I stopped and tried to walk around the gym at the middle school," he said. "Definitely an epic day for ultra-marathoning. I would think that JFK would have been  very proud as the course tests you both mentally and physically."
Simpson's Team FeXY finished second in the men's open category to Pain Train.
Lara Shegoski finished fourth on the women's side, hundreds of miles away from where her Johns Hopkins University cross country teammates were celebrating their second consecutive Division III women's cross country national championship. Shegoski spent a week out of training with the flu and getting back into the swing of training wasn't easy.
"My coach said I could try to get back into shape and run one more race, but I figured it was time to move on," she said. "I spent the summer not running because of ROTC training, so I wasn't in shape for college racing."
The ultra distance, though, worked out quite well.  In a race that would make Aristotle proud, she just ran without a strategy or preconceived notion about the race, her mind a blank slate. That led to a surprise midway through the race.
"I thought I'd run nine hours," she said. "I was running with two other women and one of them mentioned we were on sub-7:30 pace. Once I heard that, I started getting a little worried, so I stopped looking at splits."
She finished in 7:20:45.
Eugene resident Emily Halnon signed up for the race while living in Washington, D.C., but she found her new training environment rocketed her into an optimistic mindset for the race.
"You have great trails, and great runners of all kinds," she said. "It's not just "Track Town.'"
She took the Appalachian Trail section carefully and managed to emerge unscathed.
"I fall in road races, so that was really big," she said. "But it meant a lot of people passed by me."
She emerged onto the towpath in 26th place and worked her way up to seventh by the time she turned onto the road, holding that place to the end.
Triathlete Alyssa Godesky of Baltimore had a breakthrough race, running 7:38:20 on her fifth JFK race for sixth place. Her previous best was around 8:05. She was the second woman to reach the towpath but found her pursuers running faster than she thought was sustainable for that long a race.
"I tried to hold on but I saw my Garmin putting us in the low-eights (pacewise) and I knew that wasn't my plan, so I let them go," she said. "I know what I'm getting myself into, I guess. I was excited to race an ultra now that I know how to race, triathlon definitely taught me that. I used to do ultras trying to go fast, but I have a different mentality now."
Cathy Ahn has been on the lookout for strange and unique races this year. She found one, a few miles from her Arlington home.
Though she had already signed up for the Grant-Pierce Indoor Marathon, she decided the morning of the race to go for the gusto and run the 50k instead. She ended up finishing second in 4:54:25.
[button-red url="http://racepacket.com/rsltwrap1.php?id=3836″ target="_self" position="left"] Unofficial Results [/button-red]
"I thought about running one more lap than the marathon so it would technically be an ultra, but I decided to just go for it," she said.
She was accompanied by a handful of Arlington Road Runners, several of whom raced with the rest cheering. Those spectators got to see their athletes a lot. With 210 laps of the 200 meter track for the marathon and 250 for the 50k, the race had almost a dozen lap counters, who tracked several racers to back up the electronic Racepacket timing system.
Eddie Valentine kept his eye on his friend Dave Lin, who was visiting from Manhattan. He was conscripted into the counting corps and limited himself to tracking four runners so he would be able to handle the workload.
"You second guess yourself when the electronic system doesn't match your count," he said.
The race started four years ago to give Michael Wardian an opportunity to shoot for the indoor marathon world record and added the 50k to give him an opportunity there, too. The race is named after his two sons. He came through again, running 3:12:13 to Russian Igor Tyazhkorob's 3:14:49 from 2002.
Wardian tried to run consistent 6:00 pace, hitting 45 seconds for each lap, despite winding through nearly 60 other runners.
"It's amazing to think it started with 10 people four years ago," he said. This year's race had 54 starters.
With wins in several races recently, including the Vermont City Marathon and North Face Endurance Challenge in consecutive weeks, he's recovered from the stress fractures that plagued his latter part of 2012.
"Just a little pain in my hip today, from the left turns," he said. "They just started the lap after I split the marathon; It was a little odd."
Women's marathon winner Alison Slade, of Odenton, Md. made a pair of comebacks, returning to the marathon after a decade away and racing once again in the Thomas Jefferson Community Center, where she ran many races as a student at the Thomas Jefferson School for Science and Technology. She initially signed up to take a shot at the world record for the women's indoor marathon, 3:05, but suffered a hamstring injury shortly after than left the goal harder to reach, but she persevered with breaks to massage it and finish in 3:33:21.
The Setash family from Centreville, Va. came to surprise Eric Setash and he went for his age group win to establish a 45-49 indoor 50k national record, which he did in 5:07:35.
"He thought we were home packing for our trip to Cancun," said his wife, Mary. "We probably should be, but we don't get to see his ultras."
His son Charlie and daughters Layne and Abby accompanied him for the last lap. He was ready for his massage, scheduled for Tuesday at their all-inclusive resort, and to demolish every meal that day.
"I'm usually ravenous two days after these races," he said.
He was disheartened to run over four hours for the marathon en route to the 50k, but he recovered well.
Runners weathered the eight-lap miles in a variety of ways. Lin played head games with the clock, trying to run consistent splits so every few laps, he would cross the starting line at the top of the minute. He didn't mind the weaving through the lapped runners, because it broke up the monotony of the race.
Steven Waldon on Brooklyn, N.Y. "just zoned out" for about 80 laps. He initially didn't think he'd have the luxury of doing so, because somehow, at the end of the first lap, he fell down.
"I've fallen in trail races, everyone falls in trail races," he said. "I still don't know how I fell on a track, on the first lap."
Making matters worse, he fell again during lap five.
"By my estimation, I was going to probably fall 50 or 60 times," he said. "I still don't know how I managed to fall."
He went on to finish third in 3:54:58.
Trying to schedule a friendly get together in the past four months with Monique Young has been no easy task. In order to meet her weekly mileage goal in preparation for the 50 Mile North Face Endurance Challenge, her days started at 5 a.m. and ended at 8 p.m. But waking up and going to sleep that early to get enough miles under her legs has been worth the trade off for her.
While she described the course through the woods of Algonkian Regional Park, her face lit up. "Amazing" was a common word for Young to describe the mostly dirt and gravel course that she said smelled like honeysuckle.
[button-red url="http://results.bazumedia.com/event/results/event/event-4201″ target="_self" position="left"] Results [/button-red]While Young left road running for trail running to be closer to nature two years ago, the North Face Endurance Challenge marked one of several 50 mile trail races that she has completed.
Laura Coogan, first place finisher in the women's marathon with a time of 3:57:31, conveyed a similar nightlife situation—which she said has been on the decline since college. While balancing a time-demanding training schedule and nursing school life, Coogan took great delight in indulging in the North Face Endurance Challenge post-race festival, which consisted of ice baths, food, beer and many other activities.
"It's like a big party," Coogan said. "Except that you have to run a marathon. But at least you earned that party."
The North Face Endurance Challenge consisted of an entire weekend of trail racing. And with a eight different events, including a 50 mile, 50k, marathon and marathon relay race, there was something for everybody.
All that George Johnson could remember from last year's North Face Endurance Challenge marathon relay were trees, shade and cool temperatures. But all that Johnson could remember from this year's race was the sun beating down on him.
While Johnson appreciated the lack of rain that muddied up the course in last year's course, he said the start and finish that took place in an open field with no shade was quite the challenge this year.
Above the Potomac River, the well-marked courses included three miles of tip-toeing and hopping along bluffs on the River Trail with climbs up to 300 feet. In return for their brave climbing skills, the shaded areas of the park blocked them from temperatures that steadily rose to the mid-90's.
Potatoes, salt, chicken broth and chips were served throughout the race to keep runners fueled. Gallons of water and sport drinks were guzzled down all in an effort to conquer the heat and finish the race.
Among the several local note worthy athletes that competed in the Endurance Challenge included Elite Ultra Runner Michael Wardian of Arlington, Virginia, who took first in the 50 mile race with a time of 6:45:36. In the women's 50k, Rachel Clattenburg of Washington, DC won first place with a time 5:05:05.
Runners of all ages turned out for the Seneca Greenway Trail Race, which took runners through a rolling course consisting of a mostly smooth dirt path in the Damascus Regional Park. The two scenic courses turned out to be 29.71 miles for the "marathon" distance and 32.6 miles for the "50k" distance. With a cool temperature of 32 degrees Fahrenheit and snow flurries, competitors started out in the Lower Magruder Branch Side Trail out of Damascus. This connected them to the Seneca Creek Greenway Trail and followed the Potomac River at "Riley's Lock."
[button-red url="http://results.active.com/events/seneca-greenway-trail-race/trail-marathon/expanded" target="_self" position="left"] Marathon Results [/button-red]"That was the hardest thing I've ever done," said Alex Roederer, 15 of Bethesda, Md., as he tried to refuel his body with fluids just moments after the race.
Roederer made Seneca Greenway Trail Race history as the youngest marathon winner to-date. With a time of 4:19:27, Roederer ran with the leading pack for most of the race until the 50k and marathon courses split. Before today, his longest race-distance had only [button-red url="http://results.active.com/events/seneca-greenway-trail-race/seneca-greenway-50k/expanded" target="_self" position="left"] 50k Results [/button-red]been 13 miles. That's the same point in the race at which Roederer said he "stopped thinking."
Training for the high school track season ahead, Roederer is just getting started. He said he plans to do more marathons in the future.
Finishing close behind Roederer and leading the 50k race pack were brothers Tyler Burke, 27 of Washington and Shaun Burke, 25 of Chicago. Tyler, who had completed three 50ks before the Seneca Greenway Trail Race, was just seconds ahead of his brother with a time of 04:27:11. Shaun, with a finishing time of 4:27:44, said he enjoyed the break from running in the windy city.
"Being from Chicago, it was a nice change of pace being in the foothills and mountains," Shaun said.
Shaun began running shortly after college where he needed a change in lifestyle.
"When I had five math classes, nothing but frozen pizzas and lots of beer, I decided I needed to do something, so running was the way to go," he said.
After experiencing the Seneca Greenway Trail course, Shaun said he plans to take a break from triathlons and focus solely on running.
"For a $70 pair of shoes and $20 pair of shorts, I can go out and have fun," he said.
Both of the brothers plan on competing in the North Face 50 Miler in June.
Though racing in beautiful foothills and mountains was rewarding for most runners, planning for the race was no easy task. Race Director Harvey Sugar of Montgomery County Road Runners Club insisted that nobody take photos of him—he hadn't had any time to shave in two days and had been up since 4 a.m. preparing for the race. With nearly 270 runners competing, Sugar said runners come out for the course and for the "spirit of the race."
"We try to keep it low key and down to the basics–trail runners like that," Sugar said. "We'll have people do this race over and over again."
Sugar thanked the hard-working volunteers from the Montgomery Road Runners Club and the Virginia happy trails running club. In total more than 100 volunteers helped run the race. He also said the race would not have been possible without Ed Schultze, who passed the torch on to Sugar and had directed it for the past 10 years.
Clemence Vauzelle, 24 of Annadale and originally from France was the first-place marathon female finisher with a time of 4:55:16. She described the course as "playful."
"This is really my favorite type of trail," Vauzelle said. "It's a little rocky, muddy and had some roots, but you can still go fast."
The course was familiar for Vauzelle who runs these trails every Sunday morning and usually sees foxes and deer and hears birds chirp.. She has been training with the Montgomery County Winter Trail Running Club in preparation for the race. Not expecting to win, Vauzelle was told at the aide station at the 30-mile mark, she was the first woman to come by.
For David Welch, 44 of Frederick Md., the Seneca Greenway Trail was his first long trail race. Welch, who crossed the finish line with his young son who ran with him the last 100 yards of the race, explained why his shoes looked the way they did at the end of the race.
"I fell in the stream," Welch said. "But it at least got my shoes clean."
Close to the finish, runners crossed a cold and rocky creek. Runners had the option of using a rope to help them cross, but some didn't need it.
"I took a little ice bath in between," said Cori Brindle, 31 of Mechanicsburg, Pa., who kneeled in the creek to cool off her leg.
Brindle won the 50k female division with a time of 4:59:05. The Seneca Greenway Trail was only Brindle's second trail race. She is headed to the Boston Marathon in April.
"I was planning on doing the marathon distance but a woman at the water station convinced me I'd feel better at the end if I did the 50k, so I sucked it up," Brindle said.
Most runners had to follow suit and "suck it up" to finish the two courses that ended up being a longer distance than they had planned for. But this is part of the trade-off to compete on smooth, scenic paths through the woods.