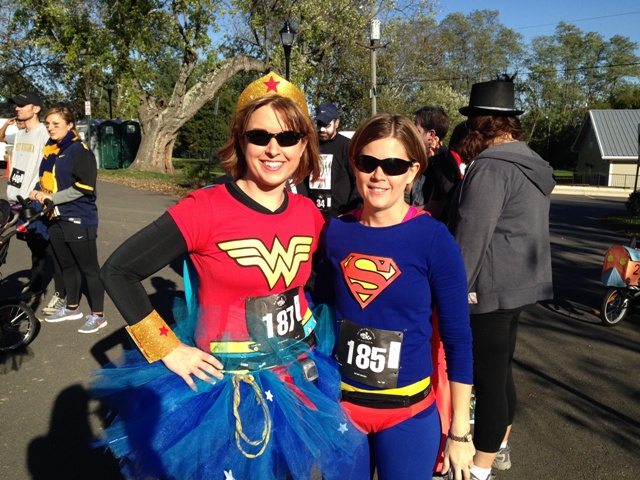 The crisp, cool fall weather and the picturesque setting of the Paxton Campus, provided the perfect backdrop for the fourth annual Ghost, Goblins and Ghouls Spooktacular 5k and Scarecrow Sprint Fun Run.  The event had a "spooktacular" theme, complete with a costume contest, Halloween themed entertainment, and store trick or treating.  Participants came dressed in an array of amazing costumes – there were superheroes, ninja turtles, Disney characters, Care Bears, princesses and a zombie bridal party – to name a few.  Everyone arrived not only ready to run, but ready for the costume contest as well.
The 5k race started at 4 pm and took several hundred participants from the Paxton campus throughout the neighborhood streets.  The course offered a "spooktacular" feel and is rumored to be haunted.  The overall winner was Paul Schoeny, of Hamilton, Va.  This was his first time running the Spooktacular 5k, and he finished in a quick 17:24.  He enjoyed the race and described the course as "fast and scenic."  He found the event to be fun for the whole family and plans to return next year.  On the women's side, 36-year-old Elizabeth Hollis of Leesburg crossed the finish line first in an impressive 20:45.  This was Elizabeth's second time running the 5k and she improved her time by a full minute from the year before.  In 2012, she placed third for women, and was excited for her win.
"I enjoy this race, it is a fun event.  It was great to win this year!" she said.
She plans to be back next year to defend her title.  A portion of the proceeds from the 2013 race will go to the Road Runner's Club of America's Kids Run the Nation Program.  This program is a gender inclusive, mulit-week youth running program for children in grades kindergarten through six grade.
Shortly after the race was the costume contest and Scarecrow Sprint Fun Run.  There were three entry categories for the contest – Individual, Couple and Team.  In order to be eligible, you have to complete the full 5k run wearing your costume.  One participant, dressed as a zombie bride, said it was "very challenging" to run in a full length wedding dress.  However she did find the event more entertaining than most 5ks, as everyone is "excited for Halloween and focused on enjoying all the event has to offer."  Costume winners received an award for their efforts, and much admiration from the community that gathered for the event.  The Scarecrow Sprint Fun Run was open to ages two and up and all participants received a finisher's medal when crossing the finish line.
Before and after the race the family fun continued with Leesburg's Shocktober-fest, also located at Paxton Manor.  From 3 – 8 pm, there were fun house tours, concession vendors and even a beer garden for adults.  "The Last Ride" coffin simulator experience was also set up for those who dared to give it a try!  Every Friday, Saturday and Sunday night throughout the month of October, the Paxton Manor is open for those who are brave enough to walk her haunted halls.
The Ghost, Goblins and Ghouls 5k and Scarecrow Sprint Fun Run, was a successful, family event that sparked Halloween spirit in all of its participants.  From the fast 5k run in elaborate costumes, to the Halloween-themed music, and even a haunted house for those brave souls, this Leesburg event is definitely one to make a yearly family tradition.
-Emily Dusen
Recent Stories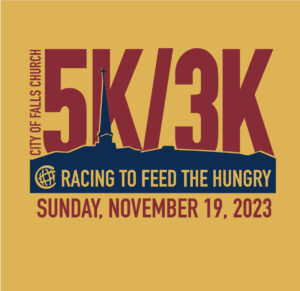 The out and back Falls Church City 5K/3K course is mostly flat on the W&OD Trail starting and finishing at 103 Columbia Street. Overall male and female winners earn free shoes and medals are awarded to all categories. Great family