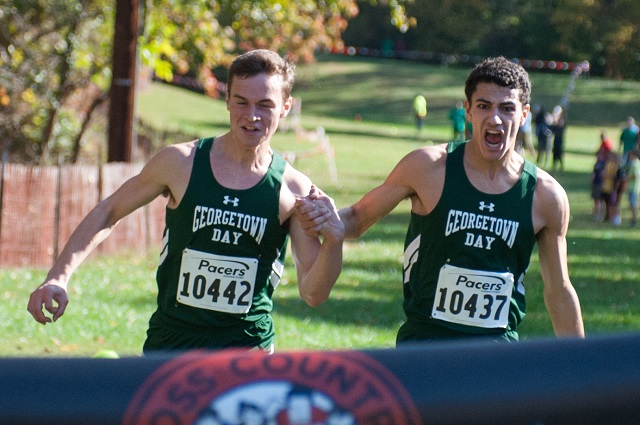 Scaling the final steep hill towards the finish line of the D.C. State High School Cross Country Championships at Fort Dupont Park in Washington D.C., Georgetown Day School teammates Tristan Colaizzi and Aiden Pillard impulsively decided to finish the race together, hand in hand. Having trained and raced side by side all season, often finishing within seconds of each other, made racing down the final straight away together at the DC championship meet even more special. Though they finished with an identical time of 17:34 for the 5k race, Pillard, a junior, was officially declared the winner, and later MVP of the boys race. Colaizzi, a sophomore, was happy for Pillard and with his own performance, saying, "It hurt, but it hurt good, and there's nothing better than running next to teammates."
The performances of Pillard and Colaizzi, along with their teammates Liam Albrittian (sixth), Sam Boardman (seventh), and Jackson Todd  (10th, top freshman), contributed to GDS taking the top finish in the meet with a total score of 23 points.
Finishing third in the boys' race was Roosevelt High School senior Abdur-Rahmaan Kelly (17:42) followed by Woodrow Wilson High School senior Ross Pendergast (17:45) in fourth. Representing some of the top running talent of the D.C. public schools, Kelly and Pendergast worked together from the 1k mark in the race, and despite losing 10 seconds by taking a wrong turn around the 3k, regained momentum and finished strong, with Kelly pulling a slight lead down the last straightaway. Wilson head coach Patrick O'Steene believes the strong performance of Pendergast and his teammates is an indication of good things to come, saying, "We dream big, and we see ourselves winning this meet in a year or two."
Georgetown Day School coach Anthony Belber was proud of his team's winning score and the strong performances of his runners, though he did note that he chose to hold back a few top boys in order to prepare for the Maryland and DC Private School Championships to be held next weekend at Agricultural Farm Park in Derwood, Md., where he hopes to defend both the girls' and boys' team titles won last year. But the DC State Championship Meet holds special meaning for Belber in other ways. He observed that, having grown up in DC and serving at GDS for 14 years, he is extremely gratified to see the strong performances of the DC public and charter schools, and is glad to see how the DC high school running scene has grown in the past several years. Belber also commended the D.C. State Athletic Association which organized the championship race, saying, "I think [this meet] is a great concept, and I hope it will continue to grow for years to come."
Kenny Owens, Special Events Coordinator for the DCSAA, noted that the championship meet has doubled in size since its inaugural race last year, and the turnout today included 116 athletes and  representation from 16 schools (public, private, and charter) across DC. Owens is excited for next year and hopes the DCSAA can continue to grow and build support for the event.
Leading the girls' race was Sidwell Friends senior Megan Wilson. Taking a big lead early on and never faltering, Wilson finished the hilly course in a course record time of 19:46. Headed next year to run for Stanford University, Wilson said she was happy with her race, and "We just came up here as a team to win."
Joined at the podium by her Sidwell teammate, freshman Ellie Leape (second place, in 20:28), the two were named MVP and top freshman of the meet, respectively. Finishing in third place for the girls was Margaret Lindsay of Georgetown Visitation in 21:07.
Though Sidwell was to miss the top team score by two points, getting edged out by Georgetown Visitation 40 to 42, Sidwell coach Gaby Grebski chose to focus on the positive, saying "We were so much closer to Georgetown Visitation than at the beginning of the season." She also noted that Wilson and Leape had both made significant progress since last year, Wilson running a full minute faster than her time at this meet in 2012, and Leape running faster in every race of this season.
Georgetown Visitation coach Kevin Hughes was proud of his team's performance, but noted that their close victory was not always a sure thing, given that he was missing his first and fourth runners at the meet today. "All things considered, it was a good year, and I have nothing to complain about" he said.
Hughes looks to his team to compete well in next week's Maryland and D.C. Private School Championships.
Recent Stories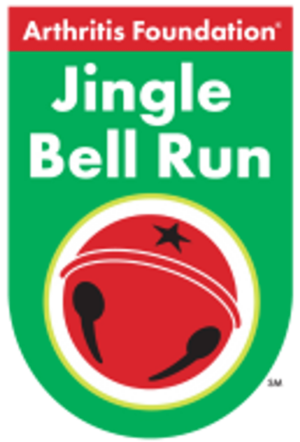 Be part of the original festive race for charity and signature Arthritis Foundation holiday event! Wear your favorite holiday attire and together, we'll jingle all the way to a cure! Register as an individual or bring a team of friends,