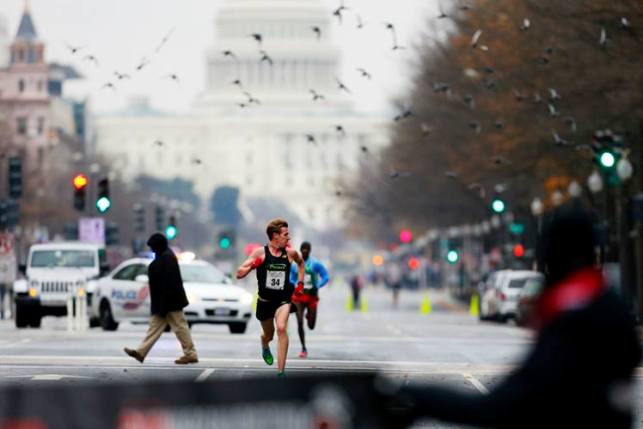 Carissa Lee (48:11) and Pete Sumner (48:10) first met in 2004 at the West Point Triathlon in West Point, N.Y. Their love for running brought them together, and four years later, they married.
The Sumners participated in this year's Jingle All the Way 8k. Only this time, they brought with them a new addition to the family.
With Chris Van Allsburg's Polar Express as their inspiration, the Sumners donned pajamas and decorated their young daughter's stroller with Christmas lights and silver tinsel to resemble the train in the famous children's book.
[button-red url="http://www.albanyrunningexchange.org/results/search.php?ID=3632″ target="_self" position="left"] Results [/button-red]"She didn't really enjoy the last mile, so we were just running as fast as we could so we could finish the race and take her out of her stroller," said Carissa, 30, when talking about her 23-month-old daughter Eloise. "We might pick some shorter races for her in the future. I think we were having a better time than her."
More than 4,400 braved the frigid, 30-degree weather and snow to run the Jingle All the Way 8k Dec. 8.
They dressed in festive holiday attire that featured everything from elves and candy canes to reindeer and Santa Claus costumes and raced through the downtown Washington, D.C. course that took them past landmarks such as the U.S. Capitol and National Mall, before ending just a few hundred yards from Freedom Plaza.
Middle school social studies teacher Paul Thistle, who runs for the Pacers-New Balance team, raced Jingle All the Way for the first time. He decided to try his hand at the popular December event  and did quite well, winning in 24:14.
"It feels really good," Thistle, 26, said. "I've been doing a lot of training and it's paying off. I'm running faster than I've ever run before and these races are great opportunities to test the waters."
While Sunday's race was Thistle's first, it was hardly such for Arlington resident Kerri Gallagher. She earned her second first-place finish among women runners in as many years after posting a time of 27:28. Gallagher said she monitored weather reports leading up to the race.
"I was kind of expecting the worst, so I was pleasantly surprised that it wasn't raining when I started my warm-ups," she said. "I just love how many people come out (for the race) and how they're setting and accomplishing goals. I really love amount of support from the spectators who are part of the running community who are happy to see the women race. It's just a great atmosphere."
The inclement weather had minimal impact on course conditions and runner turnout.
"We watched all week and worked with the municipality partners," race director Kathy Dalby said. "We were really lucky that the storm hit when it did. (The snow) actually added a bit to the festive feel of the event. This race always grows – we try to cap it at 6,000 – but the turnout was just a little lower than normal, because of the weather.
The fun wasn't limited to veteran runners. The race was a family affair for the Kulps of Falls Church, who dressed as elves in a package, complete with shiny silver wrapping paper and green bows. The family of four participated in its second-consecutive Jingle All the Way 8k, but this year's race was extremely memorable for 11-year-old Rachel (55:31).
"There were so many people dressed up in costumes. There was a guy who juggled and it was really cool," she said. "There weren't just all adults; there were a lot of kids who ran. And it's really cool that it's snowing too."
Recent Stories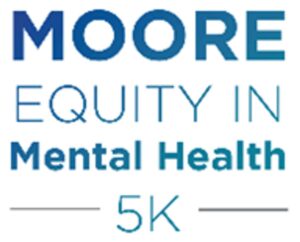 About APA's MOORE Equity in Mental Health 5k
The APA's Division of Diversity and Health Equity invites you to join us in combating mental health inequities facing young people of color and in honoring mental health advocate Bebe Moore Campbell.