Oakton Junior Allie Klimkiewicz is still buzzing from her team's first state cross country title last fall. She has raced the VHSL 6A State Cross Country Championships every year since she was a freshman, but the team win made this year extra special.
"It feels very unreal," she said. "We had the talent this year and everything just came together. We all shared [the win] together. I think our team dynamic was really good this year. Everyone just clicked." 
The team dynamic goes beyond the team's post-season tradition of coordinated polish on their nails and "crazy bows" in their hair.
Klimkiewicz said fellow team captain Hailey Dougherty has been a big inspiration, along with Jordan Hasay–"it's very interesting to see how she progressed. I love keeping up with running news."
Klimkiewicz, too, has come a long way from the freshman who tried cross country to get in shape for soccer. Last season she ran a sub-5:00 mile PR and competed in several top-notch meets, including the New Balance indoor nationals in New York and the Penn Relays in Philadelphia. Now, she's all-too familiar with the distance runner triple–the mile, two-mile, and 4×800 relay–even at championship track meets.
"The more running, the better I usually do," she said. 
This might explain her disdain for the stationary bike in her basement, even on Virginia's worst snow days.
"Biking on the stationary bike is not fun, and I try to avoid that at all costs. I love running outside compared to staring at a wall for 30 minutes." Sometimes she'll try to break up the monotony with an old episode of Gilmore Girls or The Office ("all my favorite shows keep getting canceled!" she noted).
And while she loves the running trails that DC has to offer, McAlpine Park in North Carolina is her favorite course, where she has raced Foot Locker South Regional for the past three years. This year, she finished 12th in 17:34.
"I don't really like [the hills in McAlpine Park], but I think I do better on them so in the end they're more beneficial for me," she said.
That attitude translates well to the classroom. Klimkiewicz thrives off of variety, and is just as likely to enjoy her AP English Language and Composition course as much as a lecture on environmental science.
"Junior year has been hard, but there's really no class I dislike," she said.
If she had free time, she says she'd visit D.C. for a trip to the National Gallery and Georgetown Cupcake. But that's a very big "if." Outside of running, Klimkiewicz is involved in three honor societies, studio art club, and the Best Buddies club — a community service program in support of special education students on the Oakton campus. Klimkiewicz is a writing buddy with another student, and they write back-and-forth like old pen pals. During the football season, she tries to make it to all the games at her school.
"With all the school and running it's sometimes hard to have a life outside," she admitted.
Her diverse interests are largely influenced by her Oakton teammates. When she isn't tutoring her teammates, sometimes they attempt pinterest-inspired crafts together or work on projects from their ceramics class after school.
[button-red url="http://www.runwashington.com/2013/12/16/runwashington-high-school-cross-country-team/" target="_self" position="left"]More of the All-RunWashington team[/button-red]Then, there's traveling. Klimkiewicz says she'd love to travel the world when she's older, but for now she's saving up for a ski trip next winter. Last summer involved a family vacation to Paris and London and several beach trips with friends. Through it all, she remained fiercely committed to her running: "I was running during all of this, but it was really cool getting to go all over the place during the summer. If I don't go in the morning, it usually won't happen or I'll go at some weird time like 9:00."
Looking to the future, Allie says she hasn't made any decisions about college yet, but welcomes the opportunity to balance school and running at a high level.
"My career path is wide open for now," she said. "Whatever opportunities are presented I'm going to take full advantage of them."
As if she'd ask for anything else.
Recent Stories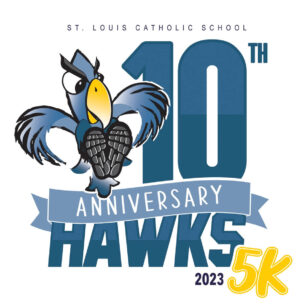 2023 will be the 10 year anniversary of the St. Louis Hawks 5K and Fun Run for Health & Wellness. The USATF certified course runs through the historic Hollin Hills neighborhood in Alexandria, VA.
The Hawks 5K goal, in conjunction