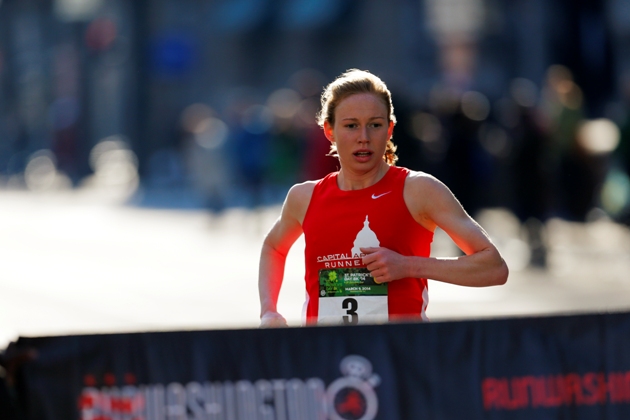 Susanna Sullivan forgot her watch Sunday morning when she headed to the line for the St. Patrick's Day 8k.
"I don't think it changed my approach to the race going in," she said. "If anything, it made me stay aggressive in the middle of the race. I didn't have any objective feedback so I probably pushed harder than I usually do in the middle."
Whether or not that removed any racing inhibitions and improved her performance was up for debate, but what wasn't up for debate was the dominance with which she won — running 26:51 for what is currently the fastest American women's 8k so far in 2014, according to the Association of Road Racing Statisticians.
[button-red url="http://www.albanyrunningexchange.org/results/search.php?ID=3772″ target="_self" position="left"] 8k Results [/button-red]She was almost two minutes ahead of Claire Hallissey (28:42) and positioned herself well for a run at the U.S. Olympic Marathon Trials qualifying standard for the half marathon (1:15:00) at the Shamrock Half Marathon March 15 in Virginia Beach. However helpful not having a watch ended up being, she doesn't want to forget it next weekend.
Sullivan, appropriately enough a Notre Dame alumna to match the Irish atmosphere, had some help along the way on a really windy day on Pennsylvania Avenue.
"There was a tall gentleman ahead of me," she said, referring to Washington's Scott Anderson, who measures in at 6 feet, 6 inches. "He blocked the wind for me and he was a huge help. At 3.5 miles (on Independence Avenue) there was a cone, and a sign and I didn't know where to turn, but he told me to stick to the cone."
On Sunday, she averaged 5:24 per mile. At Shamrock, she'll have to average 5:43. The 8k time was certainly encouraging as she tries to hit the standard that has eluded her in a few attempts. 
"Something seems to go wrong every race, but I think I've covered a lot of things–I can drink water while running, take nutrition while racing, so I think I'm ready," she said, mentioning the training Capital Area Runners coach George Buckheit has prescribed for her. Her teammate, Erin Taylor, finished third in 29:20.
Andrew Brodeur (first place in 24:30) also had some help against the wind, from three Pacers-New Balance teammates- Landon Peacock (second, 24:40), Mark Leininger (third, 24:47) and Mark Allen (DNF), who exchanged the lead through four miles until Brodeur ran away for his second local road race win of the year, following February's First Down 5k. The three finishers edged last year's champion Jordan McDougal (fourth, 25:08).
"The wind got really bad in mile four, we slowed down to 5:10 around then," he said. "I was surprised we all ran as fast as we did after that second half."
Lisa Gallagher was the first person to finish the race wearing a tutu, in 32:57. It was a green one, with bright green tights.
"The costume was really motivating," she said. "When you look good, you can sprint faster, with confidence. Guys came up to me and complimented me, I got a lot of cheers and it couldn't help but make me run fast."
Gallagher has been competitive in the past, she was part of an NCAA Division II runner-up cross country team at Edinboro University, but after some time out of racing is making a steady comeback, but this time she's enjoying the fun in racing a little more.
"I just wanted to prove (my friend) wrong that you could run fast in a costume," she said. "We raced with glitter in high school and we were fast then, so it held up."
The Americanized celebration of the patron saint of Ireland raised some eyebrows for Jake Lee and Conall Patton, two Irishmen in town for the Pro Bono Institute conference. They both live in London and participate in weekly 5ks in city parks there. Unlike those 5ks, they were dressed in leprechaun outfits for the 8k.
"It's very different from the way we celebrate in Ireland," Patton said. "My father speaks Gaelic at home. He hates leprechauns, he thinks they're completely un-Irish. If he saw me dressed like this right now, he would be so annoyed, in America it seems to fit right in."
"Sadly enough we did bring these suits all the way from Ireland," Lee said. "My sister lives in Dublin and she posted us these suits when she found out we were doing the run."
While running the race, Conall chose venue-appropriate music — the themes from The West Wing and House of Cards. The pair had no plans to take a train from the Cathedral Heights metro station.
Recent Stories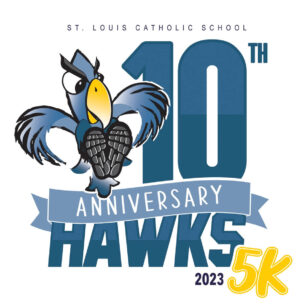 2023 will be the 10 year anniversary of the St. Louis Hawks 5K and Fun Run for Health & Wellness. The USATF certified course runs through the historic Hollin Hills neighborhood in Alexandria, VA.
The Hawks 5K goal, in conjunction