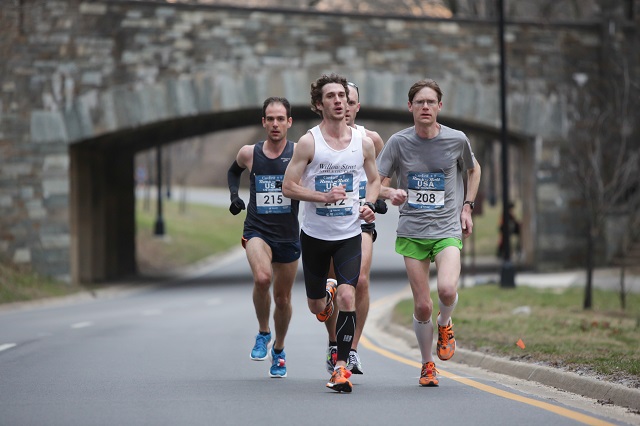 The leaders at the Rock 'n' Roll USA Marathon left no doubts. Across the board, between the half marathon and the full 26.2 miles, both the men's and women's races held little suspense. Local runners represented the area well in the top groups of finishers, and after an endless winter, runners rejoiced for sunshine and warm temperatures on race day.
HALF MARATHON
[button-red url="http://running.competitor.com/cgiresults?eId=54&eiId=174″ target="_self" position="left"] Results [/button-red] Abiyot Endale allowed a costumed Superman to lead the pack down Constitution Avenue, but Endale and a group of three other runners raced away from the field. Even then, the race effectively ended under the Kennedy Center overhang as Endale stretched his lead with a relentless, effortless-looking stride.
By the time he crested Calvert Street hill, the other runners couldn't be seen and Endale ran alone. A smile and a wave to the drum corps outside Howard University served as a rare indicator he was even aware of the surroundings on his way to a 1:06:27 win in the men's half-marathon.
Endale has proven himself as a capable winner before. He won the 2012 ING Hartford Marathon in Connecticut and set a course record that day.
Ayele Kassaye (1:08:29) finished in second on Saturday. Matt Rand (1:09:24) took third in his debut half marathon and finished as the first local man in the race.
On the women's side, Christine Ramsey made the trip down from Baltimore to secure the only close race of the day, a 1:19:27 win in the women's half marathon, ahead of locals Kerry Allen (1:19:46) and Teal Burrell (1:21:37). Ramsey improved on her third-place finish in this race last year.
Locals from Virginia and D.C. made up more than half of the approximately 25,000 registered runners, but the race still included participants from all 50 states and 33 foreign countries.
Dick Whitfield, Newark, Ill., drove to the nation's capital for the weekend to visit family. He sat with Laura Whitfield, who lives in Baltimore, for an picnic with post-race snacks in the RFK parking lot.
"She sent me an email and said there was a fun run out here," he said as he pointed to Laura. "Our winter's been so terrible. I haven't run all winter. I'm going to start training Monday," he said with a laugh.
Laura said she hasn't run much either. "We knew we'd finish. We weren't out there for time."
Weather typically sits at the top of the list for boring conversational riffs, but runners from across the country admitted that their training had suffered in some way from the barrage of snow and sub-zero temperatures this winter.
"We've run through snow, ice," said Aubrey Brown, of Richmond. He faced the challenge of training with a friend in another city, Melanie Sala, who lives in D.C.
"We ran through the polar vortex," Sala said.
The two embraced after the finish line. They ran all 13.1 miles together. The pair started training in November, and Brown completed his first race at this distance.
"We've known each other for a while," Brown said, "and it was the next thing in line."
"We decided this was an experience we wanted to share together," Sala said. "Step by step."
"I had to slow her down just a little bit," Brown said. "Every time a band came or a small child appeared, she felt like she needed to speed it up a little bit," he said, laughing. "I had four goals: the first goal was to start."
"That is the most important thing," Sala said. "Begin and then continue. That's all you have to do."
Brown's other goals included avoiding injuries during the race, finishing and having fun with his friend.
"All the boxes checked," he said.
Friends and families served as great motivators for many runners at this distance.
Erin Leo, D.C., tore her ACL playing basketball in college, and that's when she started running half marathons. Her younger sister Kate Waldon, Boston, cheered for her sister during that first race.
"I thought she was crazy when she ran her first one," Waldon said.
"And now she's done like 15," Leo said, "and is trying to get me to do a full."
The sisters have run nine half marathons together, beginning with the D.C. half marathon race four years ago.
For Courtney Cecere, McLean, the Rock 'n' Roll half marathon served as her first race after a new addition to her family, a now 13-month-old daughter. She trained for the event with a local group called Moms Run This Town.
"A baby changes the training time," she said. "Not so much that it's physically more challenging, but just the time juggling. Making sure my husband can be home if I run real early and adjusting when I run."
Many finishers rushed for the coveted medal, a signifier of achievement, but Cecere had another idea.
"I'm excited to go see my daughter."
FULL MARATHON
A former Olympian led the full marathon field from miles three to 11 on her way to the women's title. Nuta Olaru ran 2:43:00, fresh from taking the crown at the 2014 USA Cross Country Championships, where she won the masters women's 6k in February.
"I pushed when the men caught me," she said. "I didn't realize I was also first place. When the men caught me, I knew, oh my gosh, I was first overall."
Olaru, competing for her native Romania, finished 13th in the women's marathon at the 2004 Olympic Games in Athens, Greece. She now runs for the U.S. and trains in Longmont, Colo.
She said the Rock 'n' Roll Marathon fit well with her training schedule because she's headed to Boston in April. She finished more than 10 minutes ahead of second place, Rebecca Bader (2:53:10). Kristin Johnson (2:57:54) finished third and crossed the line as the first local woman.
"I didn't actually realize she was running the marathon until I actually passed her and saw her bib," said men's marathon winner Adam Doherty.
Full marathon racers wore red bibs, and half marathoners wore bibs with a blue stripe.
"Success on every front," said Doherty, who locked in his first place spot by about the halfway point and cruised to a 2:33:52 finish in his debut marathon.
"Definitely tough mentally," he said of running by himself. "Just clicking off splits. That was really what I was looking for. I was hitting 5:50s pretty much the entire second half."
Doherty, of Charlottesville, Va., said he wanted to run the marathon distance after his collegiate racing schedule ended with graduation last June.
"I'm really competitive, so I wanted to be in a race I could actually compete for," he said. "I've knocked it off the bucket list I guess."
Brian Benestad (2:36:32) took second. Eric Senseman (2:39:52) finished third and matched his place in last year's race.
Several runners mentioned the timing of the Rock 'n' Roll race because it happenes early enough to provide a firm benchmark between winter training and the Boston Marathon.
Dara Dalmata lives in Hopkington, Mass., the town where the famed marathon starts. She finished seventh in the women's field on Saturday in her first race since Boston in 2011.
"I didn't hit the wall at all," she said. "I left the pace team at 23 miles. The pace team was great. You didn't have to think. I would definitely recommend that to people if they want to break a time."
The pacing groups received praise from many runners who credited the teams with providing a needed boost on the long course.
"That was fantastic," said Veronica Mazariegos, D.C. "It's lighthearted, keeping together, helping each other. And at the end, if you feel like you can, you push a little harder."
Mile pacing and Boston's big event were also on the mind of Mindy Ko, of Arlington. Her twin sister, Phebe will run Boston next year, so Mindy needed to qualify.
"This is the perfect course to do it because I don't have to travel, don't have to worry about those logistics. It's kind of in my backyard as much as you can get."
Although Ko has finished two Ironman triathlons, she'd never completed a marathon by itself.
"This is the first that I've done without walking and without biking and swimming first. In the middle of it, it was funny because you get these thoughts in your head. You see the Metro. You see the busses. And you're like, oh my god, it's so tempting. But you keep on running. You build this unspoken camaraderie in the second half."
Marathoners split from the half marathoners near RFK Stadium, which brings them just within sight and sound of the finish line.
That tantalizing glimpse becomes a right turn toward another long stretch of road.
"It didn't matter," said Nico Gomis, D.C. He runs only two races every year, both marathons: Rock 'n' Roll and Marine Corps. "After 20 miles, it's all heart."
FAST STATS
25,000 entrants
24,000 bottles of Gatorade
13,000 feet of fencing
6,625 latex gloves
3,600 Band-Aids
2,500 volunteers
2,500 road cones
375 Port-o-Johns
Recent Stories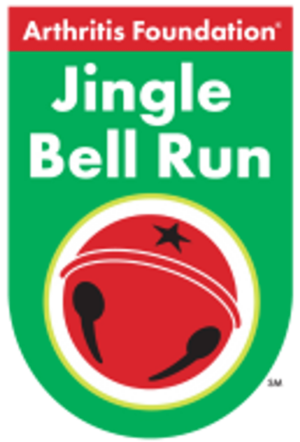 Be part of the original festive race for charity and signature Arthritis Foundation holiday event! Wear your favorite holiday attire and together, we'll jingle all the way to a cure! Register as an individual or bring a team of friends,