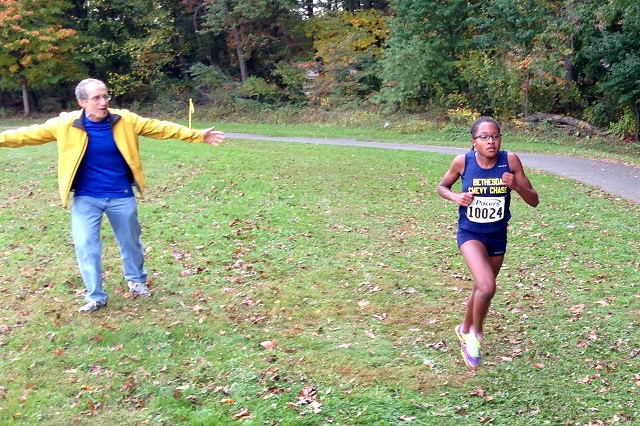 When she toed the line at the Nike Cross Nationals (NXN) Southeast Regional Championship in Cary, North Carolina in November,  Nora McUmber, a junior from Bethesda-Chevy Chase High School, had never broken 18 minutes in a cross country 5k race before. She had run a great season, no doubt about it, but she was disappointed in her second place performance 3 weeks earlier in the Girls' 4A race at the Maryland state meet. 
"You can't have good races everyday," Nora sighed. 
Now, at the regional qualifier, Nora had to contest some of the best runners from 12 states. Only the top two teams and the top five individuals not on those teams would advance to nationals. Naturally, the runner-up from Maryland had her work cut out for her. 
[button-red url="http://www.runwashington.com/2013/12/16/runwashington-high-school-cross-country-team/" target="_self" position="left"]More of the All-RunWashington team[/button-red]After running a conservative first mile, which found her in about 15th place, Nora began to slowly move up in position. By mile two, Nora was in 12th. About a quarter of a mile later, she took advantage of a downhill section of the race before, as she recalled, "I ran for my life" up one of the course's final inclines. There was no looking back. Not only did McUmber come out on top, by an impressive 14 seconds, she crushed the 18 minute barrier. Her time was 17:34. 
"I know Nora was blown away by the result on Saturday," said her coach Chad Young. "We talked about going out a little quicker to maintain contact with the top group in the race and to just stay in contention. Her aggressiveness on Saturday really paid off."  
"She surprised a lot of people, herself included." 
One week later, at the national championship in Portland, Oregon, Nora placed 48th in 18:22.8. 
"It was such an amazing experience," Nora said of the race weekend. 
"I think the trip to compete at NXN was a great way for Nora to celebrate her successful season," added Coach Young. "This was her first time running against such elite high school competition and I am so proud of the way she competed and of her journey to earn a spot at this meet." 
You can bet Nora took photos during the trip. Nora loves photography and taking pictures in all the places she's visits, "mainly pictures of people and around the area," she says. She spent some time in Iceland last summer, but Italy is her dream destination. 
Although she has plenty of time to decide, Nora is already eyeing smaller schools in the Maryland area. Mount St. Mary's University (in Emmitsburg, Md.) currently tops her list. If she keeps improving, expect many college coaches to give her a ring.    
"Nora was brand new to running as a freshman and has made great improvement throughout her 3 years of high school," said Coach Young, "It's been a lot of fun to watch her run over the last 3 years." Young added, "We are really lucky to have a runner like Nora to lead the way for us."
Recent Stories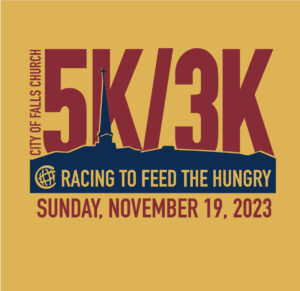 The out and back Falls Church City 5K/3K course is mostly flat on the W&OD Trail starting and finishing at 103 Columbia Street. Overall male and female winners earn free shoes and medals are awarded to all categories. Great family