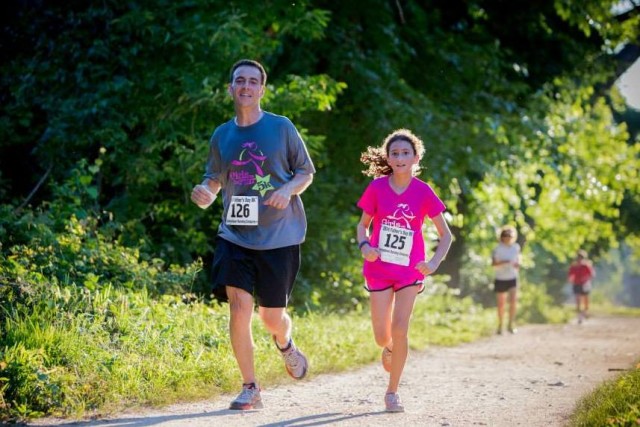 "Do it for Dad" was the motto for a plethora of runners June 15th at the Father's Day 8k.
Held on the C&O Canal Towpath in Georgetown, the flat course offered an opportunity for the perfect finale to the holiday weekend.
Many runner families enjoyed the dual purposes the race offered for their family to be together and at the same promote health.  The Naff family of Arlington ran for just these reasons as well as one other.   As everyone knows, on Father's Day, it is dad's choice, and Michael Naff  choose to celebrate by running the 8k.  He finished in the top ten, and with the whole family joining in the fun, his son Tim won the kids' kilometer for the second year in a row.
Siblings Erin, Ian, and Sean Naff, in addition to their neighbor Jack Kammerer were not far behind.  Their mother Beth who is also an avid runner stood on the sidelines to reign in the troops, and can't wait until Mother's day when maybe she will get to run a race.
Ryan Witters of D.C. won his third consecutive title in 25:38. The runs for the Georgetown Running Company, which held the race as a fundraiser.  The race has a special meaning to him because he lost his father when he was young.
"I remember him every day, but I can't give ugly neckties or anything like that anymore on this special day, so I like to honor him by doing something I love in his remembrance," he said.  His mother, Connie Corbett, who was in town for the weekend, also had quite a day of recollection.   She said, "Watching Ryan run this race was very reminiscent of all those years watching him run in high school and college.  I didn't think I was going to be able to make the race and it ended up being one of the highlights of my weekend."
Kristin Johnson, also of D.C.
Steve and Hilary Moen (a father/daughter team) hailing from Rockville and D.C. respectively are also having quite the month of running races.  Not only did they run a race together last week, but they also won the father/daughter division for the 8k.  Their official line is that they are retiring for the season, but from listening to them talk, that retreat may not last all that long.
The race also attracted many out-of-towners such as Joel Contreras of California who had a very busy weekend of races.  He was visiting the district for many reasons, but mainly due his daughter currently residing in the area and him being a former district resident himself.  While around, he decided to run both the Lawyers Have Heart 10k Saturday and the Father's Day 8k.   Contreras said he wishes he would have known about the towpath all those year back when he actually lived in the city.  "That might have gotten me off my butt and made me a runner a few decades sooner," he said.
Recent Stories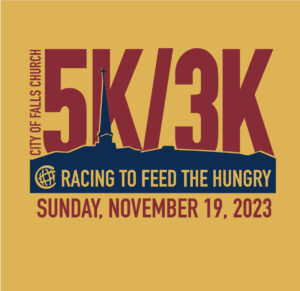 The out and back Falls Church City 5K/3K course is mostly flat on the W&OD Trail starting and finishing at 103 Columbia Street. Overall male and female winners earn free shoes and medals are awarded to all categories. Great family