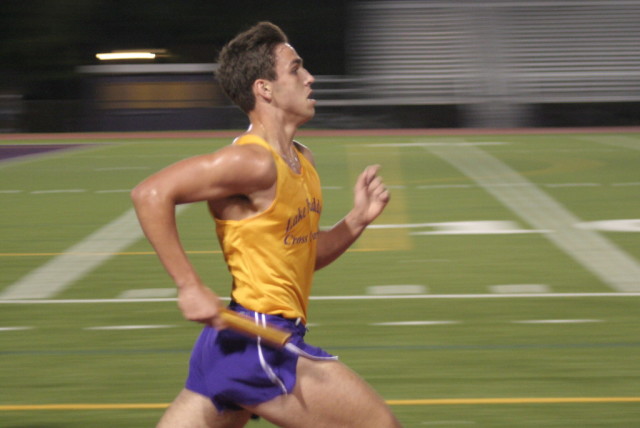 Laid end-to-end, the races by the scoring five of a cross country team would stretch 15.5 miles.
As cool as that would be, it would take forever, so the Braddock Relays cuts it in half, gives the runners and atmosphere otherwise saved for high school football games and pits the teams against one another, one runner at a time.
Each 2500 meter leg wound around Lake Braddock's athletic fields and part of a parking lot before an exchange zone on the track.
Ron Kronlage has brought his J.E.B. Stuart team here for several years.
"The kids love the atmosphere, it's a lot of fun and a nice change from running 5k races every week," he said.
He leant his strategy for planning out the 5×2.5k relay lineup: "In some races, I'd want veterans running first and last, but my team's not as competitive as these other teams. We're among the last place, so we want to give our kids something to fight for as long as possible."
So the lineup ends up following the team's finishing order from other, traditional, races.
"The downside of that is, you get to the last leg, you have a runner who is overmatched," he said. "For that last leg, you want someone with a lot of strength and determination there. not necessarily the fastest runner, but someone who has a competitive streak."
Lake Braddock won both championship titles, with senior Alex Corbett recording the fastest leg in the boys' race and Robinson senior Lauren Berman hitting the fastest in the girls' race.
George Marshall coach Darrell General opted to put his inexperienced runners, two freshman years, in the two leadoff spots to make sure they'd have people to run with, then relying on his more experienced runners' confidence to pull them through to the finish.
Meet director and Lake Braddock coach Mike Mangan said while it's hard to extrapolate anything about the teams from the relays, it's "lots of fun on a kind of off week." 
Elsewhere, several Mongtomery County teams opened their season in earnest at the Track n' Trail Invitational in Elkton, where T.S. Wootton's boys, led by senior and individual winner Patrick Munro, and Bethesda-Chevy Chase, led by winner Nora McUmber, took team crowns.
"I am continuously amazed at B-CC and how good and how deep they are," Wootton coach Kellie Redmond said. "The top 25 medaled at this meet and B-CC had eight of those medals. If Caroline Beakes returns they will only be that much stronger."
She noted that Quince Orchard's boys were looking good for the early part of the season and Richard Montgomery's Rohann Asfaw, who finished fourth in 16:25, is likely coming back from a hip injury, setting him up for a strong postseason as his recovery continues.
In Virginia, Oakton went to the Knights Crossing Invitational in Salem and lost handily to Blacksburg, which dominated the race with three ahead of Oakton's first.
"They're likely still the cream of the crop team in our area," said West Springfield coach Chris Pellegrini. "Lake Braddock girls are starting to sharpen up and gain a little bit on Oakton.
"Robinson boys are very underrated, and look like a team that is top four or so in the area," he added. "Oakton boys are unspectacular, but are still running extremely well.  They haven't lost a step despite graduating a number of top athletes from last year."
---
I'm still gathering results to update how our preseason All-RunWashington team did. If you know and want to speed up the discovery process for runners marked "inconclusive," email [email protected]
All-RunWashington
---
Tristan Colaizzi- Georgetown Day School- inconclusive
Alex Corbett, Lake Braddock- fastest leg at the Braddock Relays
Andrew Hunter, Loudoun Valley- inconclusive
Amir Khghani, Walt Whitman- 2nd at B-CC dual meet, 16:28
Alex Maguire, Fairfax- ran the Braddock Relays
Ryan McGorty, Chantilly- 1st, Judges Classic, 15:43
Kevin Monogue, Lake Braddock- ran the Braddock Relays
Tim Ward, West Springfield- Did not race
Evan Woods, Walt Whitman-  1st at B-CC dual meet, 16:22
Diego Zarate, Northwest- 1st, William and Mary, 16:45
Lauren Berman, Robinson- fastest leg at the Braddock Relays
Xaveria Hawvermale, Chantilly- 2nd, Judges Classic, 18:42
Kiernan Keller, Walter Johnson- inconclusive
Casey Kendall, Oakton- 5th, Knights Crossing, 18:29
Allie Klimkiewicz, Oakton- 7th, Knights Crossing, 18:31
Ellie Leape, Sidwell- inconclusive
Georgie Mackenzie- 4th, Judges Classic,  19:03
Nora McUmber, Bethesda-Chevy Chase- 1st, Track n' Trail, 18:35
Emily Murphy, Walter Johnson- inconclusive
Amanda Swaak, James Madison- inconclusive
All-D.C.
---
Liam Albrittain, Georgetown Day School- inconclusive
Christy Andjalepou, Cardozo-inconclusive
Jacob Floam, Gonzaga- 15th, Barnhart, 16:19
Joey Gaines, St. Albans- inconclusive
Aidan Pillard, Georgetown Day School- inconclusive
Peter Sikorsky, Gonzaga- 27th, Barnhart, 16:48
Will Wimbish, Gonzaga- 92nd, Barnhart, 18:11, with a cold
Erin Bell, National Cathedral- inconclusive
Lauren Cormier, Georgetown Visitation- inconclusive
Emily Kaplan, Georgetown Visitation- inconclusive
Sami King, Field- 3rd, Howard County Invitational, 19:33
Mayim Lehrich, Wilson- Ran at Braddock Relays
Margaret Lindsay, Georgetown Visitation- inconclusive
Katherine Treanor, Georgetown Day School- inconclusive
All-Maryland
---
Rohann Asfaw, Richard Montgomery- 4th, Track n' Trail, 16:25
Itai Bezerahno, Walter Johnson- inconclusive
William Kirk, Rockville- inconclusive
Alex Roederer, Walt Whitman- 3rdat B-CC dual meet, 16:28
Colin Sybing, T.S. Wootton- 6th, Track n' Trail, 16:29
Liam Walsh, Quince Orchard- 5th, Track n' Trail, 16:
Jack Wavering, Good Council- 2nd, Great Meadows 16:08
Claire Beautz, Poolesville- dual meet with Wootton 
Sophie El-Masry, Richard Montgomery- 6th, Track n' Trail, 19:22
Katriane Kirsch, Walter Johnson- inconclusive
Theresa Nardone, Poolesville- inconclusive
Lucie Noall, Clarksburg- inconclusive
Julia Reicin, Winston Churchill- dual meet with Sherwood
Lucy Srour, Winston Churchill- 1st in dual meet with Sherwood, 19:53
All-Virginia
---
Johnny Pace, Westfield- Ran the Westfield Run-a-thon
Bobby Dunn, Centreville- inconclusive
Anteneh Girma, T.C. Williams- 2nd, William and Mary, 16:19
Robert Lockwood, W.T. Woodson- ran the Braddock Relays
Matt Frame, West Potomac- ran the Braddock Relays
David Falcone, W.T. Woodson- ran the Braddock Relays
Aviad Gebrehiwot, Annadale-inconclusive
Kathryn Eng, Washington-Lee- inconclusive
Kelly Hart, Yorktown- inconclusive
Sara Friex, Westfield- Ran the Westfield Run-a-thon
Leya Salis, Oakton- 12th, Knights Crossing, 18:50
Jillian Everly, Osbourn Park- inconclusive
Kate Murphy, Lake Braddock- ran the Braddock Relays
Morgan Whittock, James Madison- inconclusive