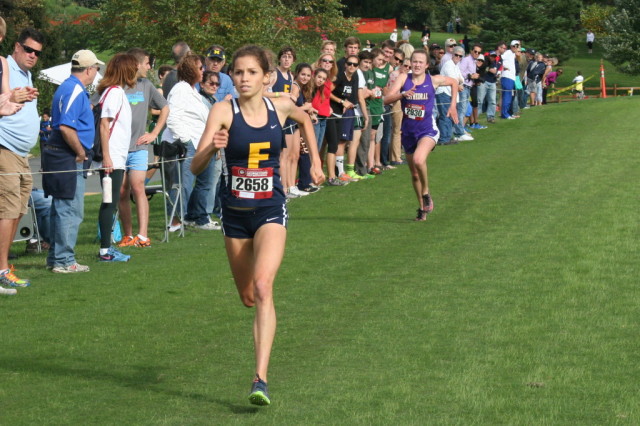 The lads from St. Albans ran like they were fleeing Scotland Yard, winning the Georgetown Prep Classic during the annual exchange trip with their brothers across the pond.
[button-red url="http://www.runwashington.com/results/" target="_self" position="left"] Results [/button-red]Students from the British St. Albans School  spent more than a week staying with runners' families and soaking in the D.C. area. And then they helped themselves to a team title, placing five runners in the top 12 to finish comfortably ahead of Loyola, Robinson and their American hosts.
Senior Robbie Lightowler led the way in 16:31, making a mad dash from the gun to scope out the course, which looped around the campus' golf course twice, with a trip around the baseball field on the first lap.
"My plan was the run the first lap hard and see where I was at that point," he said. "After seeing everything, I knew where the hills were and took them one at a time on the second loop. If I hadn't taken it stage by stage, I'd have felt mentally shattered."
He noted that the cross country races in the United States were a fair bit more competitive than in North London, near the British St. Albans.
"Runners stretch here a lot more than we do," he said. "We bonded a lot as a team over the last week and we trained pretty hard and raced hard."
The two St. Albans switch off every year, with the same families playing host to their counterparts.
His schoolmate Dan Myers pointed out other differences between British and American cross country meets.
"You get more pumped before races here," he said. "In England, we're more relaxed before the start, we don't get in any huddles, do chants before we start. But people cheer for you a lot more in the U.S., which is nice."
He said the British runners were more partial to longer, steady-paced runs.
"Maybe the American St. Albans guys will pick that up from us," he said.
Behind Lightowler, Robinson senior Patrick Myers (16:57) and Hunter Jutras (17:01) tried to keep their focus on a hilly course.
"It was definitely one of the hillier courses I've run," Myers said. "I tried to keep my eyes on the leader, even though he was far ahead."
Jutras moved up throughout the second half of the race. "I knew I wasn't going to run a fast time because the course was so difficult, so I focused on catching guys. Every time I saw a gap, I closed it until I was right behind Patrick."
In the girls' race, Field School junior Sami King took the lead from the start and held off National Cathedral School freshman Page Lester for a one-second victory in 19:01. It was a race she felt matched expectations.
"I was a little nervous when I saw I had been seeded first," King said. "I told people not to talk about the seedings but they did anyway."
If that pressure wasn't enough, a strong headwind took her by surprise on the second loop, immediately as she crested the big hill.
Robinson senior Lauren Berman followed in third, happy to have the race out of the way as her training turned toward the looming postseason. A week prior, she had run the Walt Disney World Classic, a significantly flatter course. She led her team to victory at Georgetown Prep over the National Cathedral School, 60-62.
"I can't wait to get on the track and start doing workouts," she said. "We don't do quick stuff until late, so we don't burn out, and that's my favorite part of training."
Last year's invitational followed a week of heavy rains that cancelled several weekend races and forced a course change that stuck mainly to the campus roads.  That left Sidwell Friends sophomore Ellie Leape a little taken aback when she saw how much more difficult the course was.
"We did some hill workouts this week on Tilden Road and Battery Kemble Park, but it was still tough," she said. "It was a lot harder than last year."
Leape moved up throughout the race to finish fourth.
Recent Stories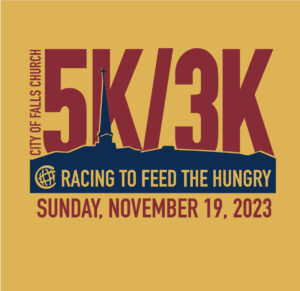 The out and back Falls Church City 5K/3K course is mostly flat on the W&OD Trail starting and finishing at 103 Columbia Street. Overall male and female winners earn free shoes and medals are awarded to all categories. Great family