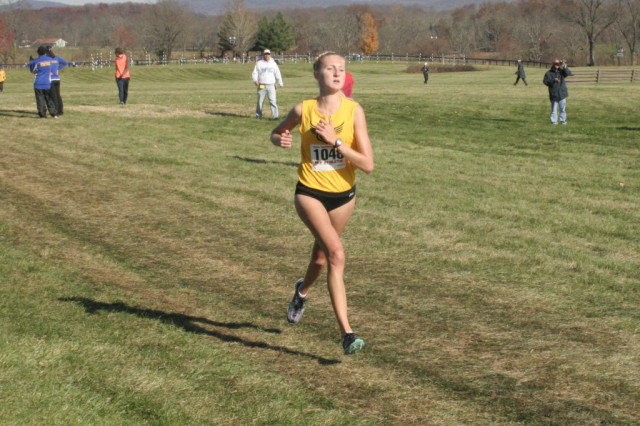 Oakton's girls kept everyone guessing all season, including coach Alisa Byers. Into late October, she didn't know where her defending 6A champion team stood.
"We never really got to race together," she said. "People had college visits, people on holidays, so we didn't have everyone racing until the conference meet."
[button-red url="http://www.runhigh.com/2014RESULTS/R111414AA.html" target="_self" position="left"] Results [/button-red]Even the Knight's Crossing Invitational in early September, which featured all but senior Kara Kendall, wasn't a valid indicator of what the Cougars could do. When 3A champion Blacksburg tore through them, putting three ahead of then-leader, sophomore Casey Kendall, Byers' team wasn't primed for peak competition.
"We got rocked. I went down there knowing they were going to get rocked," she said of the 44 point loss. "Blacksburg is able to stay in shape all the time and we went down there with one serious workout under our belts, but it was good to see who else was out there and get a flat race in."
They had plenty of workouts in their legs as they got the band back together for the conference and region meets before Byers eased up on their training. By then, senior Allie Klimkiewicz was running back to the form that carried her to a fourth place finish at least year's state meet.
When they got to Great Meadows, they were rested up and ready to go. And go they did, improving on their 55 points from 2013 to defend their title with 44 points. They faced a stiff challenge from Lake Braddock (58 points) and James Madison (85 points), but putting five runners in the top 16, with four earning All-State honors, ended that competition.
And not a moment too soon, because soon behind junior Jill Bracaglia, who edged Lake Braddock freshman Sarah Daniels for 16th at 18:49, there were four other Bruins who would finish consecutively over eight seconds.
It was Bracaglia's first state championship race, having sat out the end of her freshman season and recovering from a knee injury her second year without enough time to regain her fitness or her participation eligibility.
"It was so amazing to be here," she said. "I didn't get race much last year. I watched my team do so well and I told myself that I have to be here next year. I'm so happy it happened."
Klimkiewicz led the way for the Cougars with a third place finish in 18:12, one ahead of Casey Kendall's 18:17, who surged ahead of Westfield's Sara Freix (fifth, 18:18) down the stretch. Sophomore Leya Salis followed in 11th place in 18:30.
"Casey closed in on me, throughout the race I heard 'go Allie,' 'go Casey,' 'go Leya,' so I knew they were close," Klimkiewicz said. "It was reassuring to know we were close together."
Klimkiewicz doesn't like to go into races with a plan, "and even if I do, I don't follow it," she said. "I think my experience, after four years, helps me react. Every year I get passed down the stretch, this year, I didn't!"
Freshman Kira Buttrey finished 15th in 18:45, sophomore Thi Nguyen was 41st in 19:33 and senior Kara Kendall finished 66th in 20:21.
Senior co-captain Sarah Sherdian watched them throughout the race.
I'm so proud of them, they ran with their hearts and seemed to run fast every time I saw them," she said. "They were never taking it easy."
Try as they might, with their tightly-bunch pack, Lake Braddock's girls couldn't overcome the Cougars.
"They were as good as I thought they were at the beginning of the year," coach Mike Mangan said of the 14-point loss." It was closer than that with 600 meters to go, we took a shot at it but we didn't have it."
Sophomore Kate Murphy finished second overall in 17:54, but Mangan reserved special praise for junior Daly Ferguson, who finished seventh in 18:25.
"Two years ago, she was running 33 minutes for 5k," he said. "She has to be the most-improved girl…ever."
Her improvement surged back and forth with injuries over the past year years, but now she has a first-team All-State honor to her name. She, Murphy, Daniels and junior Sonya Butseva (17th, 19:00),   sophomore Madison Tippet (19th, 19:06) and sophomore Taylor Kitchen (20th, 19:08), with only Sarah Riley (18th, 19:03) missing out on the same revenge fantasies that motivated the Lake Braddock boys for the past year.
Individually, Patriot sophomore Rachel McArthur won the individual title in 17:43, a year after pneumonia held her back to 17th place.
Coach Adam Daniels said her win at the muddy Glory Days Invitational in October opened her eyes to how well she could place later on. The Pioneers finished fourth as a team in the four-year-old Prince William County school's first trip to the state meet.
"We came out here for the Octoberfest Invitational and she went a little too early and paid for it, but Glory Days got her focused," he said. "She just started running her workouts really well, looking great in races and we realized the state title was a possibility."
As it turns out nothing could really stop her.
"I came in, knowing I had a chance to win, so I went out hard, stayed with the front group and just kept going until I was alone," she said. "I guess I made a gradual move, it definitely wasn't too abrupt. Hills are hard for a lot of people, but not for me, so I just kept going."
In the 5A race, George Marshall freshman Heather Holt continued her postseason winning streak, taking the title in 18:02, but she did so without her twin sister Ashley, who collapsed with less than a quarter mile to go and did not finish the race. At several races throughout the fall, the twins finished races side-by-side, including at Great Meadows, when the two broke the tape at the Octoberfest Invitational.
Statesmen coach Darrell General said later Saturday that Ashley was fine, but did not know what led to her collapse.
"We wanted them to feel things out and make their move late in the race," General said. "I saw them with 1200 meters to go and they were ready, but a little later Ashley looked like she was fading a little."
The pair got their start at the Braddock Relays, having joined the team too soon before the Monroe-Parker Invitational that kicks off most Northern Virginia runners' seasons. Marshall finished sixth in the girls' team's first trip to the state meet, a goal General had seen as reachable as early as September's Oatlands Invitational. Tuscarora won the 5A team title behind freshman Emma Wolcott's third place finish in 18:25.
E.G. Glass (Lynchburg) sophomore Libby Davidson broke West Springfield alumna Caroline Alcorta's one-year-old record by a second, running 17:12 to win the 4A title over Heritage's  Weini Kelati ( 17:38). Heritage finished third as a team, and Loudoun County finished sixth.
On Friday, Blacksburg dominated the 3A race, with five finishers in the top eight to score 23 points over Loudoun Valley's 67, led by runner up senior Ciara Donohue, who at 18:04 was two seconds behind Blacksburg's Bonnie Angermeier. Brentsville District finished sixth behind,
In the 2A race, George Mason scored 57 points behind freshman Logan Funk's third place finish in 19:08 to trail Maggie Walker Governor's School's 38.
Recent Stories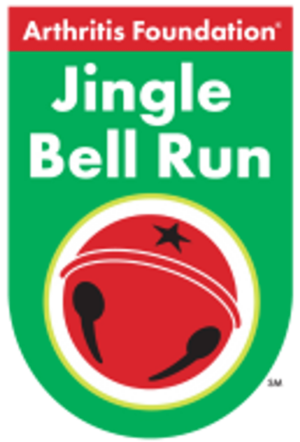 Be part of the original festive race for charity and signature Arthritis Foundation holiday event! Wear your favorite holiday attire and together, we'll jingle all the way to a cure! Register as an individual or bring a team of friends,