In the months leading up to 2015's Fall marathons, RunWashington will follow several local runners as they prepare for their races. We'll chart their progress as they train their legs, lungs and minds for the challenges they'll race on race day. Each week, we'll catch up with our runners and see how they're doing. Reston's Meghan Ridgley is the most experienced marathoner we are following, and reflecting on those experiences will help inform her training as she prepares for the Philadelphia Marathon.
---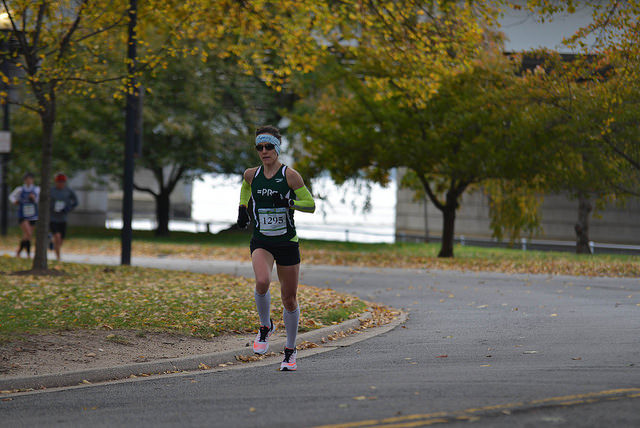 For Meghan Ridgley, life has presented a series of options.  "Not running" hasn't really been one of them.
Unlike many competitive runners, Meghan went straight from her collegiate career to racing marathons.  A track and cross country standout at both George Marshall High School and Radford University, she made the switch from middle distance to marathoning with a decisive splash.
Her first marathon was Philadelphia, in 2003, where she qualified for the Olympic trials with a 2:46:52.  She went into the 2004 U.S Olympic Team Trials in St. Louis with raging tendonitis and gastro-intestinal issues, but ran anyway. "I wasn't gonna not run," she said with a shrug.
Meghan did what she could to take in the experience, despite the physical discomfort, and remembers the thrill of being alongside running royalty like Deena Kastor and Jen Rhines.
After taking the remainder of 2004 off due to Achilles tendon issues, she was back training as soon as she recovered.
"Once you get into the marathon mindset, you kinda get tunnel vision," she said.
Ridgley tried to do the Marine Corps Marathon two weeks after she got back from her honeymoon in 2005 and, not properly trained, the race didn't go well.  She ended up dropping out and, "it left a vendetta against Marine Corps," Meghan said.  Her attempt at redemption in 2008 was thwarted by mono, though she still managed to eke out a 2:58 finish, impressive considering the circumstances.
Ridgley has no such blood feud with the city of brotherly love, though.  The race has been good to her – a qualifier, and high performances, if some near misses.
On the list of things that haven't slowed Meghan Ridgley down, motherhood is at the top.  Her daughter Miranda, now 7, has been watching Mom run basically since birth.  Ridgley had her daughter in the fall of 2007 and ran the Shamrock Marathon the next spring.  Many of her training runs for that race consisted of Meghan running on the treadmill with Miranda napping in the stroller next to her.
The sport took on a new importance when Ridgley became a mother, "it became an escape, a way to have my own identity, to have me time," she said.
Now, Miranda rolls around in the spinning chair at the chiropractor while Ridgley gets adjusted, plays while her mom coaches for Potomac River Running's training program, and has been to countless races. Meghan would never think of dropping back on her training load for Miranda's sake.  Ridgley does what she loves – working at a running store, coaching other runners, and racing at a high level, and things it sets a good example. "You have to take care of yourself, you have to have things that make you thrive and happy, because it trickles down to the kid – your kid soaks you up – they want to be like you and if they see you doing things that make you happy, then they see that," Meghan explains.
In 2009 she ran her current PR at the Twin Cities Marathon — 2:46:38 — in what she calls "an amazing race." The rolling hills of the point to point contest are her favorite type of course.  She missed qualifying by 38 seconds and an unnecessary pit stop. She placed 34th overall, and because the women's field was so competitive, in a departure from most of her races, she was never alone, a change from her training routine.
Ridgley won the Shamrock Marathon in 2010 at 2:52.  Whether she describes the race as another near miss or a huge accomplishment "depends on the audience," she said. She had trained through the infamous DC Snowmageddon winter without missing a day of outside runs, and had a perfect day – 55 and sunny. Later that year in Philly in she again missed a qualifier with a 2:48.
Then, while training for Philly in 2011 something she never thought possible happened.  She fell out of love with running.  She found herself in training runs "wishing I would fall and break an ankle or accidentally get pregnant" so she wouldn't have to run.  "It was debilitating" Ridgley said, "being a competitive runner had defined me.  I wasn't going to be fast forever. It was putting a strain on my marriage."
Gradually, the thing that had been so important to Meghan as a means to maintain her identity and sense of self was slipping away.  For the first time, she stepped away from competing. The break ended up being something that she needed.  She was back in Philly in 2012, and finished in 2:52.
In 2013 strains mainly unrelated to running led to her separation and divorce. Meghan didn't race that fall but did sign up for Boston the day after the split.  She ran the iconic marathon in 2014, the year after the tragic bombings in 2014.  She was only partially trained and not chasing a trial time. "I experienced everything," she said of her 3:01 finish.  She does want to go back and race it.
Ridgley doesn't just run in her spare time, most of her day is running.  She tried to do a 9-5 for less than a year in 2013-2014, but, she said, "I kept getting in trouble for talking too much." She kept coaching during that time, and now she's back working at Potomac River Running in Reston where "I get to talk about what I love every day" she said.
She's been a coach for the last five years. "If you asked me to coach 10 years ago I wouldn't have done it, I was too selfish as a runner. But it's so rewarding to hear people come back from a 10 mile run, and say, 'wow, that's the longest I've ever done in my life." It's let me find the joy in running and keep it fun."  Coaching adds a new layer to her life in running, she said — "while I can compete, it's not my job.  I want to be running forever.  It's so rewarding to share my experience.  I thrive on it."
She has proteges from beginners to ultra-marathoners and she feels that coaching lets her experience the sport through a new lens.  And the new perspective comes at a fitting time.  To run forever, Meghan is going to have to slow down.  A recent orthoscopic cleanout bought her some time but her foot is going to need to be rebuilt with grafts and pins sometime in the next two years.
Until then? "I've got one or two fast races in me." Philly could be her last chance at an Olympic Trial qualifier.
Ridgley's current focus is base training.  She's building up mileage, currently doing 50-60 miles per week.  She knows that 70-80 miles per week is her upper limit, and she'll work up to it gradually.  She's also reintroducing speed work temperately as well, with progression work and tempo paced runs over the next 4-6 weeks.  Then she'll be doing twice weekly speed workouts. She has also shifted her diet to 90% Paleo.  She's hoping the overhaul helps her chances overall.
She's doing this training cycle while juggling work, coaching, and motherhood, but she takes it all in stride.  Meghan Ridgley, runner, mom, coach, talker, knows who she is going into this year's Philadelphia Marathon.  And while she's backing high hopes with hard work, she's not going to be defined by her time.