Read the first article about Will Etti here.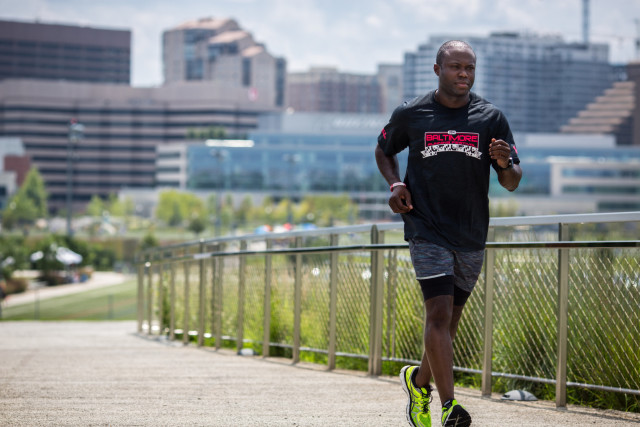 Nobody has a bad thing to say about Will Etti.
Now, most runners don't sit around at the end complaining about the people that they've just shuffled through the highs and lows of a long run with.  Maybe the next day, when the endorphins wear off and the soreness sets in, there are occasional grumblings against the route planner or the pace maker , but as a group, runners tend to be supportive.
The First Time Marathoners group, a marathon training program open to first timers and experienced marathoners take that attitude to the next level.  Milling around as they nosh on bananas and water on a recent Sunday morning run, everyone from FTM coach Conroy Zien to the pace groups that filter in at staggered waves every minute or so, everyone is effusive with their praise of this particular community of runners that one might think they'd stumbled into a cult.
Upon closer examination (a sniff test of the Gatorade proves they are high only on good will and a sense of accomplishment) they turn out to be just a particularly nice group of runners in their natural habitat.  Even in a group fairly glowing with positive vibes, Will Etti stands out.
Maybe it's the obstacles he's already surpassed – going from barely being able to walk after a horrible car accident to completing a marathon – learning to walk before he could run again – that gives him the ability to project positivity outwards.  Maybe he gets superhuman strength from all the high fives he doles out and receives on the Maryland and DC trails.
"he's always smiling, even at 6:30 in the morning," said pace coach Kristen McElroy.  When asked how he stays positive all the time, he demurs.  "I don't always feel that way.  The rest of the group gives me encouragement.  I just smile a lot, and then after 3 miles or so I get it together."
"He's incredible, he's a source of inspiration for him to come back from an injury with such a sense of humor," said pace coach Rachel Gibson, "his energy level is to the tenth degree."
His coaches and teammates are thrilled to have him around – the energy he brings to the group cements the community they build in the long build up to their fall marathons.  Pace group teammate Galot Saar said, "he gives a lot of encouragement, he's always in a good mood positive at the end."
There's always, in a group, a mesh of personalities, and Will is the one that brings it all together" pace coach Rachel Gibson "in the winter group he was our nucleus"
RunWashington caught up with Will after a hilly 14 miler.  Sweaty and smiling he said he felt great, "feeling good at the end is very important."  The group had gotten silent around mile 10, he said, so he started up a military-style, 'I don't know but I've been told' chant that touted the 11:30 pace group as the best of the rest.  His teammates appreciate his energy on the runs with equal generosity to friends and strangers.
Will shuffles things around in his pack and moves his inhaler from one pocket to the other. "Hey," one of the coaches said, "you have to let us know about that."  He shrugs it off – he's had asthma since his days running track and he would just take his inhaler before he started out, "the more I ran the stronger I got," Will said, and now, he keeps it around as a precautionary measure mostly.  Of all he's overcome, childhood asthma barely ranks.
He's not regretting his choice to dial back from the 9:40 to the 11:30 group, even though McElroy mentions that on the previous week's long run when they passed the 9:40's, Will said, 'that used to be me.'
When asked about it, Will shrugs, "the 9:40's have been very encouraging, they give me high fives when we pass each other. 11:30 is ideal, I want to go sub 5:00, so 11:00's will get me there."
After hitting the wall hard at his last Marine Corps last year and limping through the Rock n' Roll half with ITBS pain, Etti isn't taking any chances with injury.  He remains grateful that he can run and is training smart to run as effectively as he can.
Will is staying consistent with his injury prevention strategies.  He does yoga on Monday the day after his long run and hits up a spin class on Thursdays.  He stretches and is dedicated to the foam roller.  He's not taking any risks with getting hurt – even though the drop back in pace is dramatic, he's comfortable with it and feels like it's paying off.  He's also sticking to a new hydration and nutrition regimen on long runs, including the coconut water he started using to stave off cramping, and various gels.
He doesn't reserve his contagious positive energy for his FTM friends, either – he's making it a family affair.  "He has two boys he adores.  He runs for his family" McElroy said.
He takes his sons out on Saturdays.  It's a way for them all to bond.  Will tries to see if he can lap them, even though they say, "you're old, Daddy!"  His wife is supportive of his running and has even started the couch to 5k program.  He hopes to do a family 5k in the near future.  If his skills for inspiration are anywhere close to what he displays with his FTM teammates, the Etti's will be crossing the finish line in no time.
Zien has had his eye on William since he first joined the group, and has an idea for how to his positive energy to good use.  In addition to wanting Will to have a great race in Baltimore this year, Zien's other hope for Etti is to see him inspire others more formally "I would love to see him coach,  he would do a great job, people like him – I see him as someone who actually cares," Zien said of Etti.
Recent Stories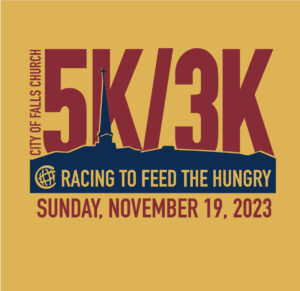 The out and back Falls Church City 5K/3K course is mostly flat on the W&OD Trail starting and finishing at 103 Columbia Street. Overall male and female winners earn free shoes and medals are awarded to all categories. Great family