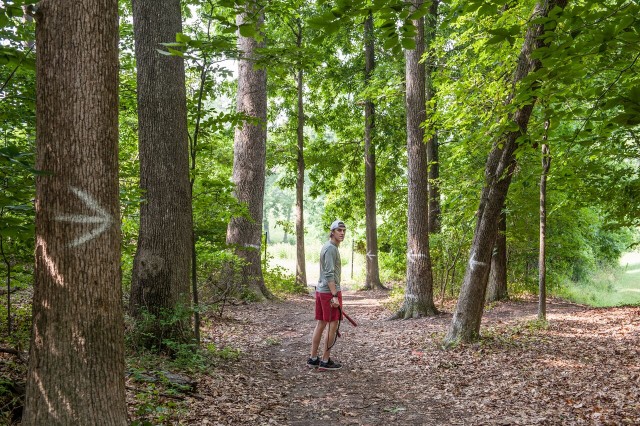 Around the athletic fields, through the woods, up and down rolling hills then a wide-open 50 meter uphill sprint to the finish.
"I can go through every inch of it," said Mike Stubbs, the former cross country coach at Bullis School in Potomac.
Stubbs may no longer work at Bullis, but he can still walk you through a step-by-step tour of the cross country course he built there – some parts with his bare hands – in Summer 2011.
"My now-wife felt she was the mistress, and the cross country course was the fiance at the time. There were a lot of days sun up to sun down," he said. "To run on something that you built like that is one of the coolest things ever. I don't think a lot of people will get that experience of putting a lot of energy into building something like that and then be able to run on it."
Stubbs, who ran in high school and college, taught at Bullis for three years in addition to coaching the cross country team, as well as the track and baseball teams. He said he believes being 100 percent involved in a school lets teachers have "more of an impact" on students' lives and a "more holistic view of a child's education."
Given his interest in getting more involved in the school, Stubbs took the opportunity to plan out and create a new, more challenging cross country course on 24 acres of land next to the campus that the school purchased in 2011.
"I love solving problems, so I thought this was an unbelievable opportunity to build something that would be awesome for school and an incredible challenge for me," he said. "We had an old cross country course, it was fine, but I wanted to build something that was truly an awesome course."
First, Stubbs had to get detailed blueprints of the new land and map out a course that was exactly 5000 meters, despite streams, trees, county conservation rules and other obstacles along the way. The process involved a lot of "trial and error," he said.
Once he had a definite route, Stubbs got to work actually clearing the course. While some of the grounds staff at Bullis assisted with parts of the trail clearing, Stubbs often worked alone throughout the summer to be prepared for the school's first meet in the beginning of September.
"Cutting through the woods with an ax, that was pretty much all me," he said. "That involved clearing the trail and making sure it was wide enough for people to run fast through."
Another challenge was flattening out much of the mile and a quarter of the course that ran through grasslands, which wasn't level enough to be safe for running, especially for a large group to run fast across, Stubbs said.
"We had to basically try lots of different techniques to flatten out the ground, turning it up, rolling through it with some device to tear the ground up, then flattening the ground," he said. "The last thing I want is kids breaking their ankles. That was a serious concern of mine, because the ground was not completely flat and stable."
His intimate knowledge of the course gave his athletes a home field advantage – like being prepared for the short uphill finish that may have caught visiting students by surprise.
"I would know it was coming," said Brooke Gutschick, who ran on Stubbs' cross country team and graduated from Bullis in 2013. "That part was my favorite just because I knew I was almost done and I knew how to successfully finish and pass people."
In addition to helping his athletes be prepared by knowing where they should push it and where they should hold back, Stubbs said the team saw how much time he put into building the course. That commitment, he said, showed them how much their coach cared about them and inspired them to succeed.
"I didn't get paid to build it, I could've easily not done that," he said. "Seeing that passion really rubbed off on them."
Gutschick said running the course knowing that her coach was willing to put in that much effort really inspired her to do her best.
"It motivates us as runners to want to perform better and put more effort in because we know he's put the effort in to design a new course," said Gutschick, who is going into her junior year at Gettysburg College. "Realizing that he put a lot of time into planning the course made it that much more fun to run for me."
She said the course designed by Stubbs is one of the more challenging she ever ran in high school, which both left her more prepared for difficult, hilly races on other courses and made other schools take Bullis' running program more seriously.
"Having a more challenging course made the schools think twice about how good we were, but it also helped us improve as athletes and helped us improve in terms of how competitive we were in our respective league," she said.
The hard work paid off: Bullis hosted the Montgomery County Independent School Championship meet in 2012 on the course Stubbs designed and built, a point Stubbs still takes pride in.
"Other coaches say it's the best course in the county," he said. "A coach at a nearby school said he felt it was the smoothest course his kids would ever run on."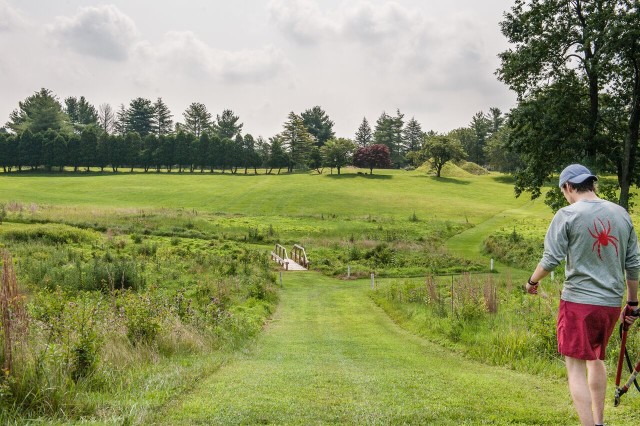 Recent Stories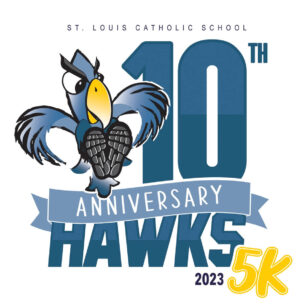 2023 will be the 10 year anniversary of the St. Louis Hawks 5K and Fun Run for Health & Wellness. The USATF certified course runs through the historic Hollin Hills neighborhood in Alexandria, VA.
The Hawks 5K goal, in conjunction