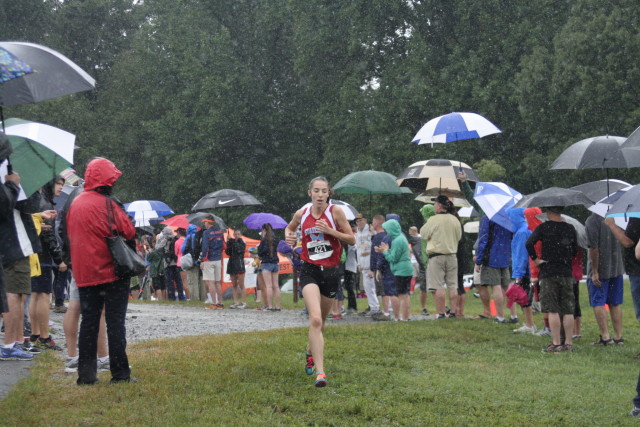 Racing to the front of a cross country race is typically considered reckless, but with the Burke Lake course soaked by heavy rain at the Monroe Parker Invitational, it was a safer bet than usual.
George Marshall sophomore Heather Holt, among others, wanted to get clear of the rest of the pack to cut down on her tripping and slipping hazards.
[button-red url="http://va.milesplit.com/meets/213662/results#.VfYnOhFVikq" target="_self" position="left"] Results [/button-red]"My plan was to not slip in the mud. I stumbled a little bit, but I didn't fall," she said, after the race, just as a boy who had run the junior varsity race slipped and fell while walking slowly.
Holt ran solo after the mile mark, reminiscent of her race at the 5A state championship last November, which she won.
This time she dealt with additional sensory input.
"The rain made it sound like there were spikes hitting the pavement behind me, so I was freaking out the whole time," she said. "I didn't know how much of a lead I had until the announcer talked about it."
She was unnerved further by her twin sister, Ashley's absence, due to a heel injury.
"We race together and we ask each other if we're on the right pace, we talk to each other," she said. "It was different without her. All I heard at some point were footsteps."
Ashley was there to drape Heather's medal around her neck while she recovered from the race, though.
Heather made just her third appearance on the Burke Lake course, and boys' winner Fitsum Seyoum was debuting here. The Tuscarora senior also got out hard and claimed his second straight invitational win, following the Aug. 29 Great Meadows meet.
"The start was hectic and our box was muddy," he said. "I wanted to take the lead, wanted to get the advantage up the hill so I could get on the grass. Going downhill in spikes could bust you up a little bit."
He was challenged early by Chantilly junior Brandon McGorty, an 800 meter star also trying to protect himself on the course by keeping his long legs out of the crowd.
"I was a little worried, I don't usually see him in the race that late," Seyoum said. "He was there through 1.5 miles and I was wondering if he was going to fade, because I don't think I'd be able to handle his kick."
The rain scuttled his plans to wear tall socks, and that may have been a fashion turning point.
"My coach said they'd just weigh me down with the rain," he said. "I just slapped some baby powder on my feet. I'm never going back."
He also plans to never go back to being a mid-pack finisher. Though he won his conference in his first year running cross country and made the 5A state meet, he only finished 13th, almost 30 seconds back.
"I want to do something special and put good times by my name, let people know I'm a good runner," he said.
That has meant consistent mileage, a focus on sleep and a diet that recently eliminated gluten, on the suggestion of Loudoun Valley's Drew Hunter, one of his summer training partners.
Behind Seyoum, Lake Braddock senior Colin Schaefer tried his best to counter a few August weeks lost to a hamstring injury to chase down first place, but he came up short, though he led the Bruins to a team victory. They won the 6A state title last year.
"I fell at the start, but some of my teammates pushed me right back up," he said.
The girls' team race was tight between James Madison and Lake Braddock, running without Kate Murphy and Daly Ferguson. Lake Braddock ended up in first, which was fine by Madison Warhawks assistant Matt Kroetch.
"I was hoping we didn't win," he said. "It's a lot more fun to go through the season hunting someone. Having a target on your back gets old."
He was encouraged by the boys' improvement, to fifth, from 14th a year ago.
"We haven't made the state meet since the mid-90s, I think that's a realistic goal," he said. "We have guys who can see that focusing on running year-round will make them pretty good. When you get guys to buy in like that, it's a lot easier to keep growing the team."
The George Marshall boys are also hoping for a trip to states, after falling a little short last year. The girls' team made it for the first time last fall, finishing sixth. Their chances will be a lot better if their top three runners can continue to finish as high as they did at Burke Lake, with three in the top 12, finishing in the span of five seconds. Alex Haight led the way in eighth in 15:45, with Patrick Lynch (10th, 15:48) and Max Carpenter (12th, 15:50) close behind.  Their fourth place finish followed two other 5A schools — Thomas Jefferson (last year's 5A runner-up) and Tuscarora.
Haight spent the summer training with older brother Mackenzie, a sophomore at William and Mary and a 2013 Foot Locker finalist. Carpenter toyed with easing up a little during the race and saving his kick for the end, rather than the start. And Lynch, who compared to his teammates who took the first mile in 5:05 started off at a leisurely 5:06, possesses a kick neither of his teammates want to get in the way of.
The steady rain helped cool the temperature, compared to last year's race that broke 90 degrees, and the times matched the better conditions. Holt's 17:44 was well ahead of 2014 winner Amanda Swaak's 18:06, and the top 11 finishers in 2015 were ahead of fourth place (18:43) in 2014. On the boys' side, Seyoum's 15:18 didn't match Ryan McGorty's 15:04, but nine finished ahead of last year's fifth place (15:48) and two more matched that time.
Recent Stories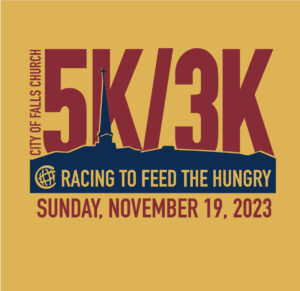 The out and back Falls Church City 5K/3K course is mostly flat on the W&OD Trail starting and finishing at 103 Columbia Street. Overall male and female winners earn free shoes and medals are awarded to all categories. Great family