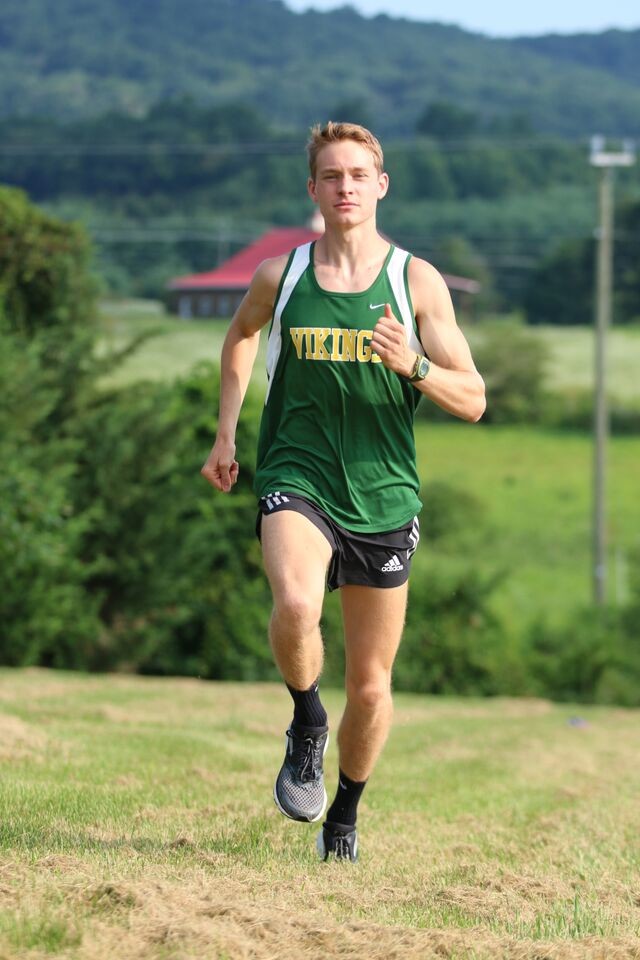 Marc and Joan Hunter, the head coaches at South Lakes High School, knew they had a superstar.
They marveled as this kid finished second in the state in cross country. They watched in awe as the freshman — a freshman — went on to win the two mile in the spring.
Marc and Joan had met through coaching. Marc was then in his 10th year at South Lakes and Joan had joined him there after getting her own start at James Madison High School.
Marc had been an All-American who had discovered a passion for coaching after being sidelined by injuries. Joan had been a successful middle distance runner with a background in exercise physiology who came to enjoy coaching more than her own running.
This is to say that the Hunters were pretty pumped to have a kid, like Alan Webb, who was "off the charts," said Marc. "We were just going [crazy]" thinking about his potential. The thing was, the Hunters had other kids, too: three of them, all toddlers. Thus, their dilemma.
"There was just no way to be good parents with three toddlers and be good year-round coaches," Joan said, reflecting on their decision to retire from coaching after Webb's freshman year.
"Everyone was telling me I was nuts," Marc said, who helped hire Scott Raczko, his and Joan's replacement. "I thought I was nuts. But family comes first."
In his senior season Webb would become the fourth American high-schooler to break four minutes in the mile and the fastest prep miler of all time. His run of 3:53.43 at that year's Prefontaine Classic shattered a record, then held by Jim Ryun, that had stood for 36 years.
The Hunters had missed their shot.
Or maybe they hadn't.
If you had gone to a South Lakes practice in 1997 or 1998 you certainly would have seen a freshman-year Webb zipping through a workout. You also might have seen, somewhere on the periphery of it all, a kid playing in a sandbox.
This was Drew Hunter, Joan's and Marc's second child. And Drew is now a rising senior at Loudoun Valley High School. And Joan and Marc are now Loudoun Valley's cross country and track coaches; they're heading into the third year of their second coaching career. And Drew, as it turns out, is now something of a superstar himself.
This year he might even become the eighth American high schooler to break four minutes in the mile. Or the first boy from Northern Virginia to win the Foot Locker Cross Country Championship.
(Editor's note: he was)
Discovering the point
Marc and Joan Hunter have nine children, including five whom they adopted. They've encouraged their children to play a sport to stay active, Joan said, and all of them have done at least some running, but none of have taken to it like Drew.
But he didn't take to the sport right away. Or at least he did not like it right away. When he was 9 or 10, Drew participated in youth track. He broke three minutes for 800 meters, which was pretty impressive, except he hated every step of it.
"I remember him coming up to us one time after winning some races and saying, 'Can I talk to you guys?'" Marc said. "[Drew said] 'I really don't like running. I know I'm good, but I don't like it. It's too hard. I don't want to do this anymore.'"
Marc continued: "We just went, 'Oh, gosh, we don't want you to run if you don't like it. That's why we coach. We love the sport. It doesn't mean you have to love the sport.'"
So Drew quit.
"We just didn't make him run ever again," Joan said. "He was such a good athlete there was no reason to make him run track, just to be active. He was playing basketball and football and baseball and he was good at those things. We just said: 'you do what you want to do.'"
He did, however, have to run a mile in gym class. But even after clocking around 5:20 as an eighth grader, Drew still wasn't digging it.
At that time, he said, "I just kind of assumed if you were good at it you had to do it, and that's kind of why I did it." Running for Drew was like a Plan C, "something for people who could not do another sport," Joan said.
His parents were surprised, then, when Drew told them he was going out for cross country. This news broke about a month before the start of cross country season, after which "I trained like three days a week, running 30 minutes just like every other day, jogging," Drew said.
His attitude, his parents said, was not impressing them much, either.
"We actually kind of tried to talk him out of doing [cross country] before ninth grade … because we love the sport [and] we kind of got tired of hearing him put the sport down," Joan said. "We were like, if you think it's so stupid, don't do it."
Marc, on the other hand, was "ecstatic" when Drew placed seventh in Loudoun Valley's time trial, positioning himself to make varsity. The team had not exactly been a powerhouse in recent years, but Marc still found the result to be encouraging. "Obviously, little did I know what was about to happen," he said.
In the first meet, Drew was Loudoun's number three. By the fourth meet he was the best on the team. He might have even qualified for the state meet had he not gotten sick the week of regionals.
When basketball season rolled around, and Drew rolled his ankle, the family saw how his priorities had rapidly turned. His dad met him in the locker room to help him tape the ankle and heard the words, "I'm quitting."
Marc recalled: "And I said, 'No, you can't quit; it's the middle of the season!' He said, 'No, I mean after this basketball season, I'm done with other sports; I'm just going to concentrate on cross country and track.'"
"I felt like," Drew said, "if I started training more seriously, especially ran every day and started actually putting forth the effort that I put into other sports, then I could probably be decent at it. And I think that the next summer" — after making all-state in the outdoor two mile — "was when I took off because that was when I really caught the running bug."
In the fall, Marc and Joan, seeing their son transformed and wanting to make sure he got good coaching, took over Loudoun Valley's cross country and track programs. Drew, meanwhile, won his first cross country state championship.
Penn Relays 3,000m High School Championship, 2014
It was a huge field and the start was hectic. The boys shot out, lurching. Drew Hunter, on the rail, seeded 14th facing the best high schoolers in the country, reached out and put his hand on the back in front of him to stay balanced. The kids behind him did the same to him.
The announcers on Flotrack, during the first lap, said he was from "Luden" Valley. They said this as you saw him shoot out to the second lane and squeeze past two guys to stay in the middle of the pack.
Early in the race there were times he would fall out of the picture. Lap by lap, though, he moved up a little more through the pack — his form more athletic than classic; his posture very upright; his head bobbing a bit. (Was he hurting or not hurting at all?)
At the bell lap Hunter was there at the front. With 300 to go, he made his move, kicking into the lead.
It looked like he had it won, too. But then Justyn Knight, of Toronto, threw in a big surge and pulled up next to him and it looked like Knight might roll him.
As soon as Knight pulled up next to him, though, Hunter responded with a savage surge and rocketed ahead in the final straight. Oh my gosh – what? WHAT? Hello! Those were the words from the FloTrack broadcast announcing that Hunter had run 8:16.31, a new sophomore class record, and had won with a ridiculous kick.
"That was the first time I ever had a kick, ever — and after that it's what I can trust and rely on," Hunter said.
In one race he had established himself as one of the top high school runners in the country and had dialed in on a very simple race strategy going forward.
"Going into races my mindset is to win," he said. "And if I win, then a good time, good result will come… It's not complicated. It's not try to run this split and this split on the second lap. It's really just put yourself in a position to win on bell lap."
Hunter, in his sophomore season, won state mile and two mile titles and was runner-up in the two mile at the New Balance National Outdoors meet. He also ran 4:09 for 1,600 meters.
The Drew Project
Marc and Joan Hunter had last coached during an era in American distance running that valued low-mileage, high-intensity training.
There is a reason that the United States squads for the 2000 Olympic marathon were each teams of one. "We just did not have good distance runners for the most part," said Joan, who writes Drew's workouts.
Joan's own philosophy about training changed when she turned to Tom Schwartz, perhaps better known in the LetsRun.com world as "Tinman," for advice on competing in masters track.
Joan, as it turned out, liked nothing more than doing a dozen really-fast 200s. Schwartz had other ideas, like running more miles, doing longer intervals with shorter rest periods, and doing tempo runs. Joan, in turn, started running some of the best masters times in the country at everything from 400 meters to 5k. And Schwartz now helps write Drew's training, as well.
Drew ran about 65 miles per week last year, rarely resting before races. This year he aims to run about 70 miles per week.
"It's not what I would call high mileage," Joan said, "but it is certainly more than I ran in high school."
Meanwhile, for someone who begrudgingly took up cross country, Drew has been quick to adjust his lifestyle. He credited his leap in his performances during his sophomore year to consistent training, eating better, and sleeping more. "I think when you are training at a high level you have to do the little things," he said.
For Drew, doing things right also can mean training alone, though he noted that some of his best friends are his cross country teammates.
Doing things right also meant staying in Loudoun County recently while the rest of the Hunters went on a vacation to the beach. First, he isn't a fan of running on the beach. Second, he had just started his summer training and was eager to get back into his routine.
"I wanted to keep the ball rolling," he said. "I kind of wanted to focus and make training the priority."
Part of what has Drew so focused is the realization, really, that if his parents can do it, he probably can, too.
When he was growing up, he would watch his mom compete and see how good she was. His dad, who could not run after 23, only had stories and times, but eventually it all clicked.
"I mean, if you tell an 8-year-old your 5k PR is 13:36, you're not going to have any idea what that is," Drew said. "Once I started running freshman and sophomore year, I realized how good my dad was. That also kind of gave me more motivation to go after his PRs and try to be as good as him."
Brooks PR Invitational 2 mile, 2015
In his junior year appearance at the Penn Relays Drew Hunter won the mile in 4:07, becoming the first prep runner since Matthew Centrowitz to win both of the event's individual distance races.
Prior to the Brooks PR Invitational he had lowered his mile best to 4:02.36. This is in addition to winning everything in Virginia there was to win, including running 14:36 to set a meet and course record in the state cross country meet.
Frankly though, heading into June's Brooks PR Invitational, in Seattle, some thought Grant Fisher, from Michigan, was unbeatable. Fisher had recently become the seventh high school runner to break four minutes in the mile. He had not lost to another high school runner in years. That included a healthy margin over Hunter, who was fourth at last year's Foot Locker Cross Country Championships, one of the deepest high school championships in history.
It looked at times like Fisher was just cruising along, floating behind Mikey Brannigan through the mile in 4:24. He is a lean yet powerful runner with seemingly perfect arm swings.
The last time they had raced, Hunter was right with him with 200 meters to go. Fifty meters later, though, he got tripped up and couldn't make up the gap. It was disappointing for Hunter but also instilled in him the belief that he could be the one to break Fisher's winning streak. This time, he would use the same race strategy: kick with 400 to go; try to accelerate every 100 meters; in the stretch "just outrun him."
With 600 to go, Fisher moved into a clear lane and seemed to be biding his time. Hunter's game was cat and mouse: he was out in lane two off Fisher's shoulder. At the bell he popped out a little further into lane two to get some space and then he went, bolting, Fisher closing right with him. The rest of the field disappeared. It was Fisher and Hunter, hammering, strides overlapping in a way that conjured that mystical Tergat–Gebreselassie moment. This was anyone's race. And there was 100 to go. There was 50 to go … and Hunter, like at Penn, found that gear and blasted ahead, winning in 8:42.51, by a second.
"Grant's one of my good friends," Hunter said. "He's a great guy, and he's one of the guy's I've looked up to." Which is nice sportsmanship. But Hunter, too, is a sportsman. Competing is what makes him tick.
He then said: "But I think it's necessary. Track and field needs rivalries. I am excited to race him again in college. It should be a blast."
Hunter might end up being number eight. But it also seems like he'll need a race to win to do it. And that's a good thing.
Recent Stories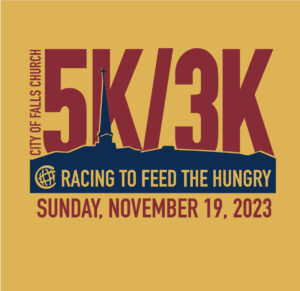 The out and back Falls Church City 5K/3K course is mostly flat on the W&OD Trail starting and finishing at 103 Columbia Street. Overall male and female winners earn free shoes and medals are awarded to all categories. Great family