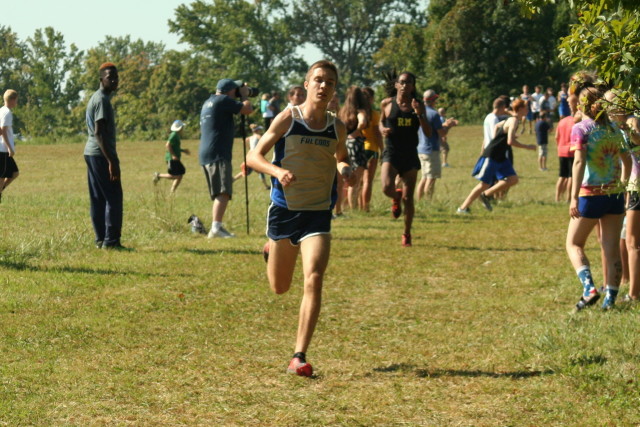 Northern Virginia's two returning Foot Locker finalists kicked off their senior cross country seasons with dominant victories in their Loudoun County backyard at the Oatlands Invitational.
Weini Kelati, whose first race for Heritage High School involved tying her shoelaces twice at this race last year, pulled away from the field early to win by 1:22 in 17:11 — 71 seconds faster than last year, widening the gulf between her and repeat-runner-up Abby Colbert of West Virginia's Jefferson High School. In the boys race, Loudoun Valley's Andrew Hunter breezed to an easy win with a strong second half.
"That's going to be her plan every race," said Heritage coach Doug Gilbert. "That's the way she wants to go, so the best thing I can do as a coach is get her trained so she doesn't fade in the end, because she did that a lot last year."
Incidentally, the 17:12 Kelati ran at Oatlands is the same time E.C. Glass' Libby Davidson ran to beat her at the Virginia 4A championships in November. The Oatlands course can best be described as "quite hilly," with a dramatic climb approaching 2.5 miles and a rolling approach to the finish line. The only flattish stretches are at the course's lowest points at the end of mile two.
Kelati spoke virtually no English when first arrived in Leesburg from Eritea, and Gilbert admitted that was a major barrier in figuring out her training plan.
[button-red url="http://va.milesplit.com/meets/213387/results#.Vf7xo99Vikr" target="_self" position="left"] Results [/button-red]"Asking 'what was your training like last year?' got to be a lot more complicated than it should be," he said. "Now that we can communicate, it's a lot easier to sit down and come away with a plan. Now we're comfortable enough with each other that she can run 85 miles a week and I'm not worried about her. Last year I kept her to 50."
As for Kelati's Oatlands performance this year, Gilbert didn't know just how fast she would run, but he said the mystery was part of the fun.
"She did a tempo on the course this week and ran 18:50, so I knew no matter what, it would be fast," he said.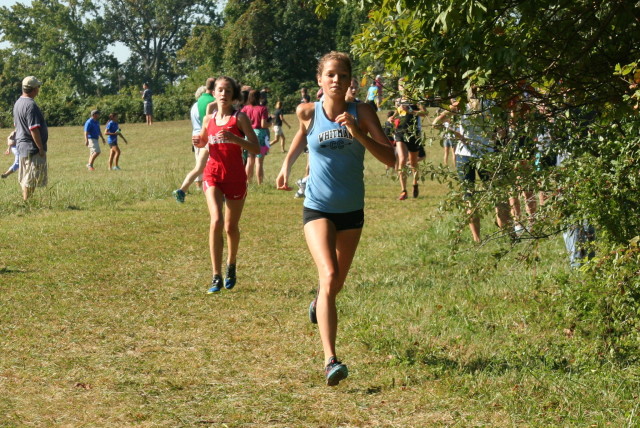 Kelati's charge to the front took the pressure off of Sami King, a Walt Whitman senior who, while running for the Field School for two years, often saw herself rabbiting smaller races.
"That's something I'm trying to work on this season, planning for for negative splits and a strong kick," she said.
Leading turned out to not be an option, when the race started and King found herself in roughly 40th place.
"The Foot Locker (Northeast) regional meet is the only race that I've been in like this," she said. "Hopefully this competition will help me run some fast times."
Her 10th place finish, along with Olivia Woods' 19th place finish, helped Whitman beat Heritage by 13 points.
"We're still figuring things out," said Whitman coach Steve Hays. "It's our first invitational of the year and everyone has improved from last year. Some of the teams we beat weren't at full strength, so that's a reminder that things can change in every race."
Heritage was one of those teams, though senior Georgie Mackenzie's return to the regular season lineup was a lot of good fortune. Her seventh place finish
Besides Kelati's one point, the Pride got a boost from senior Georgie Mackenzie's finish in seventh. She missed a month last year, and was back in time for the postseason, when the team finished third at the state meet.
Sophomore Audrey Corbet, 71st in 21:22, was the 10th woman for the Pride last year, and is continuing the progress she made at last year's Foot Locker South freshman race.
"She didn't run in our postseason varsity races, but by the end of November, her training caught up," Gilbert said.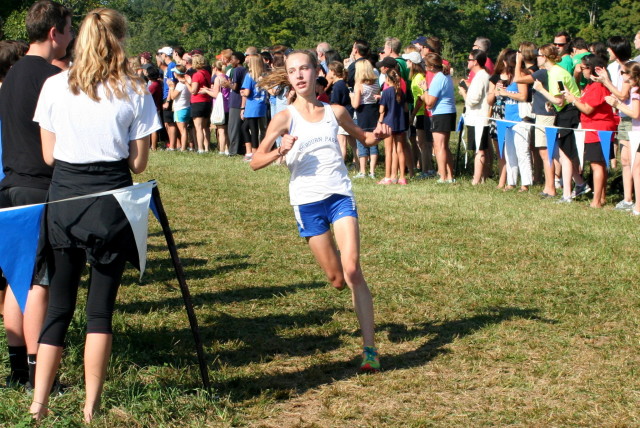 Behind Kelati and Colbert, Osbourn Park junior Danielle Bartholomew's third place finish in 18:50 was somewhat of a surprise, given her 76th place finish at the Northern Region meet last fall.
"My freshman year I kind of sucked," she said. "My sophomore year I got better and now my junior year, I just trained hard over the summer and I guess it kind of all paid off."
She blew away her expectations at the Fork Union Invitational a week before, running 17:23 for three miles.
"Way below my goal," she said. "It's hard to gauge myself to my previous times because so much has changed. I'm just randomly throwing out times, and then telling myself to push to finish a race and make it feel good."
She made up two spots in the third mile, the byproduct of her internal approach to the race.
"I wanted to get out at a good pace for me, not let me heart rate get out of control," she said. "That hill in the woods, it was tough for me, but it was the moment that I decided that even though my legs hurt and I was tired, I was just going to keep going.
"I wasn't really racing them, I was just trying to push myself and I passed them along the way," she said.
Coach Mike Schuster downplayed Barthlolomew's splash.
"There's no magic to it — confidence and training," he said. "She's a tough kid and she responds to adversity."
While Shuster suspected, from her summer training, she could be the team's top runner, he didn't expect her to run quite that fast.
"Her strength isn't going out, fast, it's running even," he said. "She's smart, and she can handle a tough course like this."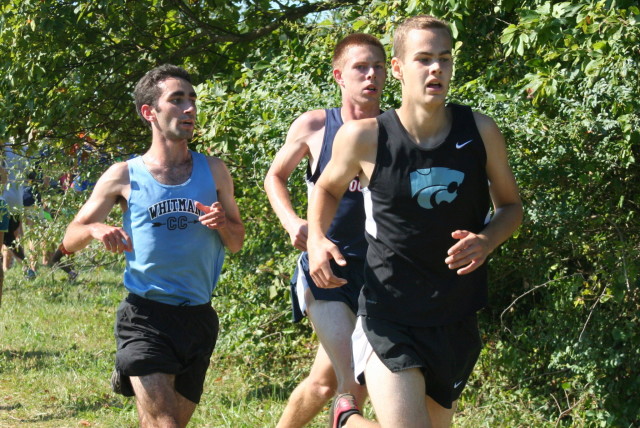 Hunter's took a more measured approach to his race than Kelati in his repeat win, running 15:12, compared to last year's 15:21.
[button-red url="http://www.runwashington.com/2015/09/20/drew-hunter-homemade-champion/" target="_self" position="left"] More on Hunter [/button-red]
"I wanted to start off easy," he said. "No need to run too hard at the start. I took a look back at about a mile and a half and saw I had a bit of a gap, so I started pushing then and just finished hard."
Hunter, who ran 8:42 for two miles earlier this year, is planning a mostly local fall season until November,when he will decide between aiming for Foot Locker, where he finished fourth last year, or Nike Cross Nationals.
Cox senior Jonathan Lomogda dropped his time by 30 seconds to finish second in 15:38. He was the third 6A finisher at the state meet last year.
Good Counsel senior Jack Wavering finished third, a few seconds ahead of Richard Montgomery junior Rohann Asfaw.
"I really like hills, and there were a lot of guys out there who have good leg speed, so I knew I had to pull away and feel safe with about 600 meters to go," Wavering said. "I pushed the big hill and tried to keep some momentum on the downhill after that.
The Flacons finished fifth, though without typical number two Kevin McGiven. Despite that, Wavering said nobody exactly made a big jump to compensate, and that's fine by him.
"We like to run consistently, so nobody is running out of character," he said. "We want to know what we can do and do it."
Asfaw was a few seconds off of his PR, running 16:03 for fourth place. That kind of progress, a month ahead of where he was last season on a much hillier course, confirms a lot of the confidence he has in his training this year.
"My legs are a little tired, but we've been going at it and racing on weekends, so I'm looking forward to just having a week of training before we go to Octoberfest (Oct. 3)," he said.
After starting off two dozen or so back from the lead, Asfaw picked up the pace and attacked the downhills to make up a lot of ground on frontrunners who ran out of gas when the course got tougher.
"I knew it would go out too fast for me, so I just wanted to stay back and let things fall into place," he said. "I was through the mile in 4:52 — I was looking for more like 5:00 — but I wasn't in over my head."
As a freshman, Asfaw ran the underclassman junior varsity race, finishing in 18:17. Two years later and more than two minutes faster, it as a completely different experience.
"I felt like I was in control, and I could maintain my speed on the uphills," he said. "I couldn't do that when I was a freshman."
Mount Tabor traveled from Winston-Salem, N.C. after years of coach Patrick Cromwell's D.C.-area family's lobbying. They made the 6.5 hour trip worthwhile by winning the boys race with a two-point edge over Thomas Jefferson. Sophomore Cameron Ponder led the team in 14th in 16:23.
"We wanted a challenging course, and boy, we got it," he said. "We were totally out of our element from what we're used to in North Carolina. They steamroll some of the courses so they're as flat as a track. You've got hills here that have names."
Seeing different teams appealed to Cromwell — putting his kids in a race where they didn't know
"I don't think we had a perfect day — our order was a little jumbled and the times are different than we're used to because of the course, but I like how we kept their our composure. This is definitely the biggest race our program has been in."
Mount Tabor's top six all passed the mile mark faster than 4:52.
"We paid for that a little at the end," Cromwell said.
After the race, the team headed into Washington, D.C. for sightseeing and the Nationals game.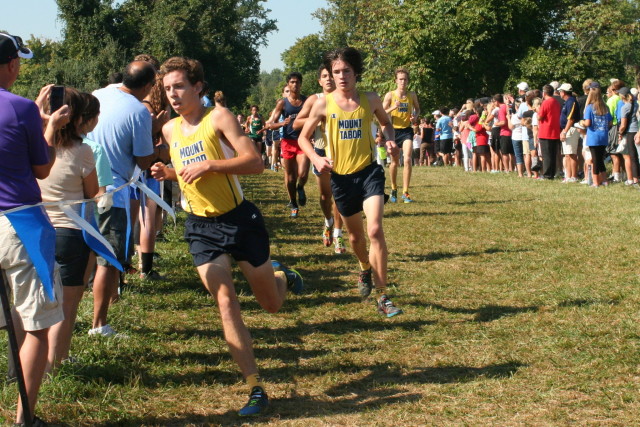 Recent Stories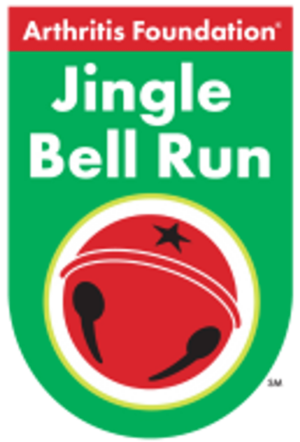 Be part of the original festive race for charity and signature Arthritis Foundation holiday event! Wear your favorite holiday attire and together, we'll jingle all the way to a cure! Register as an individual or bring a team of friends,