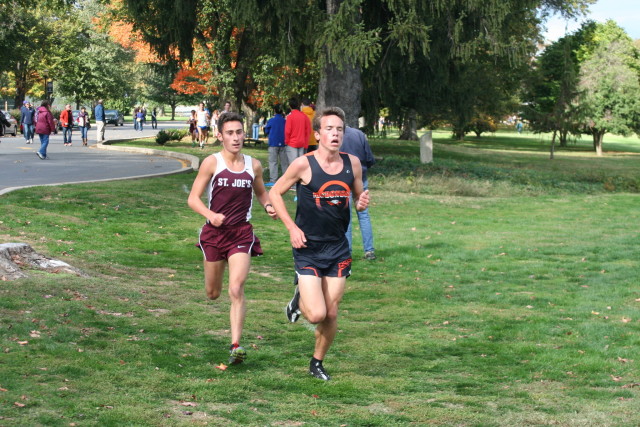 The Georgetown Prep Classic gave plenty of cross country teams a change of scenery.
A collection of local and out-of-town teams that rarely, if ever, compete against each other made the race unpredictable, because few runners know their competitors' tendencies.
[button-red url="http://www.runhigh.com/2015RESULTS/R101715DA.html" target="_self" position="left"] Results [/button-red]"It was stress-free, but nobody felt prepared because you don't know anyone next to you," said senior Molly Kennedy, who won the unseeded race. Kennedy's Riverview team traveled from Oakmont, Pa. and found a course that was more hospitable than they are accustomed to in suburban Pittsburgh.
"It was actually kind of fun," she said. "I liked that it wasn't as hard as the courses we do. The hills were shorter. It was easy, until the third mile."
The Georgetown Prep course, through its campus and around its hilly golf course in Rockville, is generally regarded as one of the more difficult courses in the D.C. area. That's the main reason Tom Martin brought the Walter Johnson team, where they put together a solid victory over National Cathedral School, putting four finishers in the top 10 of the seeded race.
"After this, they won't be as worried about Hereford," he cracked, referring to the Maryland state meet course. "We still have a lot of work to do bringing our 3-4-5 closer to Abbey (Green) and Emily (Murphy), then we'll feel pretty good about the state meet.
"They've had races were they can worry about their individual times, but a meet like this gets them thinking about racing like a team. That's what we're focused on the next few weeks."
Walter Johnson is the two-time defending state 4A champions, and they'll race rival Bethesda-Chevy Chase next weekend at the Montgomery County Championships.
NCS sophomore Page Lester pulled away from Green in the last half mile to win 18:58 to 19:16. The two hadn't raced before.
"If this were for a championship meet like counties or states, I'd want to know more about the girls I was racing against, but for an invitational it was fun," Green said.
WJ senior  Murphy lost one of her spikes a mile into the race and rather than try to put it back on, she kicked it to a spectating teammate and stuck with her sock for traction. She finished third in 19:24.
"I don't know how heels are going feel at Homecoming tonight," she said.
Lester figured the race would be another in a series with her friend and rival, Sidwell's Taylor Knibb, but only a smattering of Sidwell's girls raced. The two are triathlon training partners who recently ended their three-sport season.
Seeded boys race winner Dalton Hengst, a sophomore from McDonogh, expected to see Good Counsel senior Jack Wavering on the line and was looking to take a crack at him with a fast first mile. Though the Falcons did not end up racing, Hengst went for it anyway, gapping the field on the first loop. Anthony Belfatto, a senior from St. Joseph's of Buffalo, N.Y. worked his way up and caught him halfway though and took the lead a few times in the second loop, but Hengst put a move on him in sight of the finish line and held on for a 16:28-16:30 edge. In third, Loyola senior Kenny Rowe led a pair of teammates into the top six, which gave them a solid start in scoring over Mount Saint Joseph, 67-91.
Centennial claimed the unseeded boys'race with 91 points over DeMatha's 142. Another visitor, Kyle Ortiz from Warminster, Pa's Archbishop Wood, took the individual title in 17:19.
"We usually take a trip to Boston, but that meet filled up so we came down here," he said.
Four seconds behind him, Riverview sophomore Ben Barnes held off a late charge from the Reservoir duo of sophomore Kai Muniz and junior Will Christian.
"I live for the last 400," Barnes said. "This is my first season of cross country, so I have to stick to what I know. That means I'm getting through the courses so I have a chance to kick at the end."
Recent Stories

Both 5K and 1 mile courses are USATF certified. The 5K course has some moderate hills. The 1 mile course is flat making this a perfect PR course. We are really looking to get a broader participation base.
Funds go