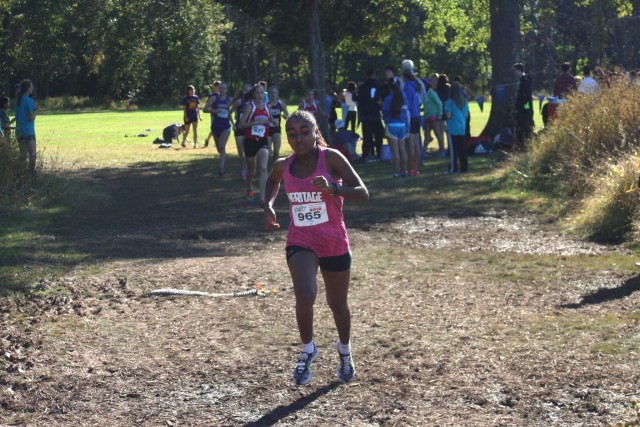 Dulaney coach Chad Boyle was not romanticizing when he said the Glory Days Invitational flew under the radar as a top cross country meet.
"This is an unbelievably competitive meet," he said.  "Kirstin Meek should be in the hunt for top three in the 4A meet and she was 12th today."
[button-red url="http://va.milesplit.com/meets/212167/results#.Vh0zOvlVhBf" target="_self" position="left"] Results [/button-red]The girls varsity race was a near-complete all-star collection, with Virginia 4A (and national) title threat Weini Kelati burning the field early and leaving Pan Am Juniors 1,500 meter champion Kate Murphy, Virginia 5A defending champion Heather Holt and Taylor Knibb, the top private school runner in D.C. and Maryland last year, to sort the rest of the top spots.
Kelati, a senior at Heritage, finished in 17:11, 26 seconds ahead of Lake Braddock junior Murphy.
"I wanted to go under 17 minutes, it was hard to pace by myself," Kelati said. "I was a little confused on the course. All of a sudden people told me to 'run this way.'"
Murphy is easing into her season after racing on the track in early August, and was suffering from a cold, which convinced her to back off and let Kelati go. She still shed George Marshall sophomore Holt in the second half.
"I felt run down and my breathing was a little off," Murphy said. "With 400 left, I had a little turnover so I finished quickly."
Holt tried to stick with Murphy after getting out a little fast in the first half mile.
"When I lost her around a turn, it was devastating," she said. "It was just a little too fast for me, and after that I knew I had to try to hold on to third place, not try to chase her."
Holt finished in 18:12. Last year, after a week of heavy rain preceded a morning storm when the Marshall team was getting on the bus, coach Darrell General called off the trip to the soaking wet course.
Knibb won the varsity B race last year, running 19:10 compared to this year's 18:27.  Like Murphy, she is also easing into her cross country season after concluding her triathlon racing season. She won the DCXC senior race on her first day back on the cross country team.
"I've been really inconsistent and getting back into swimming, too so my body's all messed up," she said. "I didn't feel great, but you can't feel great every race. You might be sick when you're in shape and you'll wind up in the same place. I definitely took it out too fast today because I was 'wheels off the bus' after mile one."
Lake Braddock won the team title with 49 points over James Madison's 78, with five Bruins in the top 21, with Sara Daniels (sixth) and Sonya Butseva (ninth) joining Murphy in the top 10. Lake Braddock's boys were not as lucky, losing by a point to Boyle's Dulaney team, which brought five of its top seven back from last year's second place Maryland 4A team. Good Counsel finished in third, led by second place Jack Wavering, and Severna Park, last year's Maryland 4A champion, was fourth.
The week prior, Running Times ranked Severna Park and Dulaney second and third, respectively, in the southeast United States.
Eric Walz kicked off scoring for Dulaney in third (15:59) with Elijah Hawkins in 10th (16:13) and Sean Smyth and Andrew King right behind him in 16:15.
"Our top four were just so, so solid," Boyle said. "But in cross country you need five. Austin Carey (47th in 16:56) really did a lot of work in the last 800 meters to get us what we needed. Several of our guys did that. It's the epitome of 'every point counts.'"
Tyler Cox–Philyaw, a Millbrook senior, came on top in 15:49, but it got close toward the end.
"My first mile, I just felt insanely good," he said. "I was at 4:52 and felt like I was running much easier, so I figured by not just keep it going? I was feeling a little labored after two miles (10:01), so I took a mile and a half to recover so I'd have something left at the end for someone coming back at me. I was able to hold off Wavering and felt pretty comfortable where he was when I crossed the line."
Wavering has been racing well this season, with a third place finish at the Oatlands Invitational three weeks ago.
"At Oatlands, coming in behind (Andrew) Hunter and (Jonathan) Lomogda, I look at that every way I could and I told Jack that was the best race any kid I have ever coached has had," said Falcons coach Tom Arnold. "I think today was as good."
Wavering ran 15:52 for a five-second margin over Walz and just three seconds behind Cox-Philyah.
"What amazes me about him is that he doesn't make mistakes," Arnold said. "He knows he doesn't have a great leg speed, but coming to a fast course like this, that doesn't play to his strengths, it doesn't discourage him at all. It challenges him–he knows he has to run down some guys who are faster than him and he knows what it takes to make that happen. He beat a bunch of studs today.  Athletically, there's no way Jack Wavering beats all of those guys today, but they don't have what he has–this unbelievable focus."
And Wavering was just that focused during the race.
"I was thinking about what would happen if I didn't make a move soon to put those guys behind me before we could see the finish line," he said. "We worked on putting on a mid-race surge this week, without even thinking about it, and that paid off today."
Centreville junior Dan Horoho kicked off a good day for the Centreville boys by finishing fourth in 16:05, an improvement in all ways over last year's race, when he ran 17:18 for 56th.
"Last year was just a mud pit," he said. "And I was coming off of pneumonia. This year, I've just been training with a great group of guys, we're working out hard and we had PRs left and right."
Senior Brent Bailey followed 10 seconds behind in 13th place.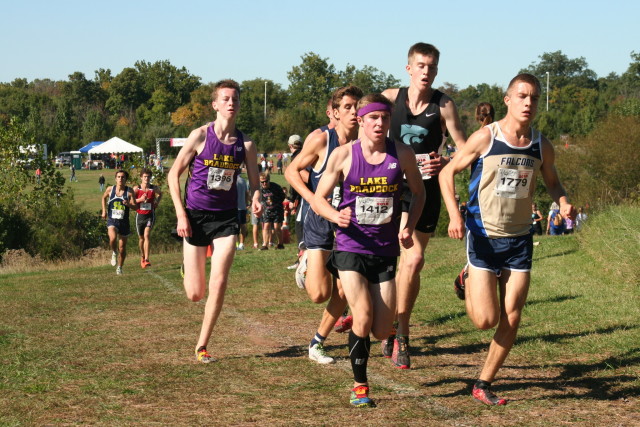 Recent Stories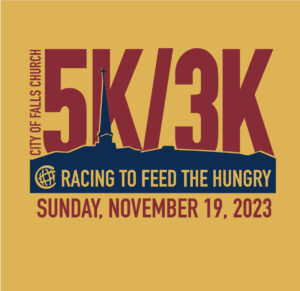 The out and back Falls Church City 5K/3K course is mostly flat on the W&OD Trail starting and finishing at 103 Columbia Street. Overall male and female winners earn free shoes and medals are awarded to all categories. Great family