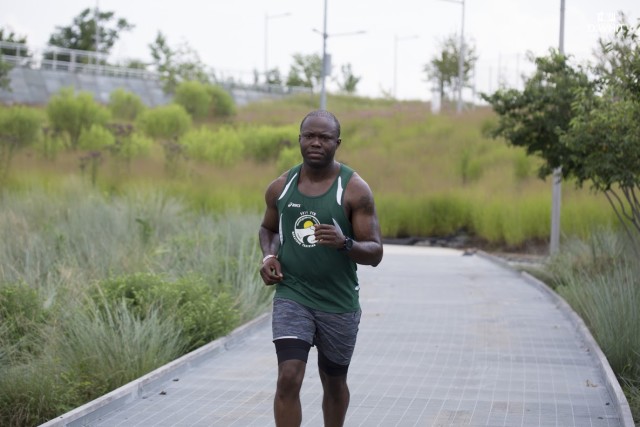 Read more about Will Etti here, here, here and here.
Will Etti completed the Marine Corps Marathon in 5 hours and 14 minutes, a 37 minute PR over last year's effort.  In last year's Marine Corps Marathon effort, Etti hobbled through cramping through the later stages of the race, an experience that has been at the forefront of his mind since he began training for this year's redemption six months ago.
Etti takes a systematic approach to running, as well as life, and his analysis of last year's performance led him to a few conclusions.  First, he decided that he had gone out too fast at the beginning of the race.  The combination of Etti's race day excitement and the former track stand-out's propensity to push himself to the limit resulted in a disappointing performance in his first marathon.  Second, he thought that his hydration and nutrition had been insufficient, and that was a contributing factor as well.
For the 2015 Marine Corps Marathon, Etti spent his training runs planning how to have a different, more successful race experience.  He experimented with a nutrition and hydration regimen that included coconut water and energy gels.  He dropped back from the 9:40 pace group to the 11:30 group in his marathon training group in an effort to avoid injury and make sure that he was able to set a pace he could sustain for 26.2 miles.
Etti crafted a race day plan to get him to his goal of a sub-five hour marathon: stay healthy, put in the miles, stay hydrated, incorporate strength and flexibility training, and stick with the pace group.  He was confident that locating the Cliff Bar pace group and sticking with it would bring him to the finish line.  He had incorporated tempo runs into his training and felt like he could maintain a race-day pace in the 10:50-10:57 range.
But when Will arrived at the start line and began Sunday's race, which happened to coincide with the runner's 39th birthday, he encountered a challenge he had not anticipated which threw a wrench into his plan for the day. The pacers were running faster than he was comfortable with. Etti had put a great deal of confidence on the pace group being his guide, when their pace didn't match up to what he expected, it challenged whole race day perspective.
Though his overall splits to the 30k mark were within the range he had trained for, Etti didn't get into a groove.  He was challenged, once again, with the severe leg cramps that had held him back in the 2014 Marine Corps Marathon.  Missing both his time goal and his "feel good" goal was a let down, but Etti chose to look at the race overall as a positive experience.
"I heard from a fellow runner that 'you learn something new from each marathon'" Etti said, and he chalks the experience up to another lesson learned.  Looking back, he wishes he had left the pace group and maintained his own pace instead of trying to stay with a tempo that wasn't working for him.  "Similar to last year, I started cramping," Etti said.  The last 8.2 miles were a challenge to just continue forward. I told myself to "just keep moving," Etti said.  At one point, he counted his steps, trying to determine how many paces he could run before the pain became unbearable.  It was 37.  So he ran as far as he could, walked, then ran again until he finally crossed the finish line.
Etti's 5:14 performance on his 39th birthday still far outstrips his 5:51 effort at his inaugural marathon last year.  And the unflagging positivity which has marked Etti's outlook on running and life was in full effect after Sunday's race.  He drew inspiration from the other runners on the course.  He thought of the service men and women remembered on mile twelve of the course, the 'wear blue mile' in which members of the military who lost their lives in combat are honored.
"It helped me take it into perspective.  Not everybody gets to run.  We're very fortunate," he said.  Though his performance was not exactly what he'd hoped, Etti takes it all in stride.  While he acknowledges that his plan didn't go perfectly and definitely wishes he hadn't hobbled through eight miles of painful cramping, Etti's post-race view was still overwhelmingly positive.  His contagious smile was on full display, and he focused on the improvement from last year to this year, "I have a 37 minute PR," Etti said.
Focusing on the positive has been the cornerstone of Etti's training.  He uses running to inform his perspective on his life, calling it "the mental marathon." But his persistence and dogged pursuit of improvement when it comes to running is strongly tied in to his life experience.  Leaving behind the crime he witnessed in his neighborhood growing up to pursue college, graduate school, and his doctorate, while building a career and raising a family, Etti chose the road he wanted, not the one he was presented.
Later, after a drunk driver nearly took his life, and Etti had to learn how to walk again, he chose to use his setback as an opportunity to set new goals, the marathon just one of them.  Hard work and gratitude for the opportunity it presents are a given in Etti's life.  Though his early talents were on the track, it seems Etti has had the heart of a marathoner since long before he tackled 26.2.
While Etti drew inspiration this past Sunday from his fellow runners and the sacrifices of fallen heroes, he has often been the inspiration himself.  His teammates and coaches in First Time Marathoners have viewed Etti as an uplifting force, not only for his story, but for the way he carries himself and his approach to training, and will certainly benefit from his techniques when he returns to the group not just as a runner, but as a pace group coach this winter.
Recent Stories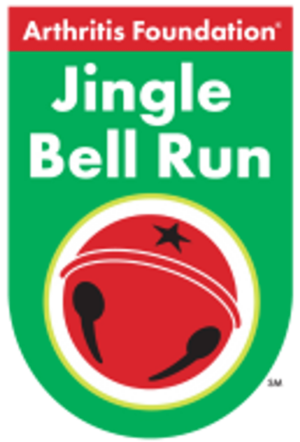 Be part of the original festive race for charity and signature Arthritis Foundation holiday event! Wear your favorite holiday attire and together, we'll jingle all the way to a cure! Register as an individual or bring a team of friends,