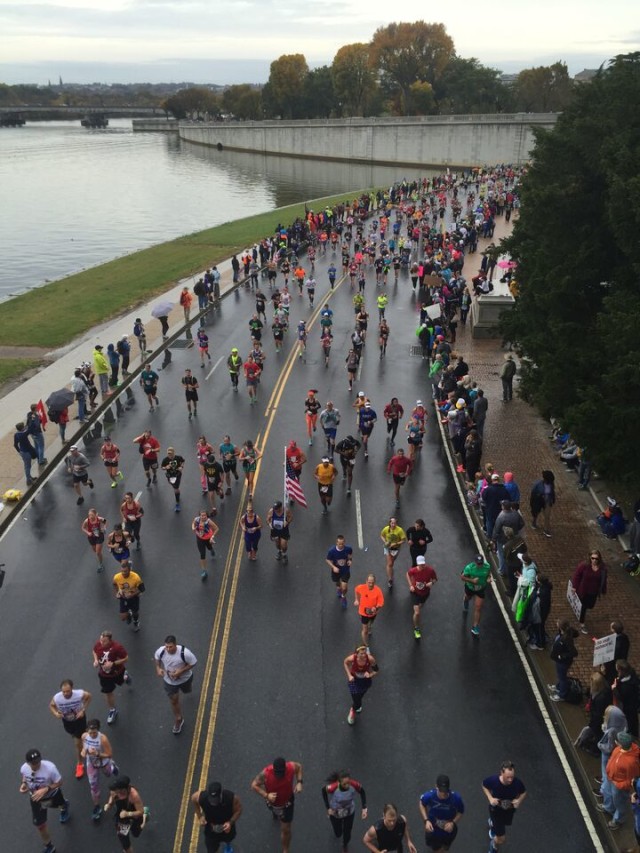 Sunday's 40th Marine Corps Marathon started out on the wrong foot when rain and unusually long, slow security lines frustrated thousands of runners, but fortunately, it's not how you start a marathon, it's how you finish.
The 23,217 finishers made it the third-largest in the race's history, with 4,438 coming from the immediate D.C. area.
Participants took to Twitter to share their frustration about Washington's iconic race, tweeting things like "8 minutes after start time and 10,000 people still stuck at security. B-team running MCM this year" (@EdLuna) and "@Marine_Marathon you have a huge group of runners stuck at the entrance. You should be better than this" (@iRunFitDC).
"I was in line at security at 0620. I did not get through security until 7:20," said Mike Stickley, a former Marine from Springfield, Va. "This was the worst because I was still late for the opening and had to rush to the start line and bag drop. I didn't really even get to stretch. That debacle needs to be fixed, and I understand it's for our security and wellbeing, but seriously, metal detectors for people who are going to run a race with clear bags."
The metal detectors were a new feature, suggested well ahead of time by Arlington County Police, according to MCM spokeswoman Tami Faram, and not set up in connection to a specific security threat.
"It was just another layer of security that local law enforcement suggested we take," she said. "we didn't take people's bags, we didn't take their personal hydration packs," a reference to Boston Marathon security measures ahead of its pre-race athletes' village.
The backups at the checkpoints came as a result of backups on the Metro Blue Line, a larger-than-expected flow of runners walking from Rosslyn and malfunctions with some metal detectors, likely caused by the rain.
"They aren't typically used outdoors, so next year we may have to have them under tents," Faram said. "We're reviewing everything to make next year's event smoother. The Metro backup, I think there was a deer on the tracks, meant we eventually had a huge bottleneck at the checkpoints."
The scene eventually resembled an airport on a major holiday, which gave Kimi Vadnais, of South Carolina, a bad first impression. But, like so many others, Vadnais' less-than-ideal start to the day took a backseat once she was out on the course. She was there for two reasons: to celebrate an early 40th birthday and to honor a family friend.
"This marathon was super special to me because I was running to honor an amazing young [man] that lost his life too early, Maj. Taj Sareen, a true American hero," said Vadnais, whose husband worked with Sareen in VMFA-232, nicknamed the "Red Devils." Sareen, a fighter pilot, was killed earlier this month when his plane crashed shortly after takeoff from Royal Air Force Lakenheath in England.
Everyone had his or her own reason to be at the start line on Sunday. This was Stickley's third Marine Corps Marathon as a runner. But as a Marine, he said he used to work the race at the Hains Point turnaround while stationed at the Navy Yard.
Lisa Gallagher, of Arlington — or more specifically across the street from the finish line — planned to make the Marine Corps Marathon her "comeback to running" after a two-year hiatus. But an infected toenail less than three weeks before race day almost kept her from the start line.
"I had been training for Marine Corps and losing a couple toenails here and there," Gallagher said, explaining how one of them became infected, causing redness and swelling in her foot and ankle. So she went to see a podiatrist.
"I opted for [the podiatrist] to stick me with a needle and remove the rest of my toenail. It was the best decision," she said. "[My toe] looked the best the morning of Marine Corps. And I ran a PR. I love not having a toenail. I don't want it back."
Florida resident Tammy Landeen, who placed first in the women's hand cycle race (1:58:01), was there to compete with her teammates from Paralyzed Veterans Racing (PVR).
"I joined PVR to regain that camaraderie that I lost when I was no longer in the military. And this race just completely solidified everything. It was such a positive and moving experience," said Landeen, an army veteran and first time Marine Corps Marathon participant.
Both Adam Cook, of Arlington, and Eric Wildon, of Elkins Park, Pa., were there to check off a bucket list item. For Cook, he wanted to complete his first marathon. For Wildon, his first MCM.
"It's one of those marathons that I had to do at some time in my life," Wildon explained.
Unlike Wildon, Arlington resident Michael Naff, had already completed the Marine Corps Marathon several years before — and has a strict rule not to run the same marathon twice. But he made an exception for the MCM's 40th anniversary.
For Al Richmond and Will Brown, running the 40th MCM was about keeping a legacy alive. Richmond and Brown are the only two remaining members of an elite club, known as the Groundpounders, who have run every single Marine Corps Marathon since its inception in 1976.
"I call it 'a rite of fall," said Richmond, who lives a block away from the  course in Arlington. "But it is sort of a tradition now and I really would hate to break the 'string.'"
Additional reporting by Charlie Ban.
Recent Stories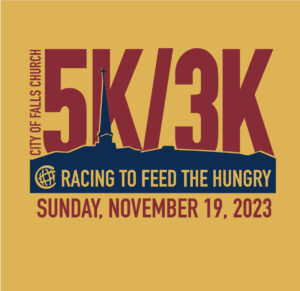 The out and back Falls Church City 5K/3K course is mostly flat on the W&OD Trail starting and finishing at 103 Columbia Street. Overall male and female winners earn free shoes and medals are awarded to all categories. Great family