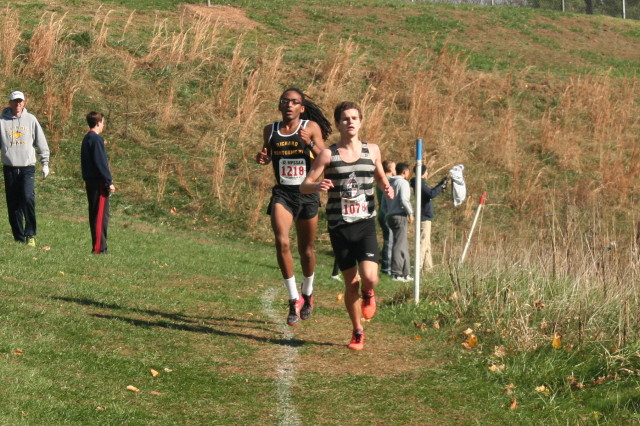 The D.C. area only had one champion at the Maryland state cross country championships, but it was one that's easy to remember: the Walter Johnson girls.
[button-red url="http://www.mocorunning.com/meet.php?meet_id=3566″ target="_self" position="left"] Results [/button-red]The Wildcats claimed their third consecutive 4A team championship with a 51-85 win over Dulaney,  a team coach Tom Martin said was the fastest in school history. Their team score matched their winning total last year, and their scoring five all fit in the top 21.
Montgomery County did have three individual runners-up in WJ's Abbey Green, Richard Montgomery's Rohann Asfaw and Poolesville's Nandini Satsangi.
Green, a sophomore, ran 18:59 for the three-mile course to trail Annapolis junior Maria Coffin's 18:25 win.
"A lot of people warned me not to go out too fast, and I think we still did, but it wasn't too bad," she said. "I knew Maria was really strong, so I didn't expect her to come back, so I had to stay with her as long as I could."
Green finished fourth here as a senior, a race she said was a little easier because she didn't know quite what to expect from the challenging course.
"I didn't have a plan then," she said. "I knew more about the course this time and that made me a little nervous, but in the end it was fine."
Paint Branch senior Bethlehem Taye finished one second behind Green.
WJ senior Emily Murphy finished fifth, after two seventh-place finishes.
I went out faster than I normally have the last two years, and it scared me at first," she said. "Then I thought 'I can do this, this is good.'"
Understandably, Martin was proud of his team.
"We started off at 16th place at the Oatlands Invitational, but they never panicked," he said of a race Murphy and junior Katriane Kirsch sat out of. "Even if they raced they way they usually do, we'd have finished just eighth. But they kept getting after it , doing the work, and by the time they got to the postseason, they did what they've learned to do the last few years. My girls are happy, that's all that matters."
Suffice it to say, they'll shoot for a fourth consecutive title in 2016, if for nothing but to give Kirsch a charmed high school career in which she doesn't know what it's like to not be on a state champion team. The key to that?
Murphy, who will graduate next spring, said keeping the sport fun will be chief among their priorities.
"We focus on team spirit," she said. "We have lots of costumes, work on some puns. Last year we made t-shirts with Mr. Martin's face printed on them."
Bethesda-Chevy Chase was third in girls' 4A, and Walt Whitman was fifth.
Richard Montgomery senior Sophie El Masry staged a comeback, finishing eighth after managing to salvage a 19th place finish that was basically the highlight of 2014's awful season.
"We couldn't figure it out, my legs just weren't there," she said of her junior year. "We tried giving me plenty of rest, icing, massage, but we couldn't figure it out."
She felt better coming into this season, and an experiment during a meet against Bethesda-Chevy Chase, when she was told to run hard from the gun, until she tired out. She ended up not tiring out.
Asfaw, a junior who finished eighth last year, hung on winner Eric Walz, a senior from Dulaney, which won the 4A men's race. The pair was part of a group of Dulaney and Severna Park runners who separated from the pack in the first mile and then whittled down to two. Walz held a consistent lead, but gapped Asfaw coming out of "the dip" on the way to the finish.
"He got a me on the uphill and took off," Asfaw said. "I felt like I ran the race really smart, I'm happy with it.
"I ran my own race. It's a little hard waiting in the back of the pack, but it worked for me."
He finished in 16:20, an improvement over his less-windy 16:33 last year. Walz's 16:06 was off of Evan Woods' 15:49 winning time last year and his own 15:56 runner-up time.
"I felt a lot more confident this year," Asfaw said. "The way this season went, I got a lot of confidence from what I was able to do."
That included wins at the Montgomery County championship and 4A West region meet.
Michael Abebe, a Northwood senior, ran for seventh in the 4A race after finishing fourth in the 3A race. The difference was stark between the two divisions.
"There wasn't as much competition last year, and I ran faster, but the conditions were harder out there today and I think I did well," he said. "It was really windy, but there were a great pack of guys out there and we made a lot of moves. It was a fun race, I tried to be as competitive as I could be."
The T.S. Wootton duo of Colin Sybing and Cliff Tilley finished ninth and 17th, respectively, and both bounced back from awful races last year. Their team finished fifth, two spots behind Bethesda-Chevy Chase, who set the standard for D.C. area teams in the boys' 4A race.
Sybing reinjured his hip in 2014, and Tilley was coming off of a week where he set several PRs for number of times he lost his lunch. He hit 10 a few times.
"I was in third place in the beginning and when the lead pack passed me, I tried to focus on their shoulders and stay on them as much as I could, keep myself moving through the rolling hills," he said.
Tilley was pleased with his discipline during the race.
"It's really tempting, when people pass you, to hurry up and fight back even if you're not ready," he said. "I kept calm when that happened and made moves when they were right for me."
Poolesville's Satsangi made a strong debut as a freshman. Her penchant for hill running helped her hit second place in the 3A race.
"I liked the course," she said. "It was tough, and I expected that, but it went faster than I thought it would. I got caught up in the crowd and went a little fast early on."
She caught up to a pack of three coming out of the dip and didn't slow down, passing them all on the way to a 19:45 finish.
Poolesville was the seventh girls' 3A team.
Blake senior James Newport led local finishers in the boys' 3A race in fifth.
"I wanted to take out the first mile pretty fast, but then I had to make a move to get out of a pack I was running with in the second mile," he said. "I was alone in the third mile, and I slowed down. I think a little competition would have kept me awake in the last mile."
Blake, 10th this year, moved down from 4A, where Newport was 48th.