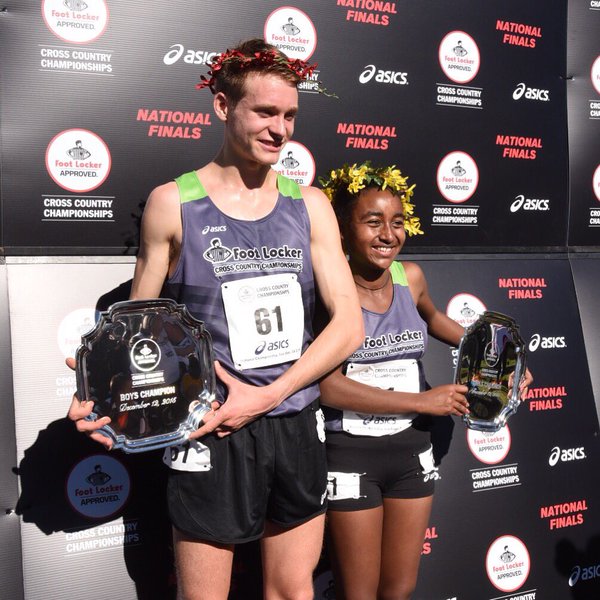 By all accounts, Drew Hunter and Weini Kelati  are generous runners, each giving of their own time to help their teams win Virginia state championships in November.
But Saturday at San Diego's Balboa Park, they took the course all to themselves and refused to share the lead with any competitors at the Foot Locker Cross Country Championships. Leading isn't easy, and it's a risk in the first competitive races each winner has contested in a year, but in doing so, they both earned every bit of their national championships, the first time the national titlists have come from the same county.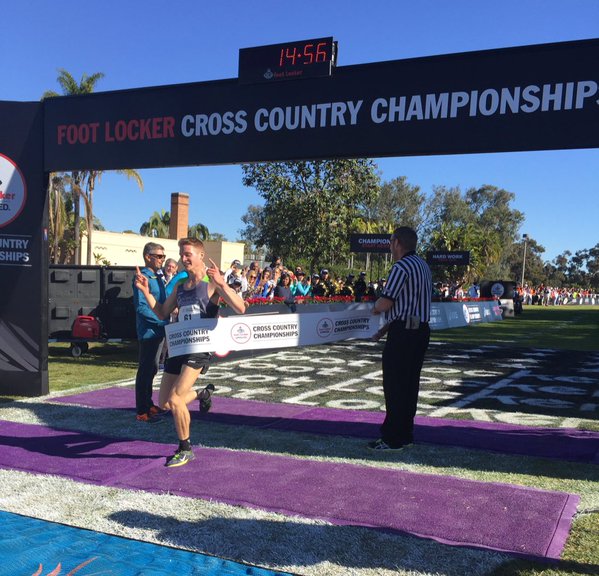 "I wanted to take the race out, make it a tough race for everyone, including myself," Hunter said.
[button-red url="http://footlockercc.com/2015/results/nationals/BoysChampionship.pdf" target="_self" position="left"] Boys Results[/button-red]Hunter, a senior at Loudoun Valley, ran away from the field early and split 4:31 and 9:25 on his way to a 12 second victory in 14:55, only slowing over the last mile. California's Phillip Rocha was second. He is the second Virginia boy to win since Charles Alexander from Richmond's St. Christopher's School in 1981 and the first local boy since Sherwood's Solomon Haile in 2008. Hunter finished fourth last year, in contention for the lead during the last mile.
He was two seconds off Reuben Reina's record pace, a 14:36 from 1985. Hunter is only the third winning boy from the South, behind both Alexander and Reina. The region includes West Virginia, Virginia, North Carolina, South Carolina, Georgia, Florida, Alabama, Mississippi, Louisiana, Tennessee, Kentucky, Texas, Arkansas, Oklahoma.
Northern Virginia had been shut out of the individual championship despite runner-up finishes by Chantilly's Sean McGorty (2012), South Lakes' Alan Webb (2000), West Springfield's Sharif Karie (1995 and 1996). Webb served as South team captain, years after being coached by Hunter's parents.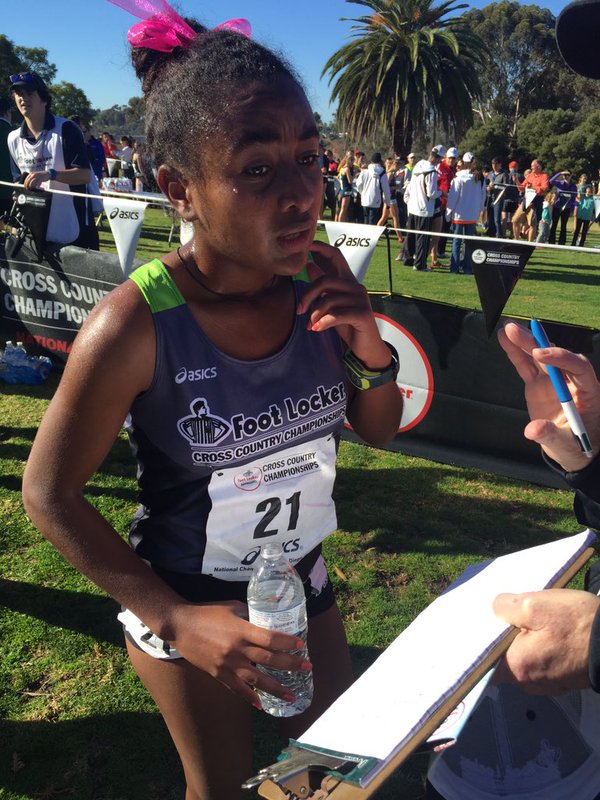 [button-red url="http://footlockercc.com/2015/results/nationals/GirlsChampionship.pdf" target="_self" position="left"] Boys Results[/button-red]The lead Kelati built early, including's early charges when others tried to share the lead, disappeared around halfway, but she kept leading, typically a very risky strategy. In contrast to Hunter's sustained lead, she dragged Illinois' Maryjeanne Gilbert and Judy Pendergast and North Carolinian Nevada Mareno (whom she had faced in the South regional) up until the last hill near three mile mark.
She got a step ahead of Gilbert and ran to a one second margin in 17:09. Mareno (17:17) and Pendergast (17:20) followed. Annapolis junior Maria Coffin, who won the Maryland 4A championship, finished 27th in 18:22.
Kelati started high school at Heritage in 2014 at 17 and recently turned 19, so although she is a sophomore academically, she has completed her cross country eligibility. She was 20th at last year's Foot Locker finals.
Recent Stories

Both 5K and 1 mile courses are USATF certified. The 5K course has some moderate hills. The 1 mile course is flat making this a perfect PR course. We are really looking to get a broader participation base.
Funds go