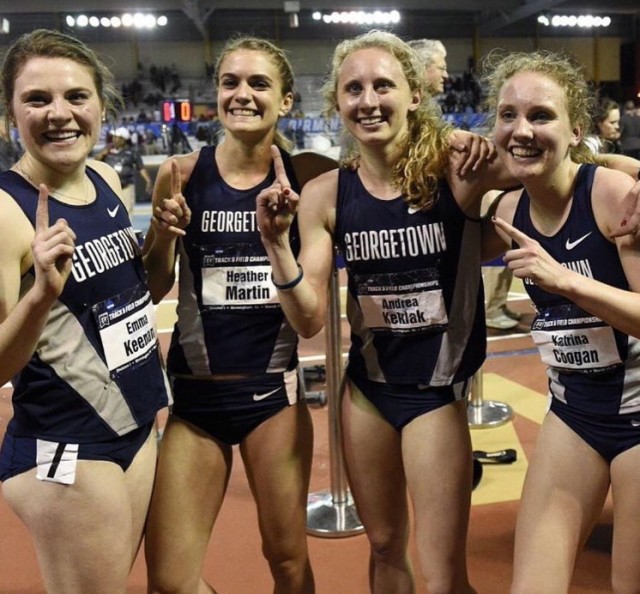 Despite unseasonably warm temperatures in the D.C. area last week, the indoor track season wasn't quite over, which was good for plenty of local high school athletes and the Georgetown women's distance medley relay team.
NCAA Indoor Championships
In Albuquerque, Georgetown's team of Emma Keenan, Heather Martin, Andrea Keklak and Katrina Coogan won the NCAA indoor championships March 11, running 10:57.21, ahead of the University of Washington's 10:58.52. The next afternoon, Coogan finished third in the 3,000 meters, running 9:07.74 to Molly Siedel's (Notre Dame) 8:57.86, and Keklak  finished fourth in the mile in 4:38.44, behind Oklahoma State runner Kaela Edwards' 4:35.62.
Loundoun County alumnus Thomas Curtain, running for Virginia Tech, finished second in the 5,000 meters, running 13:50.70 to trail Oregon's Edward Cheserek's 13:47.89. The next day, Cheserek held a 8:00.40 – 8:01:55 lead over Stanford's Sean McGorty, a Chantilly alumnus, in the 3,000 meters. Ahmed Bile, an Annandale alumnus who runs for Georgetown, was 14th in 8:24.15.
New Balance Nationals Indoor
Heritage's Weini Kelati kicked off the top local performances at the New Balance Nationals Indoor meet by breaking the less-than-one-year-old high school indoor 5,000 meter record, running 16:08.83. That broke Anna Rohrer's mark of 16:10.79. She also won the two mile in 10:02.71.
T.C Williams' Noah Lyles broke Xavier Carter's 12-year-old high school indoor 200 meter record, running 20.63 to shave off .06 seconds.
Lyles team up with his brother Josephus, Tre'kel Locket and Kai Cole to win the 4×200 relay, running 1:26.21. Joesphus Lyles also won the 60 meters in 6.65 seconds.
In the boys's distance medley relay, Loudoun Valley's team "The Jungle," won in 10:03.42 over River Dell, of New Jersey. Loudoun Valley's team consisted of Will Smaugh, Colton Bogucki, Drew Hunter and Nathaniel Thompson.
Chantilly's XBC club broke the national sprint medley relay record, running 3:24.02 to outdistance Motor City Track Club from Michigan (3:25.96) and cut .14 seconds from Dayton, Ohio's Dunbar team, which had broken the record the year before. Chantilly's runners were Michael Scopellite, Justin Loh, Titus Jeffries and Brandon McGorty.
Lake Braddock's girls distance medley relay team — Shannon Browing, Skyla Davidson, Samantha Schwers and Kate Murphy — finished second in 11:39.10. Murphy also finished second in the mile, running 4:39.47.
U.S. Indoor Championships
Two D.C.-based Georgetown alumnae competed in the U.S Indoor Championships March 11-12 in Portland, Ore. Rachel Schneider finished eighth in the 1,500 meters, running 4:19.48. Chelsea Cox ran 2:04.29 in the 800 meters preliminary heat. Georgetown alumna Emily Infeld finished 10th in the 3,000 meters in 9:10.22.
Recent Stories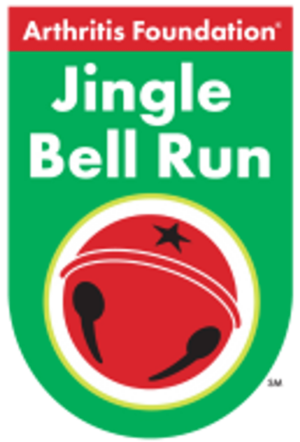 Be part of the original festive race for charity and signature Arthritis Foundation holiday event! Wear your favorite holiday attire and together, we'll jingle all the way to a cure! Register as an individual or bring a team of friends,