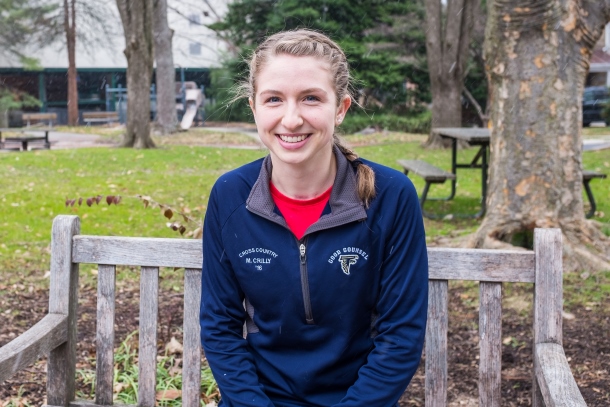 Our Lady of Good Counsel was 1,000 meters from glory. This was all that separated the Falcons from beating rival Bishop O'Connell for the first time in seven years to win the 2014 Washington Catholic Athletic Conference cross country crown.
But then the squad's best runner, 16-year-old junior Megan Crilly, started to fade, developing a glassy look in her eyes that had become eerily prevalent throughout her fall workouts. Crilly crashed and ended up collapsing across the finish line. She finished 16th — almost two minutes slower than her individual winning time the year before — and Our Lady of Good Counsel wound up second.
What was far more troubling, though, was that Crilly, after the race, needed nearly two hours to become coherent enough to know where she was.
Everything was a symptom of thyroid cancer, which was diagnosed a month later, attacking her energy and metabolism the entire fall, crippling her running and putting her life at risk. But rather than feeling sorry for herself, Crilly was determined to make amends for her frustrating conference championship meltdown.
"I felt like I had let my team down because I should have done a lot better than I did," she said. "That was a source of motivation, to be able to back in shape for my team and come back stronger for my senior year."
Crilly did just that and more.
Now a senior, she was not only able to defeat the cancer, but returned to the Good Counsel cross country team running times better than before her run-in with the disease.
Running was more than a distraction. It provided fuel throughout her cancer treatment and recovery to return to cross country.
"She really did an amazing job of getting through this with grace and composure and maturity beyond her years," her mother, Kim Crilly, said. "She inspires me every day."
Crilly isn't your typical high schooler. She's a gritty, determined competitor.
And there's more
Megan Crilly was one of four recipients of the Montgomery County Road Runners Club Outstanding High School Runner scholarships, along with Good Council teammate Jack Wavering, Albert Einstein's Ciciely Davy and T.S. Wootton's Colin SyBing.
Her workouts fall somewhere between impeccable and perfect, according to Tom Arnold, her coach.
"She just didn't make mistakes," even as a freshman running on a competitive varsity team, he said. "She just had a maturity you don't see in many athletes."
Every summer, she showed up religiously every weekday in the summer for 10 weeks, at 6 a.m., to train and lay a base for the upcoming fall season. That added up to a WCAC cross country individual title her sophomore season.
But in her junior year she started to struggle. She didn't seem to have the control and dominance she usually had, and it got worse throughout the race season. Megan couldn't finish some of the team's harder workouts, the interval and tempo runs, and her times in races were slipping back to freshman-year levels.
"I felt very tired and very sick," Crilly said, adding that she had trouble breathing.
Doctors first suspected a much more common ailment: anemia. But anemia doesn't come with a lump on the throat, and a biopsy revealed the truth.
Thyroid cancer is comparably manageable, which was fortunate.
"If you're going to have cancer, it's one of those ones one you want to have," Crilly said.
But it had also spread to her lymph nodes, which had to be treated with radiation that spring. The radiation forced Crilly to stop her medication for hypothyroidism, further complicating her recovery and running.
But in the end, Crilly attacked her cancer with a just-do-it attitude almost as if it were shin splints or plantar fasciitis.
Kim Crilly tries to raises her children with an understanding that everyone is going through rough times and life is sometimes hard. But don't let that slow you down or hold you back.
Megan Crilly scheduled her surgery on New Year's Eve so she wouldn't miss school. Radiation treatments came on long weekends for the same reason.
"Most kids would have milked that for all they could get," Arnold said. "'Oh, I'll get this time off from school and all this attention.'
But she didn't want anyone to know. She wanted to get through it as best she could on her own." Just two days after her surgery,
Crilly wanted to go on a 20-minute walk that left her exhausted the rest of the day.
"Even when she wasn't feeling well, she went to practice and just did what she had to do," Kim Crilly said.
She started running again in late January, wanting to get back to her team and help them. "Running was one thing that kept me mentally and physically strong," Megan Crilly said. "It was a great outlet. …. I almost needed running as a way to get through it."
Getting back to her old self took a few months, but she returned in time for spring track season and ran personal bests in the 400 and 800 meters.
That success late in the season gave her confidence headed into summer workouts that aided her senior cross country season last fall.
She ran four sub-20-minute 5Ks; before her illness she hadn't broken 20 minutes. She finished second overall at the WCAC meet where she collapsed the year before, although her team came up short of the team title.
Crilly finished sixth in the Maryland and D.C. Private School Championship after running 11th her sophomore season.
"It was the first season where I felt I was up to my full potential," Crilly said. "It was nice for once to see all my hard work pay off."
Fighting cancer gave the high schooler perspective about adversity and life that proves valuable to handling tough times in racing.
"It's great to set goals. However, you might not reach those goals every single race, and that's OK," Crilly said. "As long as you keep working as hard as possible and you believe in yourself, your training and yourself, you'll eventually get there."
Tests early in 2016 revealed no signs of cancer remaining. She wants to continue running at a local college in Maryland and is thinking about studying engineering.
"After my junior year, I wasn't sure if I wanted to run in college because I was kind of discouraged," Crilly said. "But after going through this experience, I've come out stronger, and I've learned to believe in myself a little bit more. I want to pursue running in college."
This article originally appeared in the Spring 2016 issue of RunWashington.
Recent Stories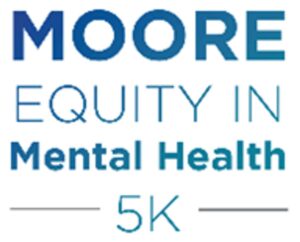 About APA's MOORE Equity in Mental Health 5k
The APA's Division of Diversity and Health Equity invites you to join us in combating mental health inequities facing young people of color and in honoring mental health advocate Bebe Moore Campbell.