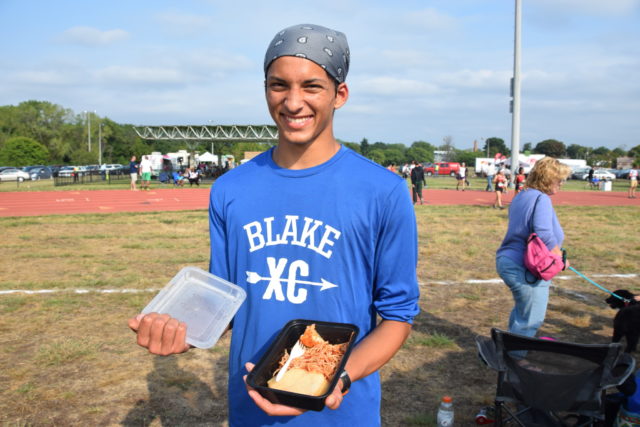 It started by accident, but before every race, Aaron Liiva makes sure he dabs a little bit of marinara sauce on his spikes.
He doesn't use any particular type of sauce — although the Blake senior mentioned he's partial to Costco's Kirkland Signature brand. Usually, he just makes a point to save some of the sauce from his pre-race spaghetti.
It began earlier this year when Liiva spilled marinara sauce all over his uniform right before a race. But that day, he ran a 40-second PR. Since then, he's added the ritual to his long list of pre-race routines, which also include placing an oak leaf in his right sock and wearing the same bandana.
"I have a lot of pre-race rituals," Liiva said, pointing to his bandana. "I started wearing the bandana, so I don't want to not wear the bandana because it might be bad."
The field at Saturday's DCXC Invitational was full of traditions and superstitions, but food was a common theme.
Matthew Owens, a senior at Quince Orchard, said the team always goes to the same restaurant — Noodles & Company — before each race.
"We've been doing it for so many years. It was done before we came in, so we decided to continue it," he said, adding that he usually gets the Wisconsin Mac & Cheese. "I've done well when I've had it."
Owens' teammate, Rene Mugabo, opts for 24 Chick-fil-A chicken nuggets.
"One time, my brother took me before county and I did really well, so I just kept eating it," he explained.
Across Kenilworth Park, spectators could quickly tell which teams use music, huddles and team cheers to prepare to toe the start line.
For the last year, the Westfield boys have started each race the same way.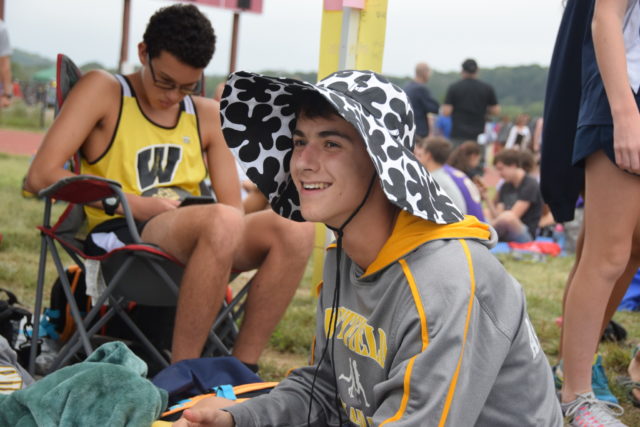 "We say, 'Are you ready to get nasty?' then we are like, 'Yeah, we are!' And we get a banana and throw it around," said senior Colin Affterton, adding that they've dubbed "Cooking By The Book" — a rap remix of a song from a kids' show — as the official team song.
Whether any of it helps them run faster is up for debate.
"We just have a lot of fun doing it," he said.
The Blake girls have a similar ritual.
"We'll scream, 'Who are we?' and the answer is, 'Blake XC!'" said Claire Jacobs, a junior.
Eric Bartley, also a junior at Blake, gets hyped up before every race by listening to "Our Song," by Taylor Swift.
"It's actually a great song," he explained. "I get in that moment where I feel like I can run forever."
On the flip side, Bartley's teammate, Jack O'Grady, has his go-to playlist of hard metal.
"It's really intense stuff," said O'Grady, adding that he always listens to the same songs in the same order. "I have to be kind of angry to run fast."
For others, the start line offers a brief moment of calm before the excitement of the race.
"We always circle up and have a pre-meet talk and then we'll say a prayer before we start," said Logan Ali, a sophomore from Hempfield Area High School in Greensburg, Pa.
"Our coach always says to close our eyes and pictures ourselves as the champions," said Junho Kim-Lee, a senior at Sidwell. "That's something our coach has always done. And I like how he does that. I think it really helps to take a moment to think about how you want to run."
Kim-Lee recalled how the tradition helped him in the early days of his cross-country career.
"I remember at my first race as a freshman. My whole body would be shaking. Even the day before, I couldn't think. My thoughts would be scrambled," he said. "But now I'm a lot more confident at the start line. It just helps focus on how you want to run."
And then there are the runners who stick to their tried-and-true rituals out of fear changing them could be detrimental.
"I always wear the same tshirt and shorts the day of the race and I always bring an extra pair of socks and change into them like 10 minutes before the race," said Sidwell senior Jordan Chernof. "It worked out once and now I'm too scared to change it up."
"First, I have to crack my [right] hip. I can run without doing it, but it's just something that I feel like I have to do. I started doing it my junior year and that's when I started getting good at this," said Maya Jacobson, a senior at Quince Orchard. "I'm also convinced that if I don't wear this bracelet, something really bad is going to happen. The one time I didn't wear this bracelet I put myself in the slow heat of the mile of indoor track and I ran really slow."
For some, they rely on mantras and quotes to get them to the finish.
"I always think of this quote that my mama taught me," said Blake senior Andy Otero. "It doesn't really apply to cross country. It applies to when you're being chased by a bear. It's 'Run faster than your friend.'"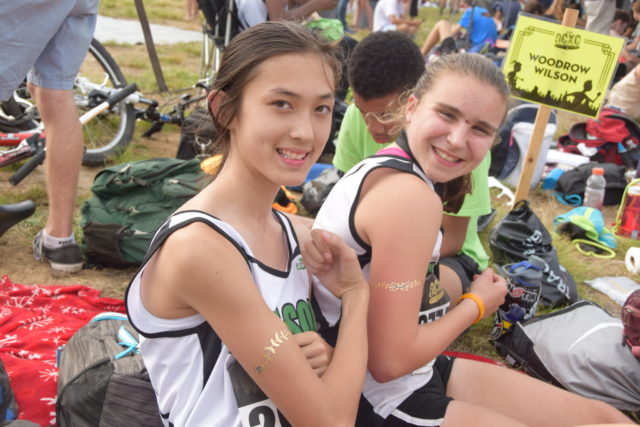 Ella Pearlman-Chang and Talia Lehrich, both freshmen at Woodrow Wilson, have only been on the team for a month, but they're already thinking about establishing their own rituals for their high school cross-country careers. At Saturday's race, they donned hair ribbons and matching temporary tattoos wrapped around their right arms.
"Our tradition is to do fun stuff before races," Pearlman-Chang explained.
And then, of course, there are those whose only ritual is to not have any rituals.
"I don't really believe in superstitions," said Jason McFadden, a junior at Quince Orchard. "I don't believe there's anything you can do that'll change the race other than train before. I don't believe in those little charms. I found that tricking myself into thinking that these little things will make a difference kind of psychs me out and just makes me more nervous than I already am."
Recent Stories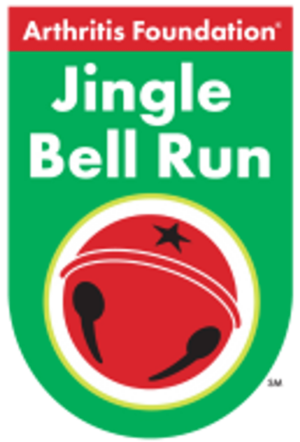 Be part of the original festive race for charity and signature Arthritis Foundation holiday event! Wear your favorite holiday attire and together, we'll jingle all the way to a cure! Register as an individual or bring a team of friends,