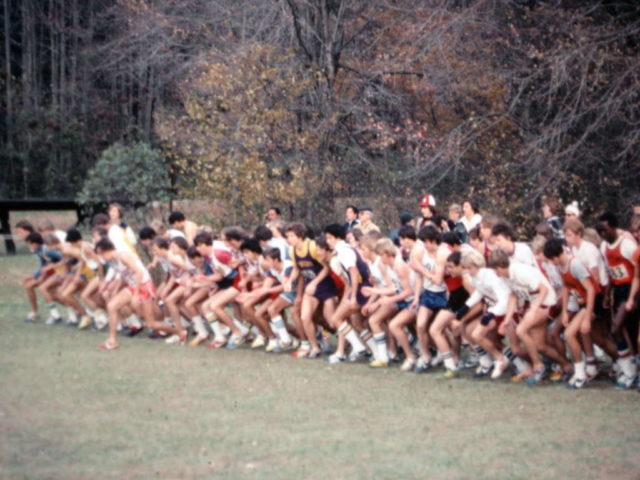 Tradition versus at uniformity on Fairfax County's hallowed grounds
Anyone who's been part of Fairfax County cross country knows the Burke Lake course. You can't talk to a cross country runner without hearing about it. Since 1974, the park in Fairfax Station has served as a primary competition location, playing host to numerous postseason races, district meets and the season-opening Monroe Parker Invitational. Some of the best distance runners in the country have been through there.
Despite a few minor tweaks here and there, the course has remained relatively unchanged since 1974, which gives it a certain sentimental identity. But unlike the other courses that grace Fairfax County's high school cross country scene, Burke Lake is not a 5K. It's 2.98 miles and it has been that way from the beginning. This has sparked a debate over whether to preserve this unique trait or to conform the venue to other courses.
Matt Gilchrist, coach at Chantilly and a Northern  Virginia track historian, argues for tradition.
"Burke Lake is important for us because it hasn't had those major changes, unlike Great Meadow," Gilchrist said, referring to the state meet course. Gilchrist ran the course decades earlier while attending George C. Marshall.
He appreciates that running times can be compared across a 40-year span.
"I think it is important to remember the history."
Track historian Pearl Watts agrees.
"It's been the same length for all this time and the biggest thing about that course is that people can compare their times to other people from the past," Watts said. "It's been that way since 1974."
Watts belongs to a legendary family responsible for some of Burke Lake's strongest times, set back when he ran for Thomas Edison in Alexandria. His younger brother, George, held the course record for a while, running 14:42 in 1974.
Watts's old record, however, has since been beaten by Alan Webb, who ran 13:57 in 2000 as a senior at South Lakes. Webb managed to achieve that time by passing the two-mile mark in 9:10. He might be best known for holding the national record in the mile, but his Burke Lake record still stands too.
Since that record-setting day, Watts has come to believe that going out in 9:10 was even more impressive than Webb's final result. "Nobody ran that course harder that day," he said. "You can't go through there at 9:10 without knowing it's going to hurt the last mile. His goal was to break 14 [minutes] and he knew he had to go [out] that fast."
Erin Keough, then a student at Langley, set the girls' record, 16:09.7, in 1985, shortly before winning her first of two national championships.
Burke Lake is full of stories like these, recorded by historians through the years. Bill McDowell was the first to record the top finish times at Burke Lake. When he stopped, Watts took over the role, covering the course for nearly a decade and researching historical data. Watts visited the public library and combed through the microfiche, reading any information he could find on previous meets to expand McDowell's list.
To get on Watts's list, men had to break 15 minutes and women had to break 17 minutes. T-shirts are still printed today with the names of all-time top performers.
"People really aspire to get to that [list]," Watts said. "Anybody who follows the history of it would know about that."
While Watts no longer maintains his list, Gilchrist keeps his own database of top times, and his stores are a "couple thousand names deep." He sees his current database as a way to continue McDowell's and Watts's legacy.
"It's all about preserving history," he said. "Milestat can't do that … The value to running [the Burke Lake course] is that it is a link to individuals and teams of the past." Gilchrist adds: "We're only a link in the chain. It's about showing respect to your heritage."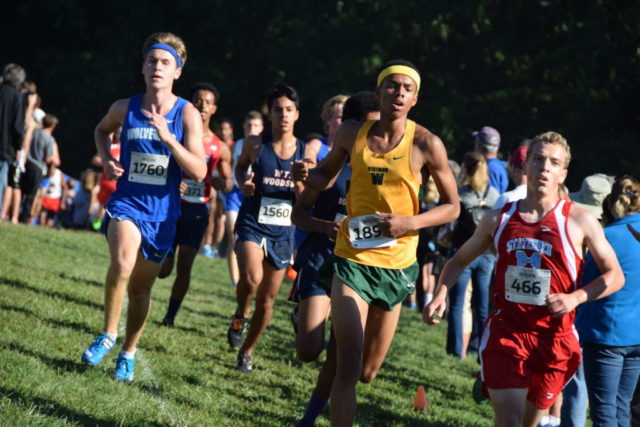 Despite some minor changes throughout the years, the first two miles have basically remained the same since 1974. Watts would know; he measures it himself whenever the course is altered.
"I've measured that course five or six times with different wheels," he said. "The course changes subtly each time, but the two-mile mark is the two-mile mark every time."
In fact, Watts was the one who first discovered that the course was 2.98 miles long, rather than 3 miles.
"I'm the one who came up with that measurement," he said. "For years, people would say it's 3 miles."
But Watts got out his wheel and measured, making extra sure that the course was the length the papers reported it to be.
"Since it's not 3 miles, you can't call it 3 miles. It's probably only forty or fifty yards difference, but that's what it is."
But not everyone is happy about Burke Lake's unique length. Some, like W.T. Woodson assistant coach Alex Hulse, would rather see it altered to a standard 5K distance.
It's just strange because you can't compare it to any other meets anywhere because it's not 5K and it's not 3 miles," he said. "It would be hard to change it from what it is based on the great runners who have run there. But I think if the course was created today at Burke Lake, they would not create that course."
In addition to the awkward distance, Hulse finds the course difficult and unpleasant, citing a choke point around mile two where runners weave through a campground then choose to either run on a paved road or a narrow strip next to it. "There's difficult footing all around," he says.
On this score, Watts doesn't disagree. "I'll be the first one to tell you it's a lousy course," he said, citing the loud noise that echoes through the trees and bounces off the water. "But what it does have going for it is its history for comparative purposes of everything."
Hulse has heard this argument before. He understands why local fans love the course, though also recognizes that people that not growing up in the area perhaps leaves him less nostalgic. As a Coloradoan, Hulse never had the chance to compete at Burke Lake as a high school runner. "I didn't grow up drinking the Kool-Aid," he said.
Watts, on the other hand, started running in the area before the Burke Lake course even existed. "If they do [lengthen it] for some stupid reason, I'll be the first to measure it and call it BS," he said.
Yet according to park officials, Watts has no reason to worry, and Hulse has no reason to hope.
"I don't think there's any plans to [change the course]," said park manager Keith O'Connor. "Nothing's come up."