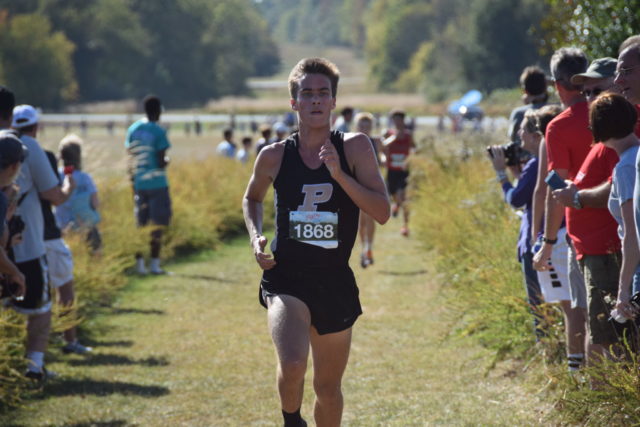 Maryland runners made themselves at home at Virginia's Bull Run Regional Park, winning the individual and team titles at the Glory Days Invitational. Walter Johnson senior Abbey Green led the girls' race from the start, and cleared the way for the Wildcats to claim the team title. 
On the boys' side, Poolesville's Ryan Lockett overpowered Severna Park's Garrison Clark in the last half mile, despite a rough start and a last-mile misstep.
A dry September left the usually-muddy course as dry as it has been since 2012, but the heat and direct sunlight and mid-afternoon race times slowed down what a faster course sped up. Lockett's 16:03 has him a second ahead of Alec Shrank and Rohann Asfaw's photo finish in 2016. The meet was not as deep, individually, with many D.C.-area teams heading to the Great American Cross Country Festival in North Carolina.
Glory Days Invitational
Oct. 7, 2017- Bull Run Regional Park
Centreville, Va.
3.1 miles
Photos by Charlie Ban coming, someday
Boys
1.Ryan Lockett Poolesville 16:03
2.Garrison Clark Severna Park 16:12
3.Brian McCullough Dulaney 16:13
4.Gavin McElhennon Gonzaga 16:21
5.Kai Muniz Reservoir 16:25
1.Severna Park 70
2.Dulaney 97
3.Gonzaga 180
4.Patriot 204
5.Linganore 215
Girls
1.Abbey Green Walter Johnson 18:03
2.Julia Ghiselli Annandale 18:37
3.Allison Flock Colonial Forge 18:56
4.Nandini Satsangi Poolesville 19:18
5.Nicole Re Chantilly 19:30
1.Walter Johnson 69
2.Severna Park 125
3.Chantilly 125
4.Osbourn Park 176
5.Warren 178
Locket started the race boxed in before a bottleneck that didn't open up until the second half of the first mile. His surge to chase Clark was a little faster than he planned to run that early in the race.
"I was trapped on the inside and I could see him making his move," Lockett said. "I wanted to stay on him, but that meant I had to go a little faster, earlier in the race, than I had planned."
Meanwhile, Clark was leading his first major race.
"It was a little different, a little hard to judge because nobody was with me," he said.
A successful race at the Barnhart Invitational three weeks before gave him the confidence to go out hard. Lockett caught up a mile in and the two battled for another mile and a half, until Lockett took a wrong turn and had to surge to catch up to Clark. He kept that surge going, and put nine seconds on Clark, who edged Brian McCullough from rival Dulaney high school by one second.
Severna Park won the meet, with 70 points to Dulaney's 97. Dulaney has won the last two Maryland 4A titles, with Severna Park in second. One point separated the two last Fall.
The girls' race featured less tension, Walter Johnson's Green running away from the field and Annandale's Julia Ghiselli, who had won the Octoberfest Invitational.
"I knew I wasn't going to be my best or most-rested because I've picked up my training in the last two weeks, so I'm surprised I felt this good," Green said. "I was able to take it out and felt good in the first 800 (meters), even though I was kind of hesitant about how fast I was going."
Green's 18:03 finishing time matches Heather Holt's time from 2016.
She has the Manhattan Invitational next week, as she works back toward the Foot Locker finals for the second year, after taking much of the summer off of base training with an illness.
Ghiselli ran alone the entire race, not gaining much ground on Green but working up to a 19-second margin on Colonial Forge's Allison Flock.
"It was a lot of time to spend focusing on keeping my pace up," she said.
Like Lockett, Poolesville's Nandini Satsangi was also boxed in early, but by the end she moved into fourth place, where she finished in 19:18.
"I tripped a girl trying to get outside, neither of us fell, then I just tried to move up consistently," she said. "I felt best in the last mile. I'm leaning you can have a good finish even if you  don't start well."