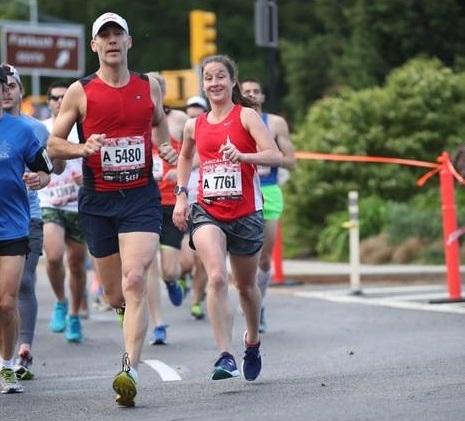 Name: Jenn Dietz
Self-described age group: over 30 club
Residence: Arlington
Occupation: Program manager for a nonprofit and head cross country coach at West Potomac High School
Why I run: I've had a lot of great experiences and learned a great deal about myself through running. Currently I'm running to try and improve my fitness, but over the years running has given me a lot of discipline and strength while also allowing me to clear my head or work through tough times. 
When did you get started running: Cross country freshman year of high-school, although I didn't get serious about training until junior/senior year. 
Have you taken a break from running: I took a break from structured training/races for a while (2009-2015), but continued running during that time. Other than that I'll take 1-2 weeks off after a marathon or training cycle. 
Training shoe: Nike Structure, Adidas Supernova, New Balance Zante 
Coach or training group: Capital Area Runners, George Buckheit 
The hardest race you've ever run: Honestly, even my worse races or races on most challenging courses seem like nothing compared to how hard other times have been when I've dealt with loss/heartbreak. I try to remember how fortunate I am to be able to run and embrace whatever physical pain may come along with it, its easier for me to manage than other pain. 
Most adventurous decision you've made with your running: I guess getting talked into doing Grandfather Mountain Marathon in 2009, despite not doing any long runs/marathon training. Also counts as a stupid decision.
Running mentors: Ben Thomas, my college coach at Virginia Tech
My favorite place to run in the D.C. area is: I enjoyed the Loop before the Purple Line closed it. 
Favorite local trail: Manassas Battlefields 
My best race was: Not sure, maybe Cherry Blossom 2016. My senior year cross country regional meet was pretty special since its was a breakthrough race and put me on a path to run in college.
Favorite local race: Cherry Blossom
Ideal post-run meal: Ice cream
Favorite flavor of gel, gu, etc: When I have to take one for long runs/races I prefer Cherry Lime Roctane
Pet peeve: I hate running in the rain
Goals: Improve…set new personal bests in the 10 mile, half marathon and marathon this year
Your advice for a new runner: Be patient, don't jump into training too quickly and make sure you listen to your body. If you're beat up from running don't be afraid to take a rest day or cross train, even if it isn't on the 'schedule'.
 Favorite running book: Running with the Buffaloes by Chris Lear
 Song in your head during a run: Stubborn Love, The Lumineers
Have you dealt with a major injury: Been pretty fortunate to only have minor injuries over the years. Had ITB issues in high-school. I also got plantar fascistic after doing Kilimanjaro this summer, it was bad timing since I had started my training for Chicago but with some cross-training and help from massage therapist Pete Sherry is cleared up in a little under 2 weeks.
Running quote:"There's no such thing as bad weather, just soft people." – Bill Bowerman
Why is the D.C. area a great place to be a runner: Not sure that it is, I'd prefer to train somewhere with more soft surface trails. There are a lot of racing opportunities in this area which is great if you like racing.
Recent Stories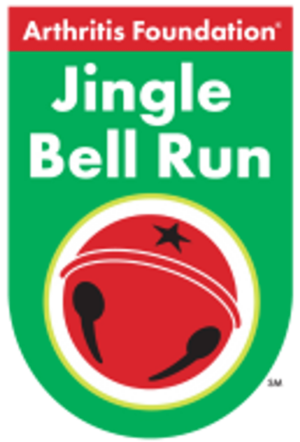 Be part of the original festive race for charity and signature Arthritis Foundation holiday event! Wear your favorite holiday attire and together, we'll jingle all the way to a cure! Register as an individual or bring a team of friends,