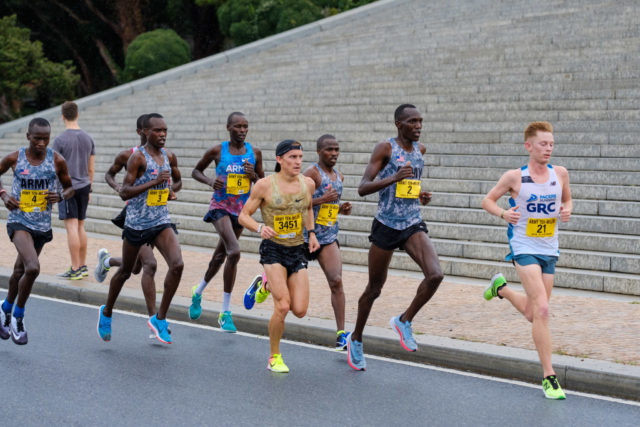 Two recent additions to the Army's World Class Athlete Program won the Army Ten-Miler on a muggy day that felt more like July. Haron Lagat and Susan Tanui, both natives of Kenya and U.S. Army specialists, have benefited from more structured training environments, and it showed Sunday. Conditions were bad enough that after 10:08 a.m., the race rerouted runners near the Department of Agriculture to cut a mile off of the course and soon after stopped recording finishing times. Roughly 24,723 runners crossed the finish line, though race representatives have not quantified the nine- and 10-mile finisher totals. 
Race representatives have also not responded to inquiries about the number of runners given medical attention during the race.
Army Ten-Miler
Oct. 8, 2017- The Pentagon
Arlington, Va.
10 miles
Mile 2,4, 10 Photos
by Dustin Whitlow
Mile 5.2 Photos
by Charlie Ban
Handcycle Photos
by Dustin Whitlow
Men (gun times)
1.Haron Lagat 49:23
2.Samuel Kosgei 50:13
3.Robert Cheseret 50:17
4.Shadrack Kipchirchir 50:34
5.Leonard Korir 50:34
Women (gun times)
1.Susan Tanui 56:50
2.Julia Roman-Duval 59:17
3.Rachel Booth 1:00:45
4.Kerry Allen 1:00:55
5. Chelsea Kim 1:01:17
Lagat felt the effort he needed to run 49:23 felt like he was running two minutes faster, thanks to 75 degree temperatures and saturated air. He judged that from his effort a week earlier at the U.S. 10 Mile Championships in Minneapolis, where the WCAP team swept the top five spots, with Lagat finishing fourth in 47:40. He joined the Army and its WCAP team at Fort Carson in Colorado Springs five months ago, after running for a series of sponsors and coaching at his alma mater, Texas Tech in Lubbock. 
At the Army Ten, the team ran its characteristic pack race, though Lagat broke away after six miles, which was two miles earlier than they had planned. Lucas Stalnaker, a recent Naval Academy graduate now in Marine officer training at Quantico, hung with the Army team, which included two 2016 Olympians, through the first half of the race, and his hanging on prompted Lagat to get things started a little early.
"We were surprised to see him," Lagat said. "We went 4:40 in the fourth mile to see what he would do, but he hung with us. I told the guys I was going to start going at six miles."
He broke away from the pack, with 2014 and 2016 Marine Corps Marathon champion Samuel Kosgei briefly in pursuit, but Lagat was on his own for the rest of the race. While he felt confident doing that, the eighth mile, over the 14th Street Bridge, was lonely and windy. He aimed for a 4:45 mile, but ran just 5:00.
"Once I got off the bridge, I wasn't lonely anymore," Lagat said. "The wind was bad, though. Nobody should be disappointed with their time today."
Both men's and women's winning times were slowest Army Ten-Miler winning times in years. The men's is usually won in the low 48s and while women's winning times have ranged between 54:50-56:26.
He led Kosegei by 50 seconds, followed by Robert Cheseret in 50:17 Shadrack Kipchirchir and Leonard Korir 50:34. A week earlier, Kipchirchir and Korrir ran 47:33 and Emmanuel Bor edged Lagat, 47:39-47:40 for the U.S 10 Mile Championships.
"It was big deal for Haron to win," WCAP Coach Lt. Col. Sean Ryan said. "He's one of the newest WCAP members, Sam Kosegei has won the Marine Corps Marathon twice, Shadrack Kipchirchir and Robert Cheseret are Olympians, so it's great to see Haran on the big stage like this."
Moving to Colorado Springs has been productive for Lagat, even after five months.
"He has 15-20 guys to run with every day," Ryan said. "You can't have a bad day like you can when you're training alone. These guys train as a pack so it's natural for them to race in one."
Stalnaker finished sixth in 50:38. He split 49:15 for 10 miles at the Rock 'n' Roll Philadelphia Half Marathon three weeks prior, also in muggy conditions. Though he tested the Army team by taking the lead in the second mile, he ultimately fell victim to their strategy, but was pleased with his 10 mile debut. Stalnaker was fifth in the 10,000 meters at the NCAA championships in June.   
"I've raced against teams of Africans before and I figured if I made any moves they'd come and swallow me up and control the race," he said. "When you've got five or six guys working together to try to break you, it's tough to run your race.
"I wish I had pushed a little longer to stay with them over the bridge, but I feel like they would have just beaten me up later in the race, I feel like they were still chilling even when they pulled away."
Trevor Lafontaine, the 2015 Marine Corps Marathon winner, also ran, finishing 33rd in 55:31.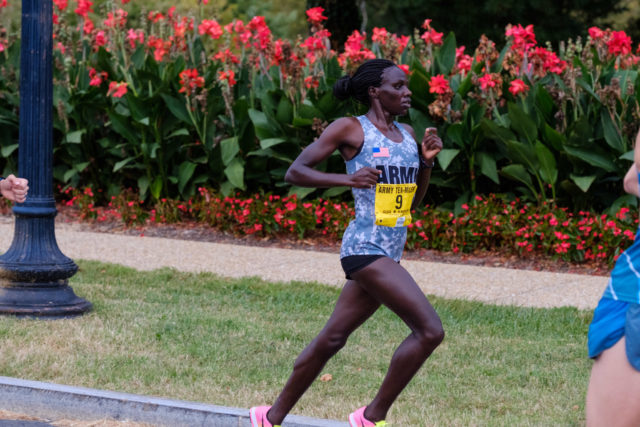 Susan Tanui was concerned about the humidity while warming up before the race. Though accustomed to humidity from years of being stationed at Fort Riley in Kansas, she has spent the last five months training in Colorado Springs, where 7,000 feet of elevation doesn't leave room for much moisture.
"I've never had weather like this for a 10 miler," she said. "I planned to run the race consistently, but I worried I would slow down toward the end. I got a little scared the heat would be too much for me."
The rain, a little more than two miles in, helped cool her off and ease the tension, though she still worried about women pursuing her, once she figured out she was in the lead.
"If I slowed down enough at the end, someone might catch me," she said. "Once I got far enough into the race, there wasn't anybody challenging me, so I could relax and enjoy the race."
With her 56:50, she earned herself a 10 mile PR, just two weeks after cutting five minutes off of her half marathon PR at the Sante Fe Thunder Half in New Mexico, where she ran 1:15:01.
Tanui had hoped to run under 56 minutes, but Ryan had advised her before the race to run to win, not for any time, given the conditions. For a runner who is primarily a steeplechase specialist, Tanui's last few weeks have impressed Ryan, though he expected she was ready to improve with better training conditions.
"If you're a 58-minute (for 10 miles) woman, you're running on your own in Kansas," he said. "She's in a situation that's much better for her training now."
Second-place Julia Roman-Duval, of Columbia, is also in a better place, despite some struggles with the racing conditions. She ran 59:17.
"I felt like my face was on fire after two minutes," she said.
After dropping out of the Boston Marathon and struggling to a finish at the Frederick Half Marathon, she learned she had mononucleosis, and had to take a few months easier while she recovered. In mid-August, she started to feel strong again, and targeted December's California International Marathon, which will serve as the U.S. Marathon Championships. She qualified for the U.S. Olympic Trials at the race in 2015.
Rachel Booth of Charlottesville (1:00:45) passed D.C.'s Kerry Allen (1:00:55) in the last mile to finish third. Chelsea Kim, of North Carolina's Pope Army Airfield, was fifth in 1:01:17. Stephanie Reich of Columbia, who won the 2016 race, was ninth, provisionally, in 1:01:43, though one of the runners listed ahead of her did not run in the race.
As temperatures rose, the course was shortened in an effort to reduce heat-related injuries and illness.
The course alternation removed a loop past the Department of Agriculture that included the 10k timing mat. Runners who finished before 10:08 were eligible for awards, and runners who passed the 10k mark by 10:08 a.m. had their times recorded but were not eligible for awards. Runners who were diverted and didn't cross the 10k mat were given credit for completing a "recreational run." 
"The safety of our runners is paramount. The Military District of Washington is committed to providing a world-class road race in a safe and secure environment," Race Director Jim Vandak said, according to a statement by the U.S. Army Military District of Washington. "The decision to downgrade the road race was made in coordination with medical, safety and race operations personnel."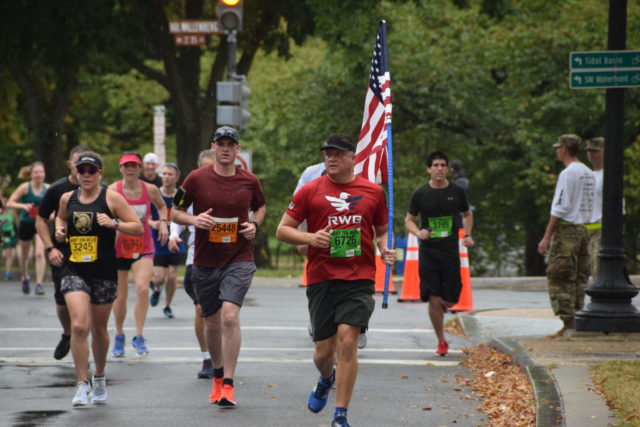 Recent Stories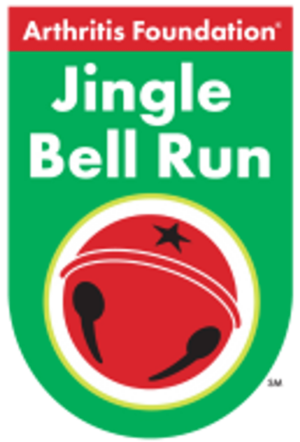 Be part of the original festive race for charity and signature Arthritis Foundation holiday event! Wear your favorite holiday attire and together, we'll jingle all the way to a cure! Register as an individual or bring a team of friends,