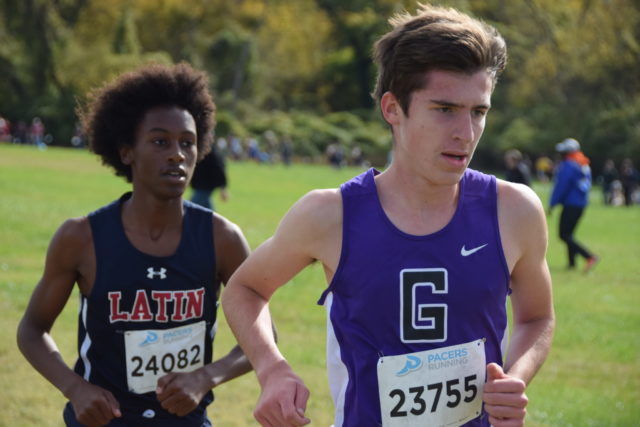 It looked like Gavin McElhennon was making a mistake. As he powered his way around the perimeter of the Kenilworth Park fields, he let Luke Tewalt hang behind him. He blocked the wind, set the pace and put himself out there, vulnerable for Tewalt to attack and take over the lead in the D.C. state cross country championships.
But his confidence in his strength gave him a boost and let him know it was alright, and the move he made with a mile to go gave him the margin he needed to win. He wound up running away from Tewalt and finishing in 16:34, 21 seconds faster than Tewalt on a course measured by several team representatives to have been between 75 and 200 feet longer than 5k. A permit conflict with the Kenilworth Park track prevented the use of the same course used in last year's state meet and four years of the DCXC Invitational.
D.C. State Championships
Nov. 4, 2017- Kenilworth Park
Washington, D.C.
3.1+ miles
Boys
1. Gavin McElhennon Gonzaga College 16:34
2. Luke Tewalt Washington Latin 16:55
3. Cullen Capuano Gonzaga College 16:57
4. David Giannini Gonzaga College 17:01
5. Arjun Thillairajah Sidwell Friends School 17:03
Team results
1.Gonzaga 31
2.St. Johns 86
3.St. Alban's 86
4. Sidwell Friends 86
5.Woodrow Wilson 134
Girls
1.Page Lester National Cathedral School 18:05
2.Cady Hyde St. John's College 19:31
3. Allie O'Brien Woodrow Wilson 20:00
4. Sophia Hanway National Cathedral School  20:05
5.Michaela Kirvan Georgetown Visitation 20:09
Team results
1. St.John's College 59
2. Woodrow Wilson 64
3. National Cathedral School 78
4. Sidwell Friends 106
5. Georgetown Visitation 109
McElhennon, from Gonzaga and Tewalt, from Washington Latin, raced at the DCXC Invitational's sophomore race in September, and that race turned out the same way. But it was more recent history that informed McElhennon's plan for the race. A week before the state meet, he finished second at the Washington Catholic Athletic Conference championships after a slow first half, which was a big change from the invitational races where he had been finishing in the top 10.
"It was a lot harder and not what I'm used to doing, so I wanted to go out faster today," he said. "I'd be setting the pace, but last year in the JV races I was used to being out ahead, so I wasn't too worried."
Toward the beginning of the second loop around the park, Tewalt still hung a step behind and with his 9:02 3,000 meter speed, he remained a threat, but later said he was "dying the whole race.
"He had me in the second half, I just didn't have the conditioning to keep up."
McElhennon didn't the extent of Tewalt's distress, but he tested him anyway.
"I was a little surprised he was still with me, so I started surging," he said. "I just kept picking it up, and after two miles he was done."
McElhennon was the first in an onslaught of Gonzaga purple, with Cullen Capuano (third, 16:57), David Giannini (fourth, 17:01), John Travis (sixth, 17:19) and Gavin Farley (17th, 17:42) combined to score 31 points, putting them well ahead of scrum of three teams tying with 86 points. St. John's edged St. Alban's and Sidwell Friends by virtue of their sixth runner in 27th place, versus 41st and 44th, respectively. Gonzaga won the team title last year.
Gonzaga was running without John Colucci, a senior who had contributed to the Eagles' varsity team since his freshman year, and he had finished second to teammate Harry Monroe here, a year ago.  Colucci injured his foot over the summer, and subsequent surgery wiped out his cross country and likely part of his indoor track season.
Despite that, coach John Ausema liked what he saw from his team in the early-October Glory Days (third place) and Third Battle (fifth place) invitationals. A week ago, they won their first WCAC title since 2012.
The girls' race looked like a victory lap for Page Lester, the National Cathedral School senior who was the first girl from Washington D.C. to make the Foot Locker Cross Country Championships last year. She surged away from the field as soon as the race started, and ran alone to a 18:05 win over Cady Hyde from St. John's, who finished in 19:31.
But inside, Lester was struggling to find motivation in her fourth race, and victory, of the season, all of which by large margins.
"I could tell I was fading after 3k, so I kept telling myself to pick it up, but at about 4k I knew I wasn't going to be able to."
That fast start? She was trying to not go out fast. At the Interstate Athletic Conference the week before in Derwood, Md., her exuberance at racing again after an injury break saw her take the race out in 5:20 for the first mile, and effort that caught up with her soon after.
"I was too excited and went out fast," she said. "It was just not fun to do the last two miles, I would have taken any chance to not keep running that race, so I knew I'd better go out slower today."
She is planning another shot at the Foot Locker meet, and is relishing the chance to race people, rather than the clock, in New York City.
Behind her, Hyde was just happy to be running on land, after a stress fracture in her toe and subsequent hamstring injury left her in the pool and on a stationery bicycle throughout the Summer. She finished third here a year ago.
"I grew to like pool running, you can't see your time, my teammates would come and join me on Sundays," she said. "You gotta do what you gotta do."
She started racing again at the Georgetown Prep Invitational, but she wasn't quite all the way back.
"I was a wreck before the race," she said. "I hasn't raced in so long, but at the same time I had been working so hard to get back to it."
She ended up winning the race, as did her team, and they kept that streak up at the WCAC meet, dethroning Bishop O'Connell for the first time in 10 years. And, again, they won in D.C. But like Hyde, coach Michael Sheehy pointed to Georgetown Prep as being the big moment for his team.
"They went out and ran as a pack – they had four together for most of the race, and I think they really started enjoying racing together, not just running together," he said.
After Hyde's two points, Anna Cestari (eighth, 20:54) Anne Hagerty (11th, 21:15) Maggie D'Antonio (19th, 21:55) and Alahna Sabbakhan (20th, 22:00) combined their team points to win with 59, ahead of Woodrow Wilson (64), National Cathedral School (78), Sidwell Friends (106) and Georgetown Visitation (109).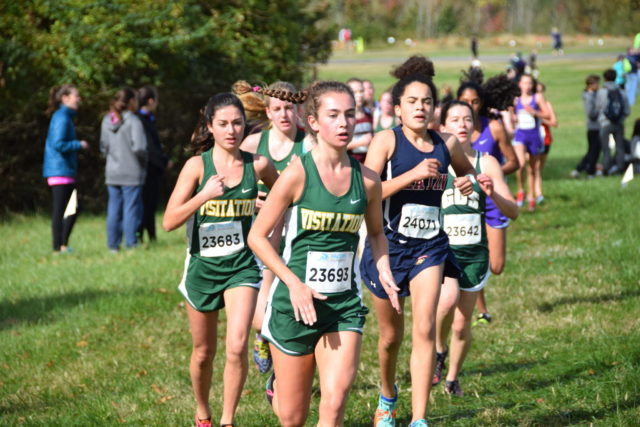 Recent Stories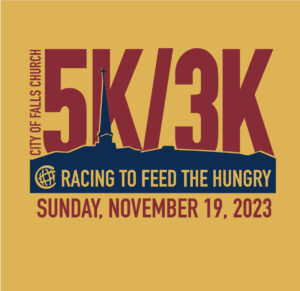 The out and back Falls Church City 5K/3K course is mostly flat on the W&OD Trail starting and finishing at 103 Columbia Street. Overall male and female winners earn free shoes and medals are awarded to all categories. Great family