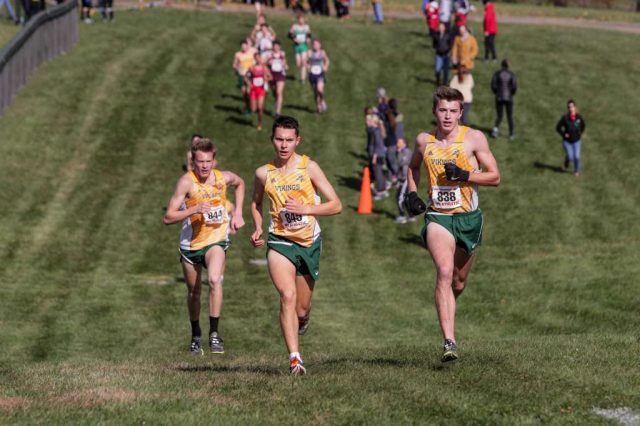 On the eve of the the most dominant team race in Virginia history, Sam Affolder was a little disappointed.
"We had a team meeting, and I was expecting an inspirational speech about how we were going to make history and we'd come out fired up," he said. "We talked about what we were going to wear the next day. Nothing about trying to sweep or go after the state record. I'd never had a pre-race meeting like that before."
Virginia State Championships
Nov. 10, 2017- Great Meadows
The Plains, Va.
3.1 miles
Photos by Bruce Buckley
Photos by Ed Lull
6A results
1. Brent Bailey Ocean Lakes 15:33
2. Chase Osborne Western Branch 15:43
3. Grant Northcutt Cosby 15:54
4. Tyler Lipps Ocean Lakes 16:03
5. Connor Doyle Cosby 16:10
teams
1. Lake Braddock 74
2. Cosby 89
3. Ocean Lakes 116
4. WT Woodson 137
5. Oakton 138
5A Results
1.Zachary Levet Deep Run 15:52
2.Henrik Anderson Mountain View 16:03
3. Philip Lambert Stafford 16:04
4. Jack Ikenberry Lee-Davis 16:09
5.Yared Mekonnen Edison 16:11
5A teams
1. Albemarle 95
2. Deep Run 101
3. Glen Allen 111
4. Lee-Davis 117
5. Tuscarora 153
4A
1.Sam Affolder Loudoun Valley 15:20
2.Peter Morris Loudoun Valley 15:26
3. Colton Bogucki Loudoun Valley 15:55
4. Jacob Hunter Loudoun Valley 15:56
5.Connor Wells Loudoun Valley 16:04
4A teams
1. Loudoun Valley 15
2. Dominion 103
3. Blacksburg 104
4. Grafton 123
5. Midlothian 138
But a mundane pep talk was par for the course. After sweeping the top five spots for the first perfect score in commonwealth history on a cold, windy morning, the Vikings will continue toward their goal of a Nike Cross Nationals championship in a month, and they just happened to land larger fish than they set out to catch: extensions of their three-year 4A individual and team winning streak.
Affolder ended up appreciating the time put into race apparel preparation. He considered ditching the gloves that were making his hands sweaty. Then he came to a creek crossing midway through the course at Great Meadows.
"As soon as I hit that water, I knew I never wanted to taking the gloves off," he said. "I was really, really glad I had them."
He pulled away from teammate and defending 4A champion Peter Morris in the last half mile in win in 15:20, with Morris six seconds back.
"We didn't have a plan, we just let them race," said Coach Marc Hunter. "We put a lot of plans and assignments on the kids earlier in the season, but it's time to see what happens."
What happened was his son, junior Jacob Hunter, taking the race out for the first half mile. Eventually, there was only so much a six-foot-plus runner could handle headwinds, and Affolder and Morris moved around him. Meanwhile, senior Colton Bogucki led a pack of runners, never taking cover from the wind on his way to third place (15:55).
"He ran that race about as hard as anyone could have, all in no-man's land," Marc Hunter said.
Jacob fell back and junior teammate Connor Wells nearly caught him before Hunter outkicked him for fourth in 15:56. Wells finished fifth in 16:04. Then, to further astonish the crowd, sophomore Kevin Carlson finished eighth in 16:17. Because the sixth and seventh place runners' teams were not competing, the Vikings went 1-6 for team scoring.
"I think a lot of the guys had been in a funk during the season because we weren't really competing with teams, but we weren't going all out in races and really seeing what we could do. It was structured. That doesn't always work for kids, like Peter, who likes to go hard from the gun and runs better when he has an even effort."
Eighty-eight points behind, Sterling's Dominion team had a more tense race, with a one-point margin over Blacksburg for second place, led by Nicolas Vandendeede in 20th (16:47) and four teammates in the next 12 places.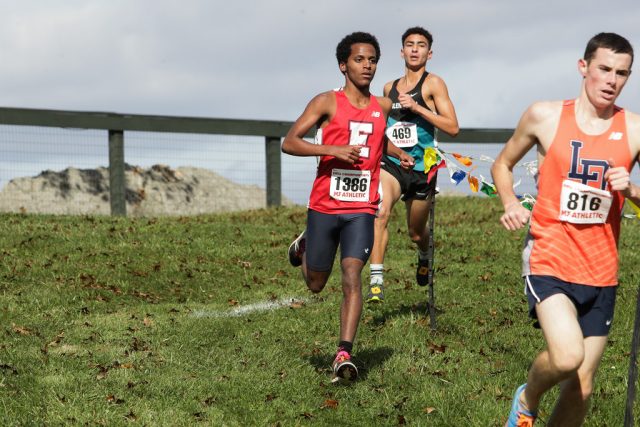 Edison's Yared Mekkonen felt the ill effects of the headwind. A half mile into the 5A race, his plan to chase the leaders down was scuttled, and none of the runners who fell back from the lead were fit to run fast anymore.
"Every time someone would fall back to me, I'd wonder if it was worth it trying to use them to block the wind," he said. Even then, "I was still running fast enough that I was better off on my own, fighting the wind."
He finished fifth in 16:11, 19 second back from Deep Run's Zachary Levet, and was the top local finisher. Tuscarora was the first local team in fifth, scoring 153 points to winner Albemarle's 95.
Mekonnen, along with Morris, Bogucki and Tuscaora's Derek Johnson, 14th in 5A, will run at the University of Virginia next year, along with Maryland 2A champion Ryan Lockett.
Southern runners swept the top five places in the 6A race, but two pairs of Lake Braddock runners in the top 20 kept the Bruins in position to win their third title in four years. The Bruins lost to James Madison by three points in 2016 and Chantilly by two points in 2013.
Edward Cerne and Andrew Delvecchio finished sixth (16:12) and seventh (16:16), Jacob Howard and Joshua Buontempo were 17th and 18th (both in 16:40) and Jacob Willis (45th in 17:05) combined for 74 team places for a healthy margin over Cosby's 89 points. W.T. Woodson edged Oakton for fourth place by a point, 137-138, led by Jack Leech in eighth in 16:17. 
Brent Bailey of Ocean Lakes won in 15:33, with a 10-second margin over Chase Osborne of Western Branch.
"I wanted to compete better, be closer to the front," Cerne said." We were going to stay comfortable in the first mile because people go out fast."
He felt like he was in a good position in eighth early on, until Osbourne started surging halfway through. The headwind kept Cerne from making the moves he planned.
"I was in between packs and it wasn't feeling good, so I was a little hesitant to go for the next pack," he said.
"Every time I tried to go with them, the pack ahead would speed up, too."
Though Delvecchio crossed the finish line a second behind him, Cerne was worried when senior Tyler Lawson wasn't there. A hip injury left him doubtful in the weeks leading up to the state meet, and after nearly a mile, he focused on finishing without hurting himself further.
"When your 9:22 (3200 meter) guy isn't in your top three, you get a little worried," Bruins Coach Mike Mangan said. "Jake Willis ended up winning the meet for us."
Willis had been a junior varsity runner until he won the JV race at the Desert Twilight meet in Arizona in late September. At the state meet, he was running in nearly 70th place until the final 800 meters.
"(Assistant Coach Jeff) Custer was there and yelling to him 'You can win the state meet for us if you keep catching people,'" Mangan said. "I was there on the fence with 500 meters to go, 'Jake, you can win this for us…'"
Willis ended up catching more than 20 runners.
On Saturday, George Mason finished seventh in 2A, with Bill Comstock and Henry Brorsen finishing 41st and 42nd.
At the Virginia Independent Schools state meet at Woodberry Forest, Bishop O'Connell junior Max Greczyn created a 17-second gap over Trinity Episcopal's Max Galbraith to win. O'Connell finished third. Greczyn had previously won the Washington Area Catholic Conference Championships and the DCXC Invitational junior race.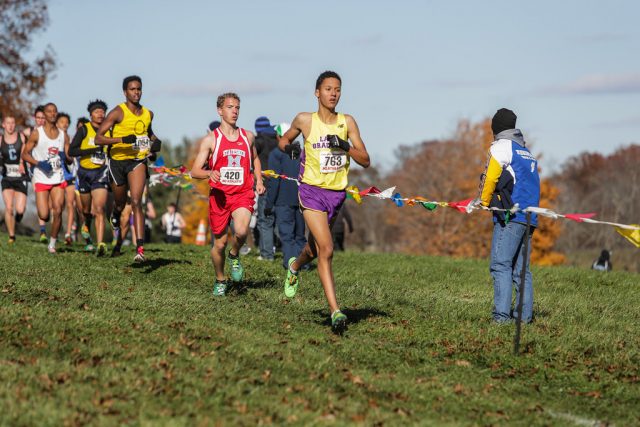 Recent Stories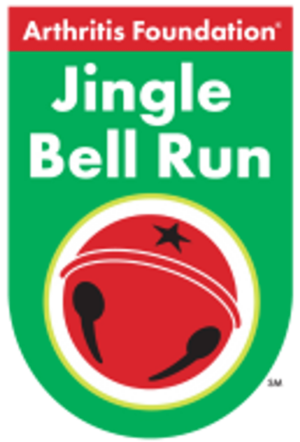 Be part of the original festive race for charity and signature Arthritis Foundation holiday event! Wear your favorite holiday attire and together, we'll jingle all the way to a cure! Register as an individual or bring a team of friends,