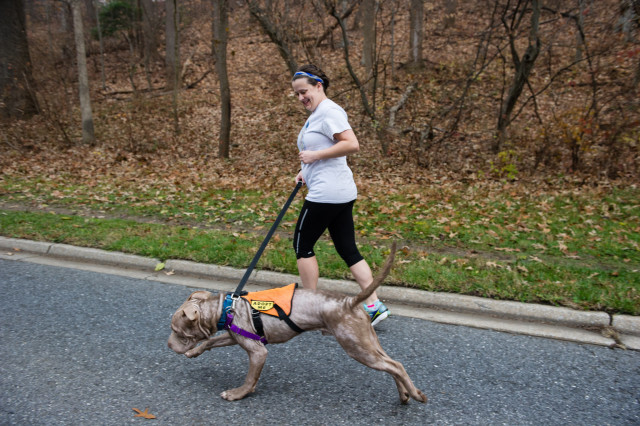 For a shelter dog, the chance to run is nothing short of bliss. For eight years, volunteers have been helping Washington Humane Society dogs make it happen. In 2008, Spike, one of many pit bulls entering shelters that year, caught the fancy of two employees, who decided to bring him along for a run. That was the start of the People and Animal Cardio Klub (PACK), which pairs local runners with dogs from area shelters. And each week, they meet for an hour of fun. The benefits, according to one of the club's volunteers, are twofold.
"After a long week, no matter what has happened, Saturday mornings with a dog who really gets a lot out of it gives me a chance to re-calibrate and start the weekend off right," said volunteer leader Heather Kelly, of Arlington. "I call Saturday mornings with PACK my reset button."
Each week, Kelly and a group of volunteers head to Rock Creek Park's Beach Drive, while another group takes over the National Arboretum. On one Saturday early last December, the two groups combined forces.
Kiri Anderer, of D.C., joined PACK two years ago and became a group leader last summer. And while she has two cats of her own, the less-than-ideal square footage of her home prevents her from adding a dog.
"I would love to, but I don't think it would really be fair," she said. "So this is my way of getting to have a dog occasionally, which I really enjoy. But it's really good for the dogs — to get them out for some exercise and socialization."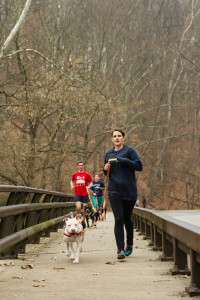 Pittsburgh transplant and PACK volunteer Addy Mistick said dogs were a fixture in her home when she was younger. But pet restrictions at home and frequent work travel preclude it now. She joined PACK in August after reading about the club on the Washington Humane Society's website.
"I was looking for volunteer opportunities at the humane society and I love running, so this just spoke to me," Mistick said.
Mistick ferried a six-year-old Pitbull-Boxer mix named Goldfish from the Washington Humane Society's Georgia Avenue facility to Rock Creek Park. She said the process was fairly smooth.
"It's pretty quiet when you first arrive, until the first group of us get there," Mistick said. "Once we're there, we walk over to the kennel and each one of the dogs has their harness and leash right there, so they're ready for you."
When the PACK volunteers and dogs were finally situated in the parking lot, a process that unsurprisingly requires a decent amount of patience, the volunteers and their canine partners set off on a three-and- a-half mile jaunt through the iconic park.
Some volunteers ran while others walked. And judging by the smiles plastered on the volunteers' faces, it was hard to tell if  the dogs or their partners were having more fun. According to one PACK leader, the program not only offers immediate physical benefits for the animals, but its impact is felt long after the dogs return to their respective shelters.
"The dogs that come back from PACK, a lot of times — not exclusively, but a lot of times — those dogs go straight out to an adoption event," said Drew Connell. "We've been told that they show a lot better at those events because they're a little quieter and reserved. They don't quite have the energy of some of the dogs that have been in a kennel for the past couple of days. When they get out and get their legs stretched they're much more likely to be adopted."
Connell owns a dog. He adopted a Labrador-Great Dane mix, which he said prompted him to explore additional humane society volunteer opportunities.
"He's actually what inspired me," Connell, who lives in Silver Spring, said. "I'll continue to do this for as long as I can — until my knees give out. After that, I guess I'll just be here walking the dogs."
After just under an hour, the first group of PACK volunteers returned to the parking lot. Others followed. Parched from the early morning exercise, both parties sought water. A volunteer lugged around a large cooler and poured its contents into silver bowls that rested on the asphalt. The dogs devoured the water, only pausing to scarf down treats and acknowledge another dog with a series of barks.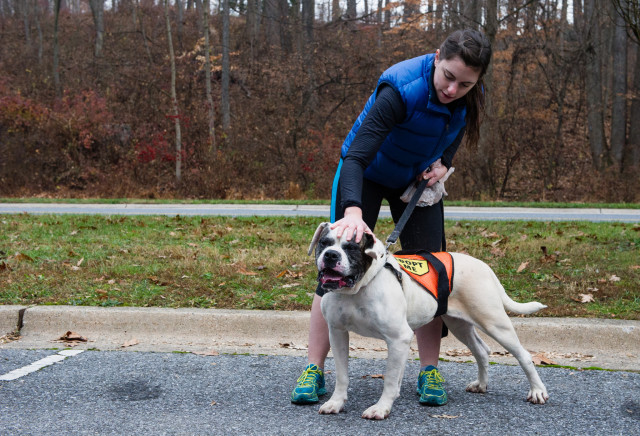 Kelly strolled around the parking lot snapping photographs of the dogs, which she said the humane society sometimes use for a dog's profile, and chatted with volunteers.
"At the end of every PACK session, PACK leaders speak with volunteers so that we can get information from them about how the dog they're paired with has done in the car, on the run and in the meetup area, before and after," she said. "We give that information to the behaviorists and adoption staff back at the shelter and that helps them to assess the dogs and pair them with the proper adopters."
The early December session ended as it began, with an exodus of cars filing from the parking lot. PACK volunteers like Mistick shuttled their dogs back to their shelters. Each Saturday, they will do it again.
That is, however, unless a dog is lucky enough to find a permanent home. Sometimes, that luck comes from within the group.
PACK volunteer Jessica Roach invited her boyfriend, Aditya Mandavia, to join her for the group's special Thanksgiving Day run last November. That morning, Mandavia waited patiently in the couple's car as Roach signed out a Labrador mix named Pencil. As Roach neared the vehicle, it became apparent that the upcoming car ride would be the first of many with Pencil, who is now named Arlo.
"As soon as I took him out of the shelter and brought him out to the car, both my boyfriend and I had huge grins on our faces," Roach, who lives in the District, said. "We knew. I got into the car and [Mandavia] said 'I guess we're taking our dog home today.' The next day, we went back and adopted him."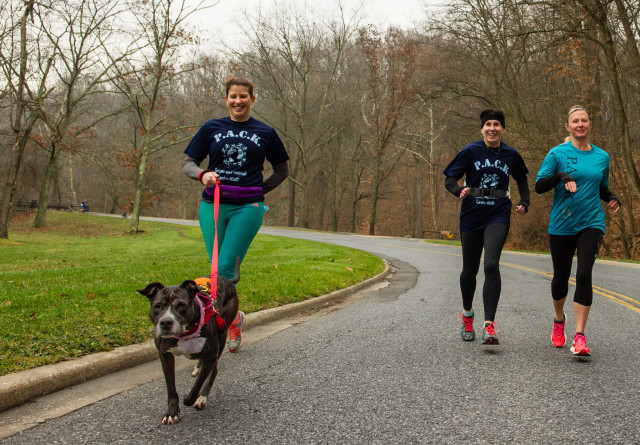 Recent Stories

Both 5K and 1 mile courses are USATF certified. The 5K course has some moderate hills. The 1 mile course is flat making this a perfect PR course. We are really looking to get a broader participation base.
Funds go