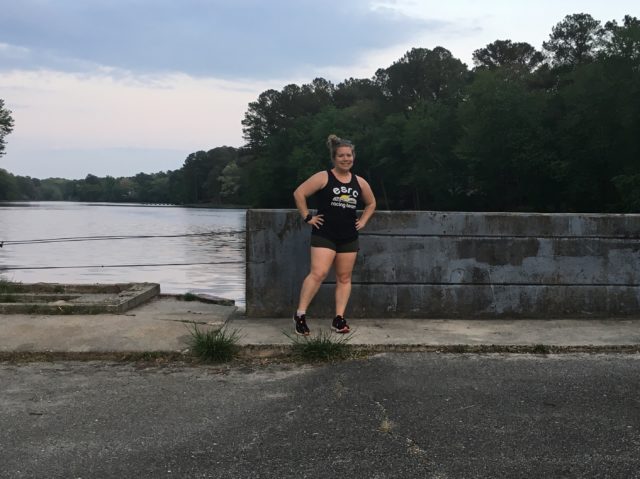 Vanessa Junkin is the marketing and public relations manager for Wicomico County, Md. Recreation, Parks and Tourism and has been writing for RunWashington since 2018. She profiled masters runner Jackie Gruendel earlier this year.  Read more of her writing here.
Name: Vanessa Junkin
Self-described age group: F25-29
Residence: Salisbury, Md.
Occupation: Marketing & Public Relations Manager for Wicomico County Recreation, Parks & Tourism
Volunteer roles in the running world: I serve as the Eastern Shore Running Club secretary, lead two weekly group runs and volunteer at race finish lines and aid stations. Through ESRC, I've served as an aid station captain for the past two years at IRONMAN 70.3 Eagleman. I'm also a coach for Girls on the Run and enjoy serving as a pacer for half marathons. Last year, I joined the Tim Kennard River Run race committee.
Why you run: To me, the running community is one of the best parts of running, and I have met so many amazing people. I also enjoy exploring new places and have a lot of fun at races. I like challenging myself and trying to improve upon previous times.
When did you get started running: I started running the summer before I entered high school, in 2004, because the soccer team required that we break an 8-minute mile. I did, but I didn't make the team. It turned out I was better at running than soccer — or basketball, which I also tried out for. I ran outdoor track for four years in high school and cross country for my senior year. 
Have you taken a break from running: Probably as a teenager. I only started tracking my miles in 2011, and I can't remember how regular I was about running between track seasons. 
Training shoe: Brooks Adrenaline 
Coach or training group: I run with the Eastern Shore Running Club and have also been training with Endure Strong online, which I received access to through being a BibRave Pro. 
The hardest race you've ever run: It would have to be the same as the most adventurous decision — the PHUNT Run in 2011 — because I wasn't prepared. A couple other particularly tough (hilly) ones were the Big Sur International Marathon, which I ran in 2015, and Freedom's Run, which I ran in 2018. 
Most adventurous decision you've made with your running: I signed up for the 2011 PHUNT Run and planned to run the 20K, since my longest run at that point had been about 11 miles. I went with my boyfriend and his friend, and we ended up getting lost early on, so I followed them for the marathon route (they did the 50K). I'm not sure quite how far I ran since we got lost, but it was probably close to a marathon. It was like nothing I'd experienced before, and I cried partway through. 
Running mentors: We have some longtime runners here in the Salisbury area that I admire. 
My favorite place to run in the D.C. area is: Living in Salisbury, I still have a lot of exploring to do in the D.C. area, but I have enjoyed the places I've run so far. I made it to the Mt. Vernon Trail earlier this year and enjoyed my run there. 
Favorite local trail: Again, I have much more to explore, but I really enjoyed a run I did on the Seneca Creek Greenway Trail a few years ago. 
My best race was: The Tim Kennard River Run 10 Miler in 2012, where I ran a time of 1:19:42. I worked really hard for my goal of sub-1:20. 
Favorite local race: Some of my favorite local (to Salisbury) races that I run every year are the Tim Kennard River Run in Salisbury, the Mike Sterling 10K in Crisfield and the Rehoboth Seashore Half Marathon. 
Ideal post-run meal: I have a major sweet tooth — can dessert count as a meal? My go-to after a long run is a coffee smoothie from Rise Up Coffee. After races, it's also nice to have a beer (a craft beer if available). 
Favorite flavor of gel, gu, etc: I started using UnTapped syrup packets when I trained for the Vermont City Marathon in 2018, and I've been using that since. 
Pet peeve: It bugs me when people post often about their "slow" runs with a pace attached. Everyone's slow run is someone else's fast run, and I want everyone to feel welcome in the running community.
Goals: I've had the goal of running a sub-50-minute 10K for a long time. I've run 10 marathons, and my first was my fastest, at 4:17:45, so I'd like to be able to beat that. I also set a goal this year of running somewhere new-to-me at least once a month, which has been fun. 
Your advice for a new runner: Get fitted for shoes at a running shoe store. It's OK to walk — even when you've been running a while. Find a running group — it's fun, you'll meet some awesome people and it's good for motivation. You may want to look for an all-paces group or one that welcomes beginners. Be sure to hydrate and listen to your body. 
Favorite running book: There are so many good ones, but one favorite is "Running: A Love Story" by Jen A. Miller.
Song in your head during a run: That depends on the run, but I really like the song "Default" by Django Django for running, and recently I've been listening to Sheer Mag. 
Have you dealt with a major injury: Thankfully, no. (Knock on wood!)
Running quote: I love the motto "Do the work," which is printed on the back of the shirts for another local Salisbury club, the 11:30 Club. Even though I can't run at 11:30 a.m. often, I appreciate the motto and it's certainly true. 
Why is the D.C. area a great place to be a runner: I love that there are so many long trails. I also think it's great that there are so many running clubs. 
Recent Stories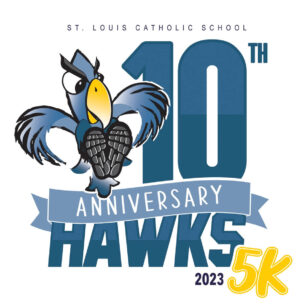 2023 will be the 10 year anniversary of the St. Louis Hawks 5K and Fun Run for Health & Wellness. The USATF certified course runs through the historic Hollin Hills neighborhood in Alexandria, VA.
The Hawks 5K goal, in conjunction