When did you get started running: 15 years ago when I turned 50.
Have you taken a break from running: Yes, two years ago I was diagnosed with prostate issues and cancer in my left kidney. Kidney was removed, cancer and prostate were treated. Was in a no-running mode for about six months.
Training shoe: Hoka, my go-to shoe ever since they came out.
Coach or training group: Run Farther and Faster; Julie Sapper and Lisa Reichmann are my coaches
The hardest race you've ever run: My first Marine Corps Marathon. I did everything wrong that race because I was so caught up in the excitement I forgot to do things like hydrating and taking energy gels. Let's just say it didn't end well…
Most adventurous decision you've made with your running: To run at least two marathons every year and this year to start racing in a kilt. 
Running mentors: My daughter Jennifer and my coaches Julie and Lisa
My favorite place to run in the D.C. area is: When I worked in Alexandria, I used to run from my office along the Potomac all the way to the D.C. line and back at lunch
Favorite local trail: The NCR Trail
My best race was: The Shamrock Marathon 2007 – my PR race
Favorite local race: Marine Corps Marathon
Ideal post-run meal: A big greasy cheeseburger with fries and a ice-cold large Sam Adams draft or two
Favorite flavor of gel, gu, etc: Honey Stinger
Pet peeve: Cars disrespecting me when I'm running on the road shoulders
Goals: To keep running into my 80s
Your advice for a new runner: Get a coach/trainer
Favorite running book: Pre: The Story of America's Greatest Running Legend, Steve Prefontaine
Song in your head during a run: Without a doubt "Lose Yourself" by Eminem
Have you dealt with a major injury: Torn both calves and one quad which required heavy PT, including dry needling
Why is the D.C. area a great place to be a runner: Because there are so many liked-mind people on the street every day to meet, run with, make lifelong friendships with. Runners are some of the most caring people I have ever been around.
Recent Stories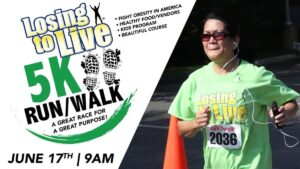 WHEN Saturday, June 17, 2023 at 9:00 am WHERE This convenient location is just minutes from your house located 1/2 mile inside the 1-495 Capital Beltway at exit 51. Spectators are welcome to watch and cheer on the runners. Capital