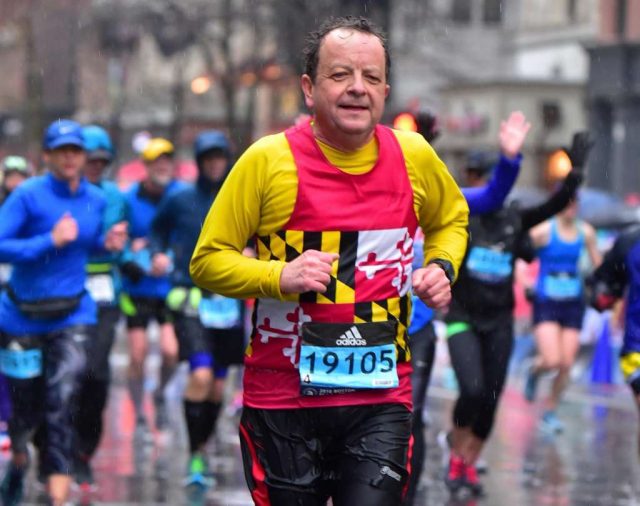 Name: Frank Prusik
Self-described age group: 55-59
Residence: Gaithersburg
Occupation: Business Operations Manager
Why you run: Running has become an integral part of my life. I run to stay fit, both physically and mentally, and I run for the personal challenge. A run at the end of the work day helps me decompress from the stress of sitting behind a desk all day and coping with deadlines. I've solved many problems on long runs, other times my problems go away during the run. I also enjoy competing in races to see if I can improve my performance. There's a great quote from Gail Kislevitz that sums it up, "I don't know when I made the transformation from running as a sport to running as part of my life. I can't separate the two."
When did you get started running: I consider my start to running after I completed my first 5K, the Kentlands/Lakelands 5K in September, 2010, at age 49. I ran on a casual basis for several years prior to my first race. After crossing the finish line the for the first time, my competitiveness pushed me to run faster and farther. I started running on a regular basis. Eight months later, in May, 2011, I ran my first half marathon, the Bridge Run, in Binghamton, N.Y. My training led me to my first marathon at the Outer Banks, N.C. in November, 2013. I ran four more marathons over the next 3 years, each faster than the previous, which resulted in qualifying for the 2018 Boston Marathon at the The Wine Glass Marathon in Corning, N.Y., in October, 2016.
Training shoe: Adidas
Coach or training group: I'm self-trained. However, I have a training partner, Kathy Cea, who was instrumental in my training over the last several years, especially in preparing for the Boston marathon. Having Kathy as a training partner reinforced my commitment to running my mileage every day. I also run with a great group of runners called The Back of the Pack (BOP). The social aspect of running is a great benefit. The BOP have become life long friends.
The hardest race you've ever run: Running the 2018 Boston Marathon was the hardest race. The cold rain, which was heavy at times made it difficult, but the constant head wind made it a real challenge. By the time I reached mile 8, physically I felt like I was at mile 13. It was an absolute thrill to run and complete the race.
Most adventurous decision you've made with your running: Running my first marathon was my most adventurous decision. It's not knowing what's going to happen.
Running mentors: My daughter, Andrea, who ran competitive cross country in high school and college has given me great advice over the years. One tip that she gave me, which I always try to remember during races, is to relax. A relaxed muscle will work better than a tense muscle. Andrea and I ran in Boston together, which made it extra special. I'm also inspired by Steve Prefontaine. Go Pre!
My favorite place to run in the D.C. area is: I love running in my neighborhood, the Kentlands, in Gaithersburg. It's great to walk out my door and start to run.
Favorite local trail:  The C&O Canal Towpath is my favorite trail. You never know what kind of wildlife you're going to see.
My best race was: I haven't run my best race yet.
Favorite local race: The Kentlands/Lakelands 5K because it was my first race and it's right outside my front door. I also enjoy the 10K Bethesda Turkey Chase.  I've run that race eight consecutive years.
Ideal post-run meal: Hamburger and a beer (or two)
Favorite flavor of gel, gu, etc: I like the salted caramel gu.
Pet peeve: Drivers that don't stop for runners in the cross walk.
Goals: To keep running when I'm 70, then I'll reset my goal
Your advice for a new runner:  Join a group of runners and don't stop. It will change your life.
Favorite running book: Hal Higdon, Matt Fitzgerald and Amby Burfoot are my favorite authors. My "go to" book is Running a Marathon for Dummies.
Song in your head during a run: "Lose Yourself" by Eminem. Favorite pre-race song is "Paradise" by Coldplay
Have you dealt with a major injury: No major injuries, except when training for the Boston Marathon in January, I tripped and hit my head on a brick wall. That mishap required a trip to urgent care and stitches. That is another good reason to have a training partner, as Kathy drove me to urgent care. I had to rest for three days as I went thru a concussion test. As I pressed my doctor about running again, he asked me if I planned to win Boston. I said, no. He replied that I can wait another day before I start training again.
Running quote: "To give anything less than your best is to sacrifice the gift" – Steve Prefontaine.
Why is the D.C. area a great place to be a runner: There are so many great race venues in the area.
Recent Stories

Both 5K and 1 mile courses are USATF certified. The 5K course has some moderate hills. The 1 mile course is flat making this a perfect PR course. We are really looking to get a broader participation base.
Funds go