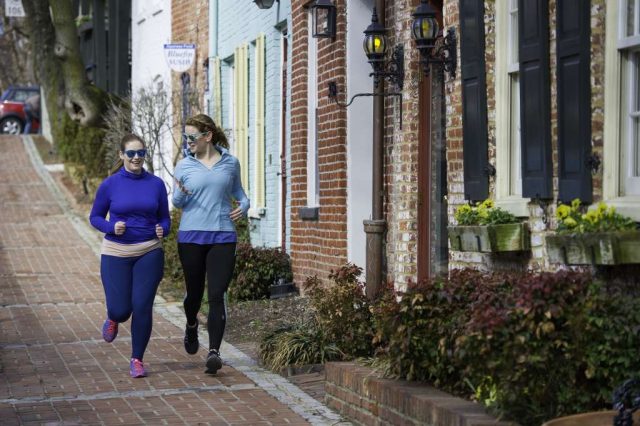 After dealing with injury, the 2017 Chicago Marathon was supposed to be Kathy Hoenig's big return back to marathoning after a five-year hiatus. At mile 13, she felt awesome. At mile 14, she felt like death.
"I never thought I was never going to finish a marathon," said Hoenig, of South Riding, Va. "But I didn't think I was going to finish this race."
Her legs hurt and her stomach felt queasy. She switched to straight walking around mile 16, as it was the only way to keep moving forward. Finishing the race felt out of reach. Her goal switched from one of time to one of simply crossing the finish line.
Twenty-two miles in, she heard the kind words, "Are you okay?"
Michael Reidy approached her. "I told him I wasn't okay and that I wanted to finish. I wanted that medal." The memories are still raw. Hoenig choked up telling her story. "He tells me I'm going to finish."
"I consider myself a coach before a runner," Reidy said via email. "With my last three marathons, I ran to help or pace someone else. I would gladly miss a session myself to assist or coach a runner. I have achieved all I wanted to achieve concerning marathons and that day was no different."
Reidy, a part-time running coach who traveled from Kilcock, Ireland, spent the next four miles with his hand gently on Kathy's back, helping her get to the finish line. They talked about their kids, careers and other topics. She cried, she said.
"He totally trashed his marathon and got me to the finish," Hoenig said. "Without him I would not have finished."
"What struck me about Kathy was this inner strength and the willpower to do whatever necessary to complete the Chicago Marathon," Reidy said.
During a race, a person can be emotionally vulnerable. They're often physically hurting and possibly waging an inner battle against negative voices. It's a raw kind of emotion, something many people don't even let their closest friends see.
Yet on that first meeting, runners bare their souls to complete strangers. Because of that connection rooted in running, friendships created at races are different.
Nobody truly understands the eccentricities of runners better than runners. They understand the training commitment and just how crazy it is to willingly run all those miles at early hours of the day. Runners empathize with the blisters, constant hunger and desire to sign up for yet another race.
"The problem I feel that a lot of adults have is not being constantly around people in your own age group," Sara Gordon said. "As adults, it's harder to make new friends in the city."
Like meeting neighbors at a dog park or a fellow sports fan at a local team bar, races allow adults to connect with those of shared interests.  
"I was able to meet my running buddy, and find somebody that shared my interests," Gordon, of D.C., said. "From that one interest sprung a whole bunch of other things we had in common."
When Brandi Neifert of Fairfax, Va. approached Gordon at the 2014 Parkway Classic, Neifert just wanted a little distraction from the race. She did not anticipate the friendship that would blossom from that chance meeting.
Gordon helped Neifert, a new runner, find comfort in the running community.
"She's basically picked me up and put me back together sometimes," Neifert said.
When Neiftert was training for the Berlin Marathon in 2014, Gordon ran portions of her training runs. They've met for Harry Potter trivia at local D.C. bars and talk to each other about their craft projects–Neifert is a quilter and Gordon an avid crocheter. And they still try to meet at the Parkway Classic every year.
Throughout the race, a runner wears their emotions on their compression sleeves, so when a distraction comes in the form of conversation, all topics are on the table. In a sense, it fast tracks the friendship.
"These kinds of friendships happen much faster than any of my other friendships," Neifert said.
"Just being ultra runners and the athletes that we are… we both knew how big a part of our lives running is," said Beth Spalding. "There has always been a mutual respect and encouragement for the other person."
Spalding didn't just make a new friend at the 2017 North Face Endurance Challenge; she got a fiancé.
The Reston, Va. resident was running the 50-mile race and after splitting up with her friend, she was approached by a friendly runner, Marc. They started chatting about running; he split off from her but she periodically saw him throughout the course.
"At the end of the race, I was crossing the finish line," Spalding said. "He was actually waiting at the finish line. He runs up and cheers me on as I run across the finish line. I just thought that was the coolest thing and I got it on video."
By using her bib number he connected with her via Facebook. They started dating in June and for the last 20 miles of the Devil Dog 100 in early December, Marc ran right along with her.
"At the end we crossed the finish line and he proposed," Spalding said. "It was incredibly emotional. I was really struggling those last 20 miles…and for him to propose, my heart just melted."
Although it's early in their engagement, Spalding doesn't think they'll marry at an ultra race. But, because trail running and ultras have been such a huge part of their relationship, she imagines incorporating a trail run somehow.  
Recent Stories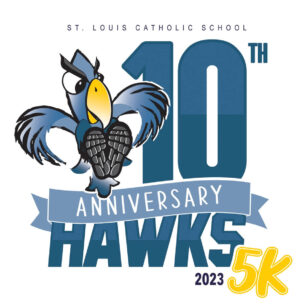 2023 will be the 10 year anniversary of the St. Louis Hawks 5K and Fun Run for Health & Wellness. The USATF certified course runs through the historic Hollin Hills neighborhood in Alexandria, VA.
The Hawks 5K goal, in conjunction