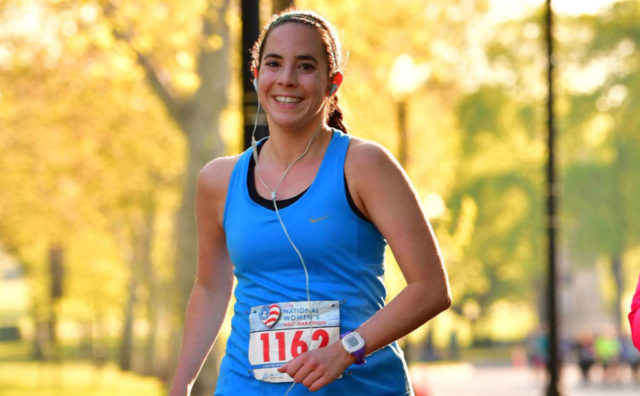 Name: Jess Micciolo
Self-described age group: Right in the middle of 25-29
Residence: Washington, D.C.
Occupation: Attorney
Why you run: I run because I love the feeling of pushing myself and achieving goals I didn't think were possible when I set them. The joy of breaking a PR makes the weeks of hard training and all of the setbacks worth it.
When did you get started running: I started running when I was in elementary school. My CYO 4×1 team went to the Penn Relays!
Have you taken a break from running: Yes, I took two years off after running two years of Division I cross country and track (Go AU Eagles!). I got back into running when I started law school.
Training shoe: Brooks Glycerin, but currently trying out the Brooks Revel.
Coach or training group: No, but sometimes I do fun runs at Pacers.
The hardest race you've ever run: During cross country my freshman year of college, I didn't realize I had mono. I ran a 6K about 7 minutes slower than my previous race and honestly couldn't figure out what was wrong with me. I finished dead last… but at least I finished!
Most adventurous decision you've made with your running: I lived in Munich for a year in college, and I raced an 8K there despite very light training. It was such a different experience. I still remember I was one of the only people not wearing the race t-shirt.
Running mentors: All of my high school and college cross country and track coaches. They taught me to push myself, and that it didn't matter if I wasn't the fastest person in the race, as long as I was working toward beating my own PRs.
My favorite place to run in the D.C. area is: Rock Creek Park and the Mall
Favorite local trail: Capital Crescent
My best race was: My most recent race, the National Women's Half Marathon. The weather was ideal for me, and I shaved another minute and a half off a six-week old PR.
Favorite local race: Veterans Day 10K
Ideal post-run meal: Anything I've been dreaming about on the run! My long runs often end at Chipotle or Taylor Gourmet.
Favorite flavor of gel, gu, etc: Strawberry Honey Stingers
Pet peeve: Drivers who don't look where they're going, don't use their turn signal, don't follow traffic laws, etc.
Goals: To run a marathon… one day, maybe.
Your advice for a new runner: Get fitted for the right shoes! And don't worry about what others are thinking of you.
Favorite running book: First Ladies of Running by Amby Burfoot.
Song in your head during a run: I pretty much only listen to weekly radio episodes by my favorite trance artists, Above & Beyond.
Have you dealt with a major injury: I struggled with shin splints on and off for a while. Keeping my mileage consistent and finding the right shoes for my high arches has helped me the most.
Running quote: "Effort equals results."
Why is the D.C. area a great place to be a runner: D.C. is a gorgeous city, with so many parks and green spaces to explore. I never get bored running on the Mall, no matter how many times I run there. And the perfect fall weather makes the harsh summers worth it.
Recent Stories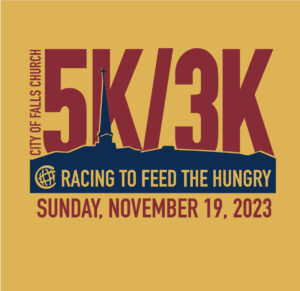 The out and back Falls Church City 5K/3K course is mostly flat on the W&OD Trail starting and finishing at 103 Columbia Street. Overall male and female winners earn free shoes and medals are awarded to all categories. Great family