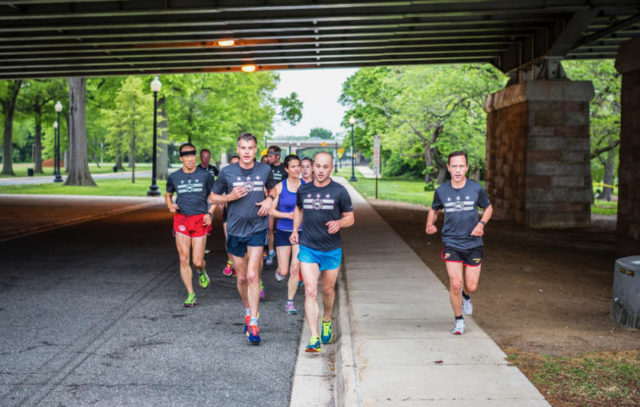 The Washington, D.C. area is spoiled with more than 200 organized runs each week. Some are organized by running specialty stores, others by running clubs, and almost all are open to new members. We've organized a calendar that compiles meeting times and details about each run, along with where you can find more information.
Some groups are pretty casual. Others are hardcore. Some ask that you RSVP and others require you to be a member. Some days have more than three dozen different runs.
A few notes and considerations:
The calendar includes group runs in Washington, D.C., Montgomery and Prince George's counties in Maryland and Fairfax, Arlington, Loudoun and Prince William counties in Virginia and all of the independent cities in Northern Virginia.
They are typically organized by running clubs and specialty running stores. Informal running groups have not been included without consultation with organizers, but if your group wishes to be included contact us. Likewise, if you don't want to be included, let us know and also change the information  your available on your website, because that's probably where I got it in the first place.
Keep in mind any of these groups can change their schedules and frankly, we probably won't know unless they tell us, so it is important to confirm they are meeting before you set off to join them.
It's better I not try to integrate the various hashes into the calendar, but here's where you can find more.
This generally does not include personal training groups that do not offer public participation.
If your group run is not among them and you would like it to be included, email us and let us know all the pertinent information: name, meeting time, location, contact info… what have you.
Given how many groups meet concurrently, choosing the "week" display is unwise. Agenda is the easiest to view.
I'm still working out a few kinks and formatting issues.