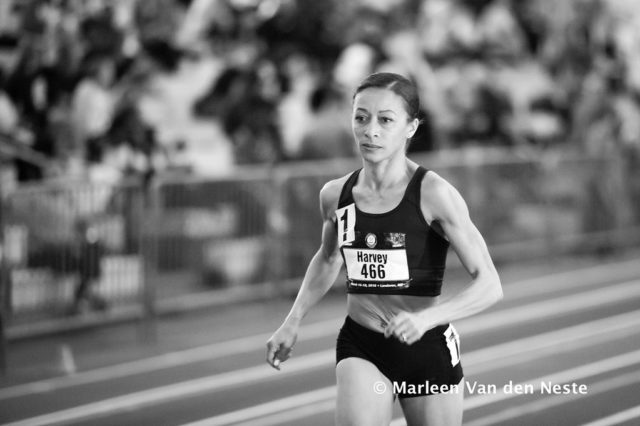 Alisa Harvey started her running career as a sprinter.
The now 52-year-old wanted to run the 100-meter and 200-meter races in her middle school track races at Thomas Jefferson High School in Alexandria. She did OK. But when she moved to the 800-meter races, something unexpected happened — she started winning.
"I always wanted to get back to sprints — I cried when they took me off the [4-by-100-meter]," Harvey said. "But I had the stinking stamina to do the 800 meter."
Harvey, now a Manassas resident, has come to terms with her knack for running middle distances. She has records in the distances her middle-school self once merely tolerated.
"I have figured it out after 52 years that because of my abilities at speed and endurance, the best out of me is the 800-meter race," she said.
In her elite days, Harvey won gold at the 1991 Havana Pan American Games in the 1500-meter race; she won silver in the 800-meter race at the games too. She is a rare sub-4:30 miler and has qualified for several Olympic trials. Locally she has won the Army Ten Miler — four times as top female runner, and twice as the Masters champion.
While her goals have changed slightly as she ages, Harvey still dominates the masters circuit. She holds several American Masters track records.
Right now, she is rehabilitating a hamstring injury, which has sidelined her for the past few months. With the help of physical therapy, she is returning to regular runs and track workouts and hopes to race in a 5K road race before focusing on specific races.
"I have not decided where or which race yet.  I need a couple of 5K race goals to motivate me back into shape," she said, adding that she is shooting for a finish around 20 minutes.
If all goes well, she plans to compete in the Navy Mile and Army Ten-Miler races in October.
Harvey attributes her longevity to knowing herself as a runner and understanding what works for her and her body.
As she ages, she doesn't train as often as her elite days because she admits she doesn't recover as fast as she used to. She knows her stamina is still pretty good, but she tires easily; and the value of her rest days can not be understated.
"Whether I'm running two laps or 10 miles, I know I have to take three days off before that race," Harvey said. "I know what it takes for me to get my body rested."
Intentionally taking off more days has added years onto Harvey's running career, she said.
"My longevity is because I kept volume down and now I'm able at this age to keep it going."
That understanding of the rest her body requires has been the source of some conflict when she ran for University of Tennessee. She recalled once getting into a disagreement with the her coach because he wanted her to do another workout ahead of the NCAA Women's Outdoor Track and Field Championship. She refused; her reward was impressive second-place finishes in both the 800- and 1500-meter races that year. (She went on to win the 1500-meter race at the championship in 1986.)
While some may scale back their goals as they age, Harvey's are still as ambitious as ever.
"My little fun thing is just to try getting the records for my age group. I want to be the best in my age group," said Harvey, who holds several masters records. (The 800-meter and 1500-meter records in the women's 40-44 age group; the 800-meter and 1-mile records in the women's 45-49 age group; and the 800-meter record in the women's 50-54 age group.)
All the more impressive: Harvey hasn't had a coach in decades. She self-coached through her career as an elite runner, admitting the last time she had an official coach was when she was in her early 30s.
Why have a coach, Harvey wondered: "even as I got older, I knew what worked for me. And that's when you separate yourself from others — figuring out what works for you."
While Harvey is without a coach, coaching is very much a big part of her life. For a little more than a decade, she has been coaching clients from around the region. She coaches mainly individual high school athletes, but occasionally steps in to offer tips for teams. Her runners are of all abilities, too.
It's no surprise that Harvey's personal running philosophy focusing on recovery and resting is imparted onto her athletes. It work for Julia Ghiselli — a freshman at Annandale High School who Harvey has coached for two years.
"I like that she values and thinks rest days are important," 15-year-old Ghiselli said. "It teaches me you have to rest your body some days, you can't always go hard, hard, hard."
Ghiselli, who runs the 1600-meter and 3200-meter races in track for her school, sought Harvey as a coach as a way to improve in a sport she was just learning to love. The teenager has seen improvement in her track races, but acknowledges she has learned more than just running from her 52-year-old coach. Harvey has introduced her to other influencers in the running community, demonstrated patience and perseverance and how to recover with class when things might not go your way.
"She is a really good example for me, and she works hard," Ghiselli said. "She has shown me what it means to have a love for running, and that it doesn't have to end after high school. You can continue for as long as you want."
Harvey is happiest when the athletes she coaches "get it and are pleased with what they've achieved." But most of all, she wants to shape lives the way others did for her.
"I think that I really got lucky and had such admirable and impressive role models … I learned a lot from some folks — all the mistakes were something I did from my own silliness," she said. "I just try to be same impressive role model for the athletes I coach."
How DC area has changed for runners
In the 80s, Harvey went to a running store in Fairfax, Virginia, and bought a $30 sports bra. The now-ubiquitous item of clothing was not nearly as popular then, and women largely ran in regular bras.
"I remember I was impressed with how expensive this running bra was," Harvey remarked.
The running scene in the D.C. area has changed significantly since then, she acknowledges. Harvey, who has spent much of her running career in the D.C. area, said in addition to apparel, the running community has developed and thrived for the better.
When she graduated Thomas Jefferson in 1983, she said "road races were far and few between." But now "there are 5k and 10k races around here every weekend."
Even for a highly motivated runner like Harvey, those pervasive local races are helpful.
"It gives me something to do and a goal," she said. "Even someone like me needs a 5k goal to keep me going on Saturdays."
And with more options come opportunities to try new running experiences. Ghiselli said her coach joined her for a trail race recently.
"She makes sure we have fun together …" Ghiselli said. "I like that she is open to things that I like and she's willing to do that with me."
Recent Stories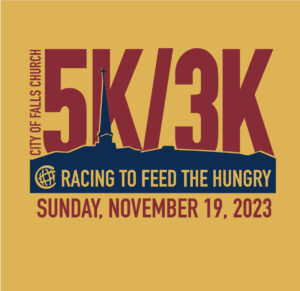 The out and back Falls Church City 5K/3K course is mostly flat on the W&OD Trail starting and finishing at 103 Columbia Street. Overall male and female winners earn free shoes and medals are awarded to all categories. Great family