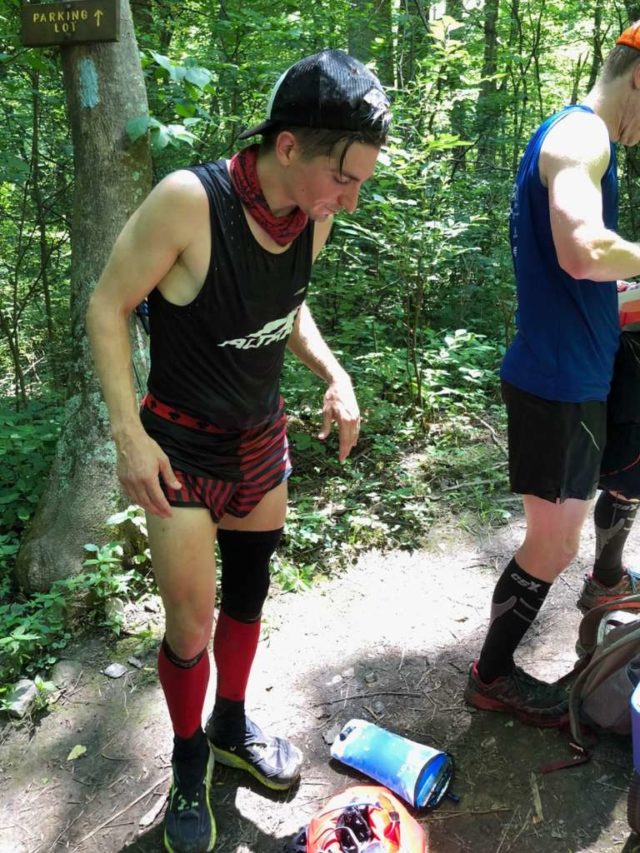 There was no medal, no bib and no race director. But for Silver Spring's Adrian Spencer, none of those things mattered as he attempted a run to Washington, D.C from Gettysburg.
Spencer had not always been a runner. He started running six years ago while on a beach trip with his family. Back then, he was 50 pounds heavier and could not even run a mile. Quickly approaching his 30th birthday, Spencer decided to give running a shot, hoping it would get him in better shape.
Spencer ran on his own or with a friend who had a similar interest in running to lose weight. Hoping to find some extra motivation, Spencer read the book Born to Run and instantly found himself inspired by the idea of running 50 miles.
From that point, Spencer set his long-term goal to complete a 50-mile run.
Progress on that goal came slowly. He did not run his first race, a half-marathon, until three years into running. But when he finished that race in 1:31, Spencer realized, "I'm a real runner now!" His success in the half-marathon gave him the motivation he needed to ramp up his training.
Three weeks later, he ran the North Face Endurance Challenge Marathon.
Shortly after, Spencer joined the Montgomery Country Road runners and dove into the local racing scene. Though he would put in strong efforts during his races, Spencer used races more as high-intensity training runs for longer efforts.
One of those efforts included the Four State Challenge — a 43-mile route tracing the Appalachian Trail between the Pennsylvania and Virginia state lines. Spencer claimed the fastest known time in July 2017, though it was soon eclipsed by 40 minutes by Barkley Marathons winner John Kelly.
While preparing for the Four State Challenge, Spencer's favorite part was drawing maps and doing all that research, which inspired him to look at other routes to run.
Spencer looked at a map and realized that Gettysburg was not too much farther away. On top of that, the Gettysburg to D.C. route was mostly downhill once the route hit the C&O Canal. It was not until after the Four State Challenge that Spencer realized he could connect those two places.
"[Planning this run,] there was no one moment, but it just kind of spoke to me. It's not even a conscious decision, it just suddenly made sense."
Spencer started plotting the route back in October. His initial idea was much shorter than what he ended up doing.
"The most direct route is actually down Georgia Avenue. You can basically go down Georgia Avenue the whole way," he explains.
That route would have been around 76 miles. That was his first idea, but Spencer quickly dismissed that plan because he did not want to get caught running most of his route along the side of narrow country roads.
That was when Spencer started thinking of running along the Appalachian Trail and C&O Canal towpath instead. These trails were much more accessible and easier for putting up water stops or campsites.
Somewhere along the way, it occurred to Spencer that the route he was forming looked strikingly like the route taken by Civil War Confederate General Robert E. Lee and his soldiers as they retreated to Arlington after the Battle of Gettysburg. Though he originally did not plan to go through Antietam, Spencer decided to extend his route to pass through it in order to honor the history of that historic route. That extension added about 20 miles overall to the trip.
"I'm a Civil War history buff. I thought it would be fun to connect Gettysburg to Arlington just because of the Robert E. Lee connection," he said. "I thought there was a story to be told. I saw these points on the map and I thought, there's a story between these locations and doing a run between those locations is a good way to frame emotionally and psychologically, even in the best conditions, what would be a difficult run. And I was really compelled by that."
In the end, Spencer's route was 125 miles long. The longest he had ever run prior to that was 65 miles.
"It was a little aggressive," he admits.
Now that his route was planned, Spencer ran certain parts of it throughout the year just to make sure he understood it all.
"From moment of conception, preparing for the run took about a year of work," he said.
In addition to planning out his route, Spencer needed to find crew and pacers to help him along his run. 
Germantown's Erin Kelman volunteered. He had assisted Spencer during his run in the Four State Challenge and when Spencer proposed his idea of running from Gettysburg to D.C., Kelman said, "I was all in."
"He was super motivated, which impressed me because he wasn't doing an organized event where he would get a result on paper that could be communicated," Kelman said.
Another person Spencer asked for help was Daniel Frank of Columbia, who rode his bike alongside Spencer during the nighttime portion of the run. The two first met when Frank was gunning forSpencer's Four State Challenge record, but an injury cut that short.
With a route planned out and a crew in place, the day finally came. Spencer started his run at 6:30 am on July 1, a time he chose for significant historical reasons.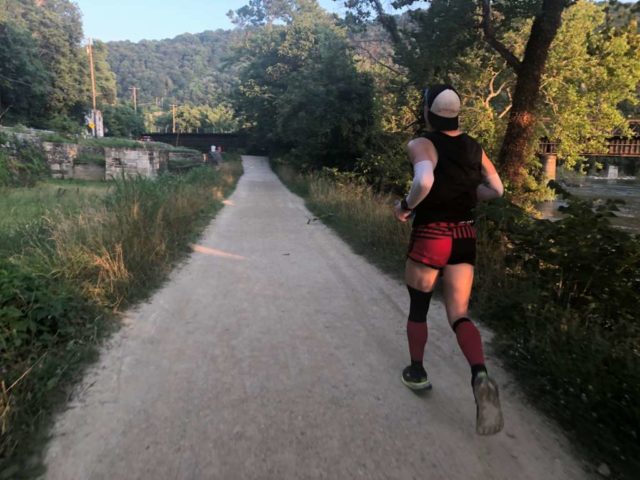 "The first shot of the battle went off somewhere around 7 in the morning, so the idea of starting it at where the battle ended, but at the time the battle started, from a history buff perspective, was compelling to me," he said. "I started the morning standing on Cemetery Ridge, looking across the field where the Confederate army marched during Pickett's Charge. I stood there in the shadow of this history and I was never far from history the entire time."
"What I was hoping to do was cover the first 100 [miles] in 24 hours or less and finish the remainder of it in around 30 hours," Spencer said. "I came up with a Google doc for all my crew and pacers with time estimates on it. The last estimate I had was 31 hours and 41 minutes for my final section. As it turned out, I was pretty much right on the money with that projection if I had finished."
But Spencer did not finish. Though he hit his first 100 miles in his goal time, he did not consider how badly the heat would affect him overall, especially on the final few miles.
"The mistake I made [was that] I ran that section [from Boonsboro to Antietam] at about 4 pm, so the sun was really hot, close to 100 degrees at that point, and [the path was] pretty much entirely exposed. In retrospect, I wish I'd just stuck to the Appalachian Trail," Spencer said. "It would have been at least 15 miles shorter in distance and a lot cooler."
"When I hit the 50-mile mark, I was about an hour and a half behind schedule," Spencer recalled. He originally planned to reach that park in around 10 hours, but instead it was closer to 12. "A huge part of that was the heat. It hit 90 degrees around 8:30 pm and didn't get below the 90-degree mark until about 6 pm."
But despite some challenges during the first day, Spencer said he ended the day strong. "[At the end of the day,] I finished 100 miles. I was feeling really good. My 100th mile was a 8:45 [pace] on the C&O Canal. I felt really good. I was cruising. As it would happen, I finished my 100th mile in 22 hours and 30 minutes, which I felt really great about." In the end, Spencer beat his 100-mile projection by about an hour and a half.
"Adrian hit the 100-mile mark for the first time in his career around sunrise and I purposely gave him that time to himself to bask in the moment. You could tell that it was a special moment for him," Frank recalled.
After the 100-mile mark, however, things began to change. The sun came out just as Spencer reached Great Falls Park.
"Once you get to Great Falls, it's pretty much all exposed," he said. "It felt amazing to hit [the] 100-mile mark and once I hit that, that was kind of my 'I'm done' moment."
"I left Adrian after his 106th mile so I could make a PT appointment. He was still moving well but was having trouble taking in calories and it was starting to get hot again. I really wish we had ice for him at that moment," Frank said.
Realizing that running in the heat for the remainder of the journey was both a health risk and would not be enjoyable, Spencer decided to end his run after 111 miles. He had been at it for almost 26 hours, running for 20 hours, 30 minutes and 14  seconds of it. 
"I was having a blast and I wanted to end on that note, not on a 6-hour death march," he said.
In the end, Spencer said he wholly enjoyed the entire experience.
"I did a lot of research on the Civil War and Robert E. Lee. I thought this would be somber, introspective, melancholy affair, but it turned out to be fun and joyful," he said. "I had more fun doing this than I've had at really any race I've ever run. It really was like a party."
"Adrian took this challenge on despite absurd heat and took it all in stride and with a smile on this face. He literally never said one negative thing during the 10 hours I was with him. I know he is very grateful for the people who helped him, but honestly I am grateful for the opportunity to be a part of such an awesome adventure," Frank said.
Spencer said he hopes he inspires other people to try similar things in the future.
"You don't need to spend hundreds of dollars to enter a race and thousands of dollars to fly across the country. I hope people stop looking so hard at the races and start looking at what races represent," he said. "If you have the gift to cover these distances, I think it's such a waste to think you can only cover these distances if you're part of races. There was no medal waiting for me and consequently no DNF, because there's no race director. I'm the race director."
"I know this run meant a lot to Adrian as a physical and mental challenge … but it also was an opportunity to reflect on the history of our country and where our country is heading. Adrian also loves the planning and logistics of these runs as a creative experience. This run had never been done before and was entirely his own idea. I know it was a source of pride and motivation for the run," Frank said. "Throughout the run, Adrian was very grateful for all the people who were helping him. But you could also sense that he was grateful for the physical ability to attempt such an endeavor."
Spencer is not done with that route. He plans to go back this summer and run the last 14 miles with some friends and even plans to go back and attempt the entire run again, potentially self-supported next time. Though Kelman said if Spencer asked for his help again, he would gladly support him.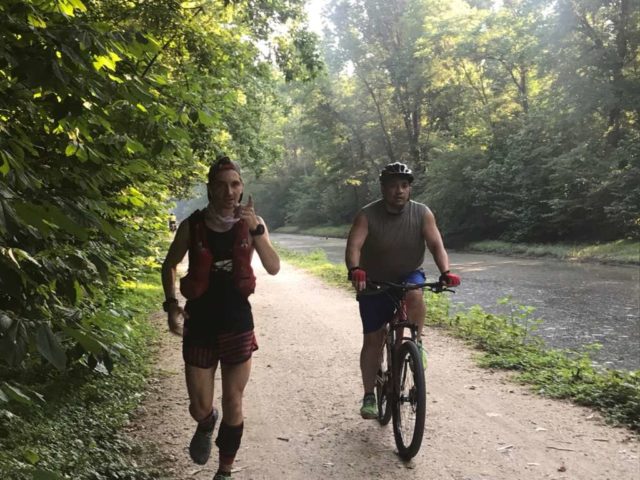 Recent Stories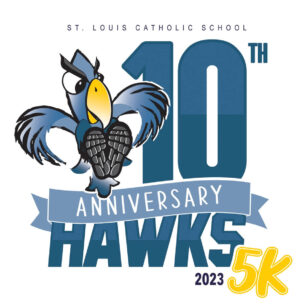 2023 will be the 10 year anniversary of the St. Louis Hawks 5K and Fun Run for Health & Wellness. The USATF certified course runs through the historic Hollin Hills neighborhood in Alexandria, VA.
The Hawks 5K goal, in conjunction