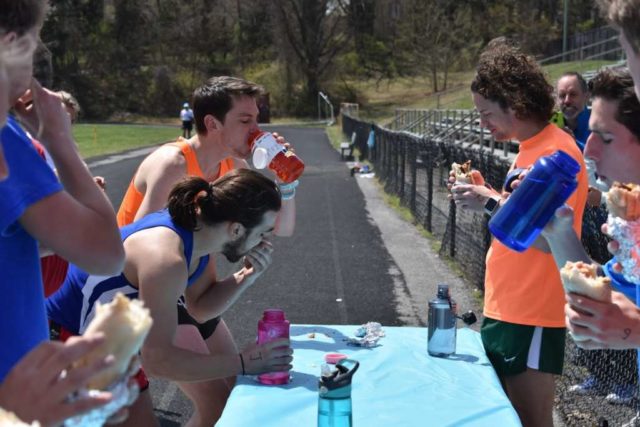 Grab the tortillas but hold the sour cream — Washington, D.C. is getting its first taco mile.
Organized by November Project DC, and in partnership with the D.C. Parks and Recreation Department, the Aug. 26 taco mile challenges runners to eat tacos before running a quarter mile. And then again. And then again… And then again. It's an all-ages alternative to a beer mile, one that can be sanctioned on public property but still tests runners' digestive discipline.
Participants can choose their own running-and-taco adventure. The Fast Taco Mile challenges runners to eat a taco and run a lap, repeating the process three times. Although runners are racing the clock, it may feel more like racing their stomachs. They can opt to run four laps and eat a taco, completing the Fun Taco Mile. There is also a family-friendly race open to strollers and runners of all ages. District Taco will furnish the food, with other support from Shake Shack.
"Every now and then you need something refreshing, something more interesting and will bring out a unique and niche crowd," said Jason Millison, interim communications director for the parks department.
The city holds many countless races, fitness events and other health-centered activities, but the novelty of the taco mile, Millison hopes, will entice people of all abilities and spark interest in the #FitDC campaign.
"The Taco Mile and some of the more innovative events we have coming up are a way to reach people we haven't already connected with," Millison said.
Taco selection is limited to beef or a veggie option, along with choice of tortilla, corn or flour. Tomatoes, cheese and sour cream are being omitted because nobody wants a soggy taco. And frankly, dairy isn't ideal.
Noelle Ng got the idea from a who has done a taco mile with a California November Project group. An idea for hosting a beer mile had already been circulating within the DC contingent, Ng said, but she started pushing an alternative.
"I didn't like the idea of a beer mile, but I do like tacos," Ng said. "It just came from a conversation. All you need to do is ask people."
Food-themed running events are not new to the D.C. region. For over a decade, Montgomery County runners, primarily high school track and cross country athletes, have contested an annual Burrito Mile, with donations benefiting charitable causes. Most recently held at Tilden Middle School in April, the longstanding race has challenged runners of all ages and abilities to chow down on a massive burrito before running four laps around a school's track.
"We start the timer when they start eating, and then we check their mouths to make sure it's all been eaten," explained organizer Sophie Scobell, a recent Walter Johnson High School graduate and a cross country and track runner.  "And then they run the four laps."
The winning time for the event was 6:04.87. This year, only one or two people tossed their cookies, Scobell said.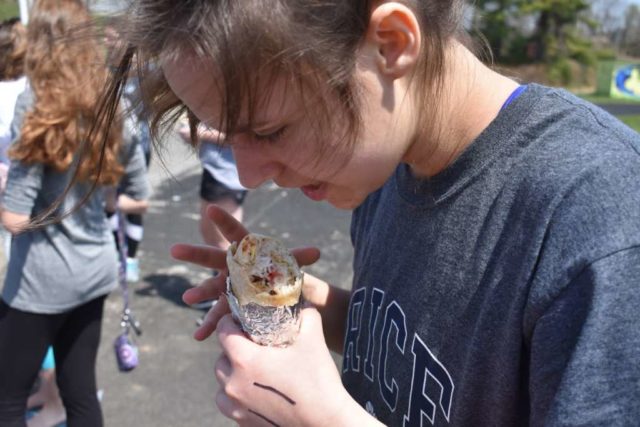 "People don't like it when you put sour cream in the burritos because that makes it even more uncomfortable to run," she said.
Whether it is burritos or tacos, these fun events make running more accessible to casual enthusiasts and non-runners, Ng said. A mile race requires much less training time and can be a more fun endeavor for those who are too intimidated by a 10K or 5K.
"Saying to a friend, 'Come with me to run a mile and eat a taco,' is a lot different than saying, 'Hey! Let's run a 10-miler,'" Ng said. "This is not as super common," and that's what Ng believes is the major draw of the event.
Previous participants and organizers all agreed on pieces of advice: Come hungry, drink water and pace yourself — both in running and eating. And, you may want to train and emulate the conditions of race day.
With the recent surge in popularity of running, Scobell said, boutique runs like the Burrito Mile and Taco Mile are opening the sport even more.
"Running wasn't always so popular," Scobell added. "It's really exciting when more people get involved and as running gets more popular, these events do too."
Recent Stories

Both 5K and 1 mile courses are USATF certified. The 5K course has some moderate hills. The 1 mile course is flat making this a perfect PR course. We are really looking to get a broader participation base.
Funds go