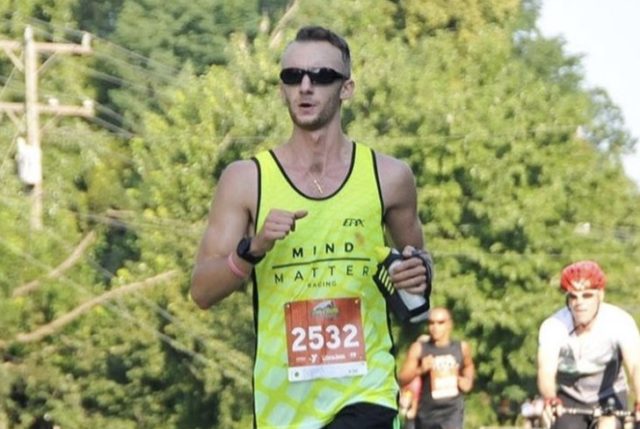 Name: Aaron Richards
Self-described age group: Late 20's
Residence: Springfield
Occupation: Defense contractor
Volunteer roles in the running world: I volunteer as a coach for Saturday morning runs with the National Capital Area Chapter's Team In Training group.
Why you run: Because it's a great way to challenge myself. I saw running as a punishment when I played baseball and basketball in high school and college. Now I find running as a way to compete with others, better myself, and find time to unwind after a stressful day. I also run because not everyone has the luxury of being able to wake up every day and go for a run. I want to take advantage of that gift before I'm too old.
When did you get started running: Summer of 2013 when I moved to the D.C. area. I wanted to run a half marathon, so I signed up for the Woodrow Wilson Half Marathon two and a half months after my move.
Have you taken a break from running:  Usually after I run a full marathon, I'll take 2-3 weeks off of running. Otherwise, I get antsy and need to head out on the trails because I see everyone else doing so.
Training shoe: Currently Hoka One One, but usually I'll go with Brooks or Nike.
Coach or training group: I coach with the National Capital Area Chapter's Team In Training program, which includes athletes training for endurance events while fundraising for the Leukemia & Lymphoma Society (if you ever hear "Go Team!" while on the trails, that's TNT). I'm also a runner for Potomac River Running racing team in the area, where we complete with other local teams throughout the year.
The hardest race you've ever run: Easily my first-ever marathon, which was the 2014 Marine Corps Marathon. I ran it with Team In Training and had every intention of running 3:45, but I broke a few "runner rules" and hit the infamous "wall" right before the 14th Street Bridge. This was my hardest race because I never felt the suffering of hitting "the wall" before and mentally I was destroyed. I rarely talk about that race because of how awful it went, but in reality it was a true wake up call in how I had much to learn about marathoning and running in general.
Most adventurous decision you've made with your running: I haven't had many adventurous running experiences, but I'd say running my first Ragnar in April 2018. I underestimated the difficulty of the course and the fact that I'd be running at nighttime. Plus, being sick with a fever didn't help at all.
Running mentors: My friend Julie. We became friends through the Instagram running community and she's my go-to person for advice on training and improving my speed. If you want to get faster, be friends with faster runners.
My favorite place to run in the D.C. area is:  Alongside the Capitol and national monuments. I particularly love running near the National Mall at nighttime as the sun is going down. It's a beautiful sight to take in and I feel like I can fly when I'm out their on the Mall!
Favorite local trail:  The WO&D Trail. It's usually my favorite trail for whenever I want to explore more of Northern Virginia. Plus there's less traffic the farther you get out from the city.
My best race was: Probably when I ran the 2018 Vermont City Marathon. I PRed by eight minutes, but that race opened my eyes to the fact that I have much more in my tank in terms of getting close to a sub-3:10 marathon. I ran a solid performance despite multiple setbacks that training season, which gives me high hopes for what the future holds.
Favorite local race: The Cherry Blossom Ten Miler. I've ran Cherry Blossom five straight years! I always see my running friends there and I'm able to compete with my other running teammates on the Potomac River Running racing team.
Ideal post-run meal: Anything Italian, but I'd go with chicken parmigiana or a homemade pizza with ground turkey meat and vegetables.
Favorite flavor of gel, gu, etc: Fruit Smoothie or anything that tastes like strawberries. I usually stick with Honey Stinger gels.
Pet peeve: When walkers on the trails take up the entire width of the path. They think they own the trail!
Goals: Run a marathon in every state and every continent, complete an ultramarathon next year and one day a 100 miler, run in all the major marathons, and run a sub-3:10 marathon.
Your advice for a new runner:  Even the greats like Shalane Flanagan or Eliud Kipchoge were beginner runners at one point. You may not become as fast as they are, but everyone started off with their first mile. Work hard and the results will follow. Shalane or Eluid's success wasn't built in a day.
Favorite running book: Born to Run by Christopher McDougall
Song in your head during a run: I rarely listen to music while running, but I'd say anything by Rage Against the Machine.
Have you dealt with a major injury: Nothing major that's kept me sidelined for awhile. I had a hip impingement within my first six months of running requiring some minor medical help. Other than that, I've dealt with shin splints recently which is never fun.
Running quote: "Most people run a race to see who is fastest, I run a race to see who has the most guts." -Steve Prefontaine
Why is the D.C. area a great place to be a runner: It's a large and exciting running community. I've met some of my closest friends via running and it's great to share that passion with others. Plus, it's hard to beat the scenery here, as you're able to run by some of the most iconic symbols of our nation.
Recent Stories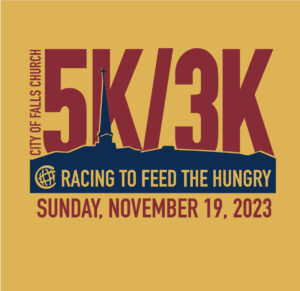 The out and back Falls Church City 5K/3K course is mostly flat on the W&OD Trail starting and finishing at 103 Columbia Street. Overall male and female winners earn free shoes and medals are awarded to all categories. Great family