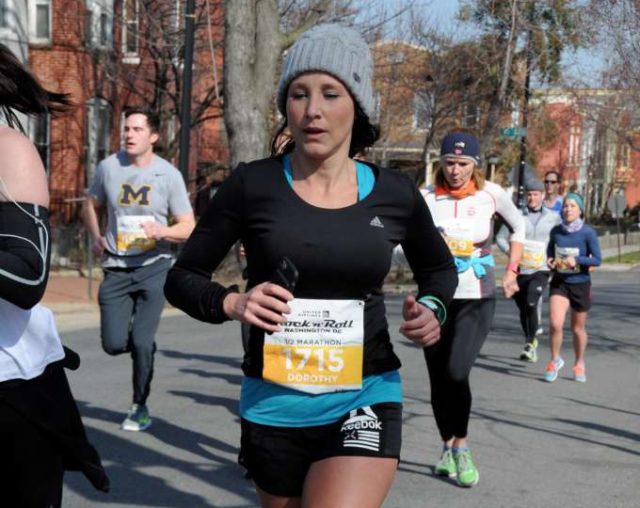 Dorothy Beal didn't know quite how important running would be to her.
Not only has the 36-year-old run 36 marathons in 15 years, but she has turned the hobby into a blog and social media campaign that inspires runners and promotes a positive body image — and turned the ventures into a business and brand that reaches thousands.
The Leesburg mother of three ranks on "must follow" social media lists for runners and reaches thousands through her blog as well as on Instagram and Twitter through her "Mile Posts" and "I Have A Runner's Body" accounts. She recently reached 100K instances where "#ihavearunnersbody" was tagged on Instagram. Her Mile Posts account chronicles much of her life and running journey; I Have a Runner's Body is more of a body positivity account showcasing runners of all shapes, sizes and abilities.
But running hadn't always been a part of her life.
"I used to fake hyperventilate to get out of running laps," Beal said of the exercise forced upon her in high school while growing up in Reston.
When her mom suggested she run her first marathon in 2003 after graduating from college, Beal said she didn't have anything to lose.
After her first marathon, her love for running rapidly evolved. She hoped to turn her passion for the hobby into a career with a few jobs in specialty running stores, at Brooks and the now-defunct Moving Comfort. When she had her first child, she decided she wanted to stay at home to raise her daughter.
"I looked for flexible jobs so I could spend time with her and nothing really worked out — so I guess I started the blog as a way to stay in contact with people," said Beal, who also took up coaching runners on the side, too.
"At the time I thought I had this great idea to talk about running on the internet — I didn't really know that other people really did that. I just started it to stay in the running world … when you first have a kid, it can be kind of isolating."
When people told her how helpful her Mile Posts blog was, she kept it up. And the online presence yielded more running jobs as a freelance writer or leadership positions at local races. But the advent of Instagram helped jumpstart her exposure and career.
"I guess with Instagram I realized that I could turn this into a business," Beal said, adding that it opened up the chance to sell merchandise, market her brand and do posts sponsored by companies.
She said what allows her to be such a pervasive force on social media is the fact that she has never "sold out."
"If a brand comes to me with $5,000 for a post, if it's not a product I use, or that I like, I won't do it," explained Beal, who only does sponsored posts on her Mile Posts account. "What I'm sharing with people is my honest opinion, and I hope that comes across on my Instagram."
The Instagram market is saturated with social media influencers who hock products that will resonate with their audience. Last year, Instagram hit 2 million monthly advertisers on the platform. The volume of sponsored content on Instagram is projected to be 32.3 million posts in 2019, according to stats website Statistica.
Yet Beal said while her message inspires and reaches a niche audience, she attributes her early adoption of social media as a key to her success.
"When I started out at that, a few thousand people did what I did, but now so many people do it," she said.
Forming friendships
Social media has helped connect billions of people worldwide, and it can make certain groups feel even more intimate. Beal said social media is "one of the best things to happen to the running community."
"I can go to a race anywhere and have people to meet up with," she said. "Even if I don't follow them, I can click on a location tag and find people near me, and strike up a conversation with people I wouldn't have before [social media]."
Beal said it's "completely normal" for her to meet and connect with fellow runners through Instagram. In fact, it's where she has met some of her best running buddies, including Kim Van Acker.
Van Acker — a Gainesville, Va. resident — was first virtually introduced to Beal when one of their mutual friends tagged Van Acker in one of Beal's Instagram post, teasing that Van Acker could run faster than Beal. From there, the two started chatting through the site every once in a while.
They finally met face-to-face for the first time at the 2015 Cherry Blossom Ten Mile expo.
"She said, 'I feel like I know you already,' and I said 'I know,'" Van Acker said.
The virtual friendship turned into a running bond; the women occasionally meet to run and this past March they ran the Rock 'N Roll Half Marathon together.
"To do a half together, it was so much fun. We stayed together the entire time," said Van Acker, who added that while they don't have plans to run another race together yet, she is looking forward to the next time it happens.
The D.C.-area is a region rich with running groups and specialty running stores, but that's not the case around the country, Beal said. Many people can use social media as a motivator, a source for running information and a meeting place for like-minded people.
"I think it has just created community atmosphere and I think it has opened up the world to a lot of places that don't necessarily have a strong running community to feel like they are a part of things," she said. "They feel like they belong, and this is a safe space for them. You can get on Twitter, get on Instagram and you're in your community."
Plus for not-so-social people, the aptly-named engager allows them "a space where they can be social and make friends ahead of time" for events they plan to attend, Beal said.
Any body can run
Body image is something many people struggle with — and Beal is no exception. In her early 20s weight loss became the driving factor behind her running.
"I think that it was a perfect/terrible storm — I wanted to be faster, I was a new mom, I was a young 20 something — everything was converging. I felt very out of control in a sense that everything happening at once," she said. "Running was  something I could control; weight became something I could control."
The more weight she lost, the more people said she looked like a runner — "and that then fueled it even more," Beal said.
But the weight loss didn't bring Beal lasting happiness, she said. In fact, the accolades didn't bring her joy either; every Boston Marathon qualifier or personal record didn't satisfy her. She stepped back, reexamined her life and gained some of the weight back, but people's hurtful observations echoed online.
"For a long time, the first Google result [of my name] was 'Did Mile Posts gain weight?' It stung … and people were stunned that I could run as fast as I did based on how they viewed my body," she said. "I'm not overweight and I'm not fat — and if I'm getting these comments, then what is everyone else getting? If comments like that stung for me, is it deterring other people from running?"
The revelation inspired Beal to create a safe online space that celebrates "if you run, you have a runner's body." The I Have A Runner's Body Instagram account has 35,800 followers; her Mile Posts Instagram account which echoes the body-positive message boasts more than 67 thousand followers.
Beal said she hopes that the account and her overall positive body image posts resonates with men, women and kids. In an image-conscious culture, she wants people to know that they are so much more than the numbers on a scale or the size of their clothing. Also, runners are not worth more if they run faster or weight less.
"Running is such a beautiful thing, and things can get twisted if that's the only focus," she said.
Van Acker is proud of her friend's mission and breaking down the stigma that runners have to look a certain way.
"She's making sure it's reiterated — any person can run, and body can run. However you get to the finish line is how to get ot the finish line," Van Acker said. "It's really cool, and it's really awesome to live in a time when stereotypes are breaking down."
While body image struggles are not new, Beal says its a message that bears repeating, and manifests itself for a new generation and burgeoning running community.
"There is a lot more diversity now [in the running community]," Beal said. "I think back to group runs when I started running and I don't remember run/walkers or walkers — so that's a whole new group of people. I think as the running community gets larger and more inclusive, I think there's a need for the body positive message to be more out there."
'Running makes me smile'
Beal's work seems non stop and her mission is steadfast. So what pushes her to grow and what inspires her?
"My daughter and sons. And running. I know that sounds clichéd — it inspires me and gives me a chance to start over every single day."
"If someone asks you what inspires you — the answer should make you smile. And running makes me smile. Running is so much more than just running."
Beal has advice for some who may occasionally cringe, rather than smile, at the thought of running: stick with it. Many runners quit when it gets tough, missing a magical "bliss point," that Beal adds can be a different distance for everyone in their run.
She recommends using running as a time for positive associations, and forgetting about the to-do list or what needs to get done after a run is finished. Let your mind wander to a good place, she said.
That mindset has helped her through 36 marathons. She is training for her 37th marathon, but still hasn't decided which one she will run. Her goal is to get another Boston Qualifier and return to the race in 2020.
Another key to loving running is not to compare yourself to other runners, Beal advises. That's a negative headspace that doesn't serve anyone well, she said.
"Dwelling on the negative stuff isn't going to make things better. It's easy to think 'my stomach hurts or it's too hot or I have so much to do.' Instead, think of the good!" Beal said. "Life is so much more enjoyable when you love yourself."
Recent Stories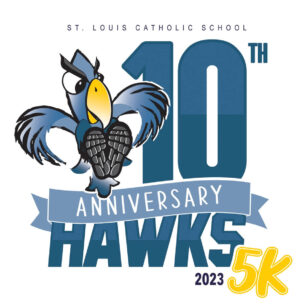 2023 will be the 10 year anniversary of the St. Louis Hawks 5K and Fun Run for Health & Wellness. The USATF certified course runs through the historic Hollin Hills neighborhood in Alexandria, VA.
The Hawks 5K goal, in conjunction