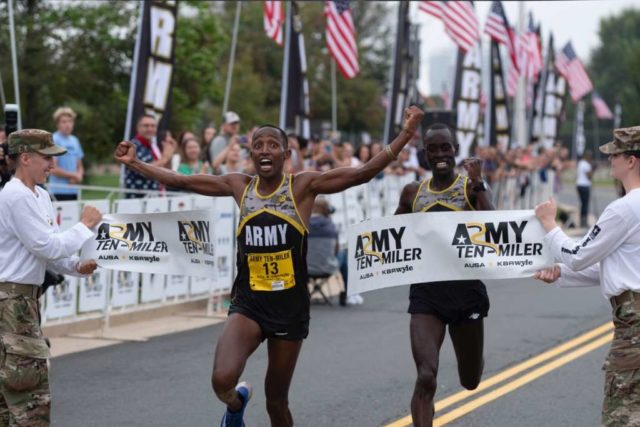 For the second straight year, high humidity met Army Ten-Miler runners, but this year's race was mercifully cooler. But last year's conditions still stung Susan Tanui, so when the defending women's champion set out, she made it a point to start out conservatively. It paid off, with a 56:33 victory over Julia Roman-Duval's 57:17.  
Tanui improved by 17 seconds over last year's time and Roman-Duval improved by two minutes. Tanui, a member of the Army's World Class Athlete Program, is stationed at Fort Carson in Colorado. Roman-Duval lives in Columbia, Md. Emily Da La Bruyere, of D.C. was third in 59:07.
Army Ten Miler
Oct. 7, 2018
Arlington, Va.
Much better photos by Dustin Whitlow
1. Frankline Tonui 50:23
2. Evans Kirwa 50:23
3. Girma Mecheso 50:30
1. Susan Tanui 56:33
2. Julia Roman-Duval 57:17
3. Emily Da La Bruyere 59:07
"Last year, I struggled toward the last miles, today I wanted to stay consistent," Tanui said. "It was humid, but it felt better than last year. I wanted to finish strong."
She admitted easing up in the last two miles, but was happy to not be as desperate for water.
"Last year I couldn't pass a water station without pouring some on myself," she said. "I drank a little more of it this year."
Tanui will end her competitive season with the EQT 10 Miler in Pittsburgh before traveling to her native Kenya to visit her family.
While the women's times improved, the men's winning time slowed from Haron Lagat's 49:23 2017 winning time. The race remained an exhibition for the WCAP team, with recent enlistee Frankline Tonui edging teammate Evans Kirwa in 50:23. Kirwa, who was eighth in 2017, improved his time by 50 seconds. The team, however, was divided between the Army Ten-Miler and the U.S. 10 Mile Championships in Minnesota. 
"We wanted to run together, run as a team and help each other do well," Tonui said. "We ran hard but not enough to hurt."
The pair ran most of the race with teammate Girma Mecheso, who was third in 50:23. All three are based at Fort Carson.
Tonui, an Ethiopian native who joined the Army May 1, ran collegiate at Arkansas.
"It was a phenomenal race," Tonui said. "I've never been in a race this big before."
The course changed with the loss of the Arlington Memorial Bridge in the second mile. Runners took Route 110 to the Key Bridge and Whitehurst Freeway to Rock Creek Parkway. While that reduced congestion from the backups on the offramp at the first mile mark, cutting the uphill was a boon to the leading runners too.
"We didn't have that shock of lactic acid in the first few minutes of the race," Kirwa said. "It was a big improvement for the course."
Gaithersburg's Chris Sloane was the top local finisher in fifth place (51:50), outkicking Robert Cheseret (51:52) and George Kiplagat (51:54). Sloane was RunWashington's second-ranked road racer in 2017, and a week before had run 1:54:16 at the National Capital 20 Miler on the C&O Canal Towpath.
"I wanted to go out hard and see if I could hang with a pack of guys," he said. "I just kept telling myself to hang, hang, hang. Just stay with them."
Sloane hung with Cheseret and Kiplagat as the trio dropped Elias Chesire. With a half mile to go, the Army pair goat away from him, but within sight of the finish line.
"I had another gear and was able to outkick them," he said.
Slaone had finished 14th in 2017, more than 90 seconds slower (53:13), and while he appreciated the lower temperature, he wasn't crazy about the humidity.
"I know if I'm sweating before the race, it's going to be rough," he said.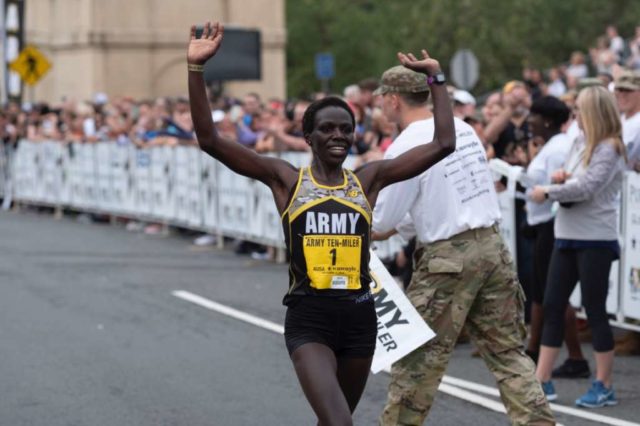 Recent Stories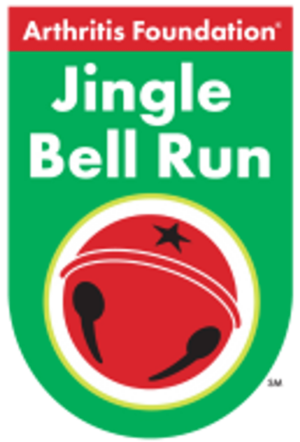 Be part of the original festive race for charity and signature Arthritis Foundation holiday event! Wear your favorite holiday attire and together, we'll jingle all the way to a cure! Register as an individual or bring a team of friends,