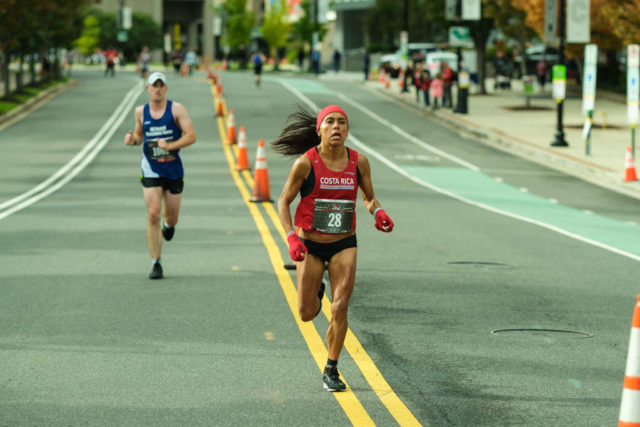 Jenny Mendez Suanca won a face-off among three Marine Corps Marathon champions, running 2:40.19 for her second title, following her win in 2015. Defending champion Sarah Bishop, of Dayton, Ohio finished fourth in 2:49:49 and 2013 winner Kelly Calway, of McLean dropped out after 10 miles with hamstring concerns.
Suanca's time is the fifth-fastest winning time for the race and bests Calway's record for this course layout, 2:42:16.
Suanca, 38, of Costa Rica took the women's led early and stretched it out to a six-plus-minute lead over San Antonio's 1st Lt. Lindsay Gabow, who was second in her first marathon, running 2:46:34.
"I started out with two Marines and we stayed in a pack,"  Mendez Suanca said through a translator, 2nd lt. Camila Barney.  "It started to break up a bit, but I didn't let them out of my sight. I kept them in my sights the whole time. It wasn't until the end until I caught back up with them."
Suanca, who ran Marine Corps in 2015 after hearing about the race via Facebook, returned to Washington because she loves the route, the spectators, and the excitement of the course – and particularly the cooler weather, which was 30 degrees colder than what she normally trains in in Costa Rica.  
She cut more than five minutes off of her 2015 finishing time, and she said this year's race was another stepping stone toward her ultimate goal – representing Costa Rica in the Olympic Games in Tokyo in 2020.  While she said Costa Rica has not yet published standards for its marathon team, she believes she will need to run a 2:37 or 2:38 to qualify.
"This is getting me there,"  she said. "I need to run a faster marathon next year to get my ranking up to qualify."
When Mendez Suanca was winning her last Marine Corps Marathon, Gabow was still at West Point, where she won a Patriot League championship in the 10,000 meters. Gabow, 24, is now an intelligence officer stationed at Fort Sam Houston.
She started the race running with Calway, then took off when the latter's hamstring acted up.
"She's a lot more seasoned than I am, so I stuck with her," Gabow said. "I took a risk at mile 6 and moved up and kept feeling good until mile 21. It was a formidable wall. I felt like jogging the rest."
That is, until Brian Dumm, a runner for the Air Force team and a Robinson Secondary alumnus started focusing his effort on encouraging her.
"I don't know if i would have finished without him," she said. "He kept telling me 'yes, yes, yes, you can do this.'
"Before that, the solitude really got to me, not having anyone to cheer when you're going over the (14th Street) bridge. He gave up his race to help me, and it was one of the most selfless things I've seen."
Gabow had crossed that bridge before, three weeks earlier en route to a seventh place finish at the Army Ten-Miler, but that was a whole different animal.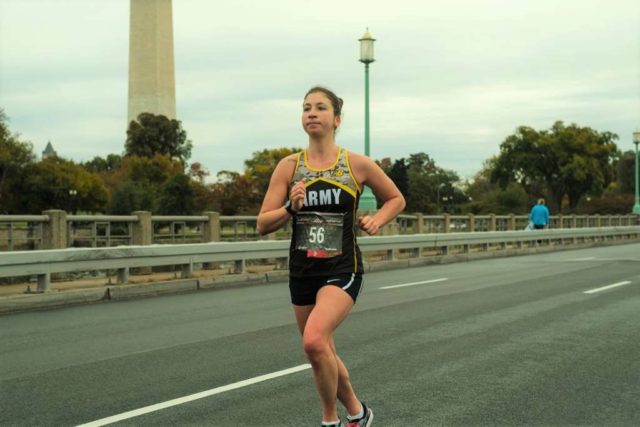 It didn't help Gabow that her longest run to that point had been 20 miles, and on the protected environment of a treadmill.
"I underestimated how hard it is to run outside on undulating terrain," she said. "I'll do more runs outside next time."
Next time for Gabow will likely be the Houston Marathon in January, where she will try again for the Olympic Marathon Trials qualifying standard of 2:45. It was the hope of reaching that standard that drew coach Gary Brimmer to Gabow after she ran the Orange Leaf Half Marathon in Texas this summer, shortly after she returned from a six-month deployment in Qatar.
"He said I thought I could qualify for the trials and he wanted to train me, I said let's do it," she said. "I never thought that I'd be doing marathons, but he's why."
Lindsay Carrick, 25, also has Olympic Trials ambitions after a "thrilling" race that put her third in 2:48:43.
"Ii went in with expectations that – around mile 10 – I knew I could exceed, so I was really pleased with it. I know the way forward at this point."
i was trying to be realistic, stay conservative – 2:53. at 10 i was condifent i could carry that through
Like Suanca, Carrick was thrilled with the weather, particularly after a disappointing finish time winning the Navy-Air Force Half Marathon six weeks prior. She ran a minute slower than what she had months earlier on a more difficult course.
"How I felt wasn't matching to how I was training, so it took a while to figure out how I could adjust, to see how I should train going forward," she said. "It came down to getting  my marathon pace runs in once a week and making sure I finish long runs with three miles fast, just so I can practice running fast while I'm tired."
When she showed up to the 48 degree starting temperature Sunday, her training and the conditions came together for her in her third Marine Corps Marathon. Ten miles in, she was confident she would beat her 2:53 goal.
"The conditions were perfect, so I was running five seconds a mile faster from the beginning," she said. "What I didn't expect was Katie from the Royal Navy.
Katie Synge, of Moretonhampstead, England, keyed off of Carrick early in the race, and the two worked together throughout. Synge ended up fifth in 2:51:43, while Carrick passed Bishop with three miles to go to move into third.
"I've never had the opportunity to run that closely with someone, to feed off of her energy," Carrick said, "We'd share a drink, I'd tell her what to expect from the course. She was pushing me more than I thought I'd be going."
A high school state cross country champion in Pennsylvania, Carrick played lacrosse and ran for a year while at the Naval Academy, then ran her first Marine Corps Marathon in 2016 – finishing in 3:12 and dropping to 2:58 in 2017.
"I approach running in a more relaxed state than most," she said. "I don't let it take over my life."
Carrick moved to Fredericksburg in July and is in Marine officer training school at Quantico. She manages to get her runs in during the day to keep her evenings free – her husband is up at 4:30 to get to the University of Richmond for ROTC training.
McLean's Hannah Dimmick (11th in 2:59:51) was the top Northern Virginia finisher, Gabrielle McKenzie of Bethesda (3:06:42 for 25th) was the first D.C.-area Maryland runner and Tara Landy (3:12:50 for 27th) was D.C.'s top woman. Woodbridge's Brandy Stewart was initially the top Northern Virginia finisher, but was removed from the results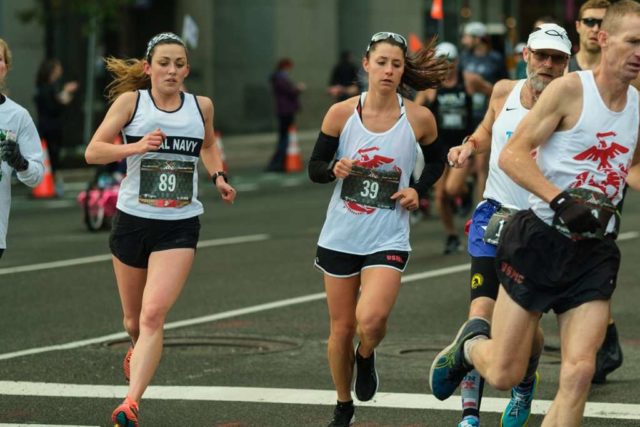 Recent Stories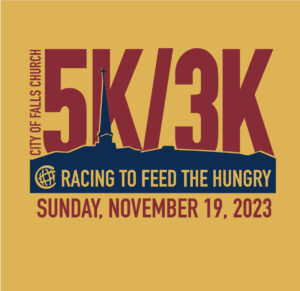 The out and back Falls Church City 5K/3K course is mostly flat on the W&OD Trail starting and finishing at 103 Columbia Street. Overall male and female winners earn free shoes and medals are awarded to all categories. Great family